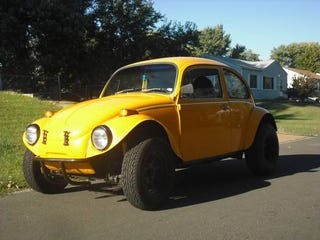 If you didn't catch my post the other day about the Baja Bug, take a look!
http://oppositelock.jalopnik.com/oppo-talk-me-o…
Anyways, I had some time after work today so I went out and checked out the Bug. Let me tell you, this car is WILD. The Craigslist posting was dead on and the seller was very honest about the car. He handed me the keys after a few minutes of me inspecting the exterior and underbelly and we went out for test drive.
This car drives like nothing I've ever driven before. How would I describe the driving experience? Raw. Power steering? Nope. Power brakes? No sir. Power windows? Ya right. The car is a four speed so the gearing is unbelievably tall. I had to ring out first gear in order to shift to second and not stall the car. It took a while to get used to cruising in first gear at 25 miles an hour, but I got the hang of it after a bit. I loved every minute of driving this beast.
I think I'm going to buy it.