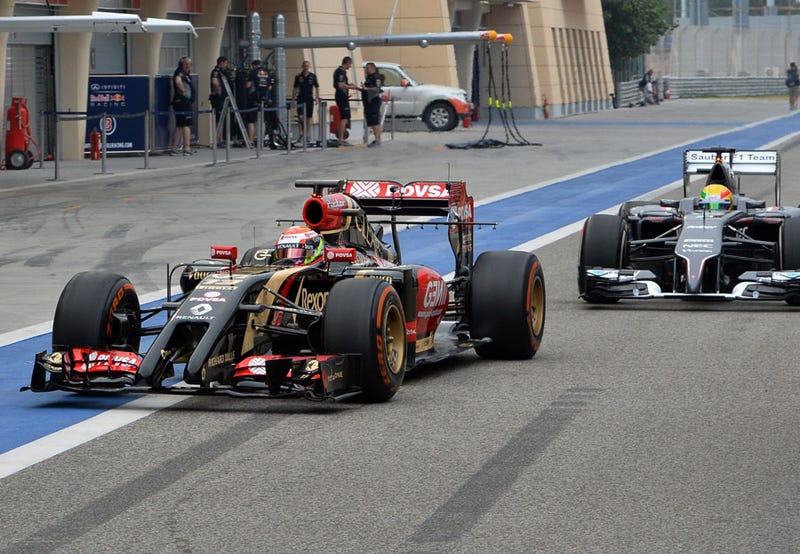 Good Morning once again fellow race fans. Today starts the second day of the second testing session in Bahrain. The boys from Infiniti RedBull haven't been doing all the great lately, so will today be the day that they finally figure everything out? We will see. As usual I will start things off with the lap times so far.
| | | | |
| --- | --- | --- | --- |
| 1 | Perez | Force India | 1m35.570s |
| 2 | Alonso | Ferrari | 1m35.634s +0.064 |
| 3 | Button | McLaren | 1m36.901s +1.331 |
| 4 | Bianchi | Marussia | 1m38.198s +2.628 |
| 5 | Hamilton | Mercedes | 1m39.041s +3.471 |
| 6 | Massa | Williams | 1m39.323s +3.753 |
| 7 | Vergne | Toro Rosso | 1m39.756s +4.186 |
| 8 | Gutierrez | Sauber | 1m40.428s +4.858 |
| 9 | Ricciardo | Red Bull | 1m40.867s +5.297 |
| 10 | Maldonado | Lotus | 1m41.613s +6.043 |
| 11 | Ericsson | Caterham | 1m42.516s +6.946 |
Update 1: As of this moment only Gutierrez, Bianchi, Ericsson and Maldonado are on track. That's good for the boys at Lotus that had to call the session early yesterday.
Update 2: Mercedes F1 Twitter just announced that Hamilton will be back on track soon.
Update 3:Red Flag, just as I spoke about Lotus, Maldonado comes to a halt at the esses's in turn 4. Supposedly off the track and out of the car. Not a good start.
Update 4: The crane has picked up the Lotus and is now making its way back to the pits, according to the BBC, the Lotus had failed and just rolled off the track, no shunt for Maldonado.
Update 5: And the Green Flag drops and Ricciardo is the first one back out, they need consistent laps from here on out.
Update 6: With Ricciardo, now out on track is Hamilton, Alonso, Perez, Vergne, Gutierrez, and Massa
Update 7: Gutierrrez dips the Sauber finally into the 1:39's today.
Update 8: An interesting tidbit of information has come out of a Twitter AMA with Nico Rosberg, someone asked "How are drivers protected from the risk of a potential electric shock when you are inside the cockpit?" Nico replied with this, "no risk because rubber between the ground +the car. but when jump out of the car i am not allowed to touch car+ ground at same time" That seems mighty dangerous to be asking the drivers who might have a concussion or possibly trying to get out of the way of a fire to be doing.
Update 9: The E22 Lotus came back to the pits and caused a Red Flag due to a bit of flame show according to their Twitter.
Update 10: Ricciardo doing well and not catching on fire, he was neck and neck with Perez both doing a 1:41 lap time, not first, but anytime that is spent not on fire has got to go up in the win column for Infiniti RedBull.
Update 11: William's just announced that Massa would be heading back out on track to do a few race simulations with the car.
Update 12: After a fairly long stint, at least for RedBull, Ricciardo bring the RB10 back to the pits.
Update 13: Alright ladies and gentlemen, I will be back in a few minutes, I have to head off to my paying job. BOOOO, I would rather do this and then take a nap. Be right back
Update 14: And we're back, while I was gone a quick update on Maldonado, Lotus confirmed that the car will not be going back out due to "Sufficient char grilling". Not good for the team.
Update 15: Both Perez and Gutierrez are preparing to do some race simulations according to their respective teams.
Update 16: Meanwhile over at RedBull, the team is finally managing to put down some solid lap numbers, Ricciardo is now on his 34th lap. Never count out the likes of Horner and Newey.
Update 17: Sauber seems to have scrapped the plans for Gutierrez to do a race simulation having been in the pits for a longer period of time.
Update 18: Like I said never count out Newey and Horner. Ricciardo just took the RB10 and did a 1:36.3 moving him up to third.
Update 19: Hamilton is headed back out on track.
Update 20: Ferrari is carrying out practice pitstops with Alonso. The dynamic between him and Raikkonen will be an interesting one to watch this year.
Update 21: Alonso is about to break the 100lap barrier for today and still currently running second in the times.
Update 22: Ricciardo laps a 1:35.7 not good enough for second but only a tenth of a second off Alonso
Update 23:After the blistering run, Ricciardo immediately goes back into the pits.
Update 24: After a loss of power earlier in the day, Button's McLaren is back out on track.
Update 25: Mercedes have announced that Hamilton is done for the day with a gearbox issue, but they managed to put in 89laps total.
Update 26: Another Red Flag today, making it the fourth so far. This one is on the Caterham team.
Update 27: According to witnesses, the entire car is covered in fire extinguisher foam. That can't be good.
Update 28: This Red Flag will last a little bit longer than normal as Marshals are cleaning up the foam from the fire extinguishers on the track.
Update 29: Green Flag drops and Button and Gutierrez head back out onto the track.
Update 30: Alonso, Bianchi and Ricciardo are back on track with Button and Gutierrez.
Update 31: Formula 1 Bosses just announced that the controversial double points will be extended to the final 3 races of the season according to the BBC
Update 32: Massa jump from 7th to 4th with a 1:36.6
Update 33: Intrepid reporter Jennie Gow reports that the earlier communication from the BBC that the double points was extened was wrong and remains only for the last race.
Update 34: Bianchi heading back out onto the track, with Marussia posting this to their Twitter
Update 35: Force India marks a full 100laps this session.
Update 36: And that's it for day two as the checkered Flag falls. Here as always are the final times of today.
| | | | |
| --- | --- | --- | --- |
| 1 | Perez | Force India | 1m35.570s |
| 2 | Alonso | Ferrari | 1m35.634s +0.064 |
| 3 | Ricciardo | Red Bull | 1m35.743s +0.173 |
| 4 | Massa | Williams | 1m36.507s +0.937 |
| 5 | Button | McLaren | 1m36.901s +1.331 |
| 6 | Bianchi | Marussia | 1m38.092s +2.522 |
| 7 | Hamilton | Mercedes | 1m39.041s +3.471 |
| 8 | Vergne | Toro Rosso | 1m39.636s +4.066 |
| 9 | Gutierrez | Sauber | 1m39.976s +4.406 |
| 10 | Maldonado | Lotus | 1m41.613s +6.043 |
| 11 | Ericsson | Caterham | 1m42.516s +6.946 |
So again the biggest story is RedBull, but for the complete opposite reason as usual. They actually managed to not set the car on fire. Ricciardo this season will definitely play second fiddle to Vettel, but for right now he has a bit of limelight going 3rd fastest after a dreadful first two testing sessions over the last few weeks. Tomorrow we should see the reigning World Champ in the new RB10 and see if he can push it faster. I have a feeling that today was more of a test of the car than of Ricciardo behind the wheel. Will it handle full throttle and will it overheat were probably the biggest questions. We might see a new fastest team on top tomorrow.
Fire struck another team with Caterham's car going catching before the Marshals put the fire out. Hamilton was also struck with car failure today with issues with the gearbox after going off track early in the morning.
Williams continues their push to come back into relevance within the F1 grid with Massa pushing hard on the cars. Button also pushed but couldn't best Magnussen's times from yesterday, but a few issues plagued the car not allowing Button to really hammer it.
Tomorrow is the start of a new day, and possibly the start of the march towards a fifth world championship for RedBull. Stay tuned tomorrow morning for the next Day of live updates. And now back to wasting time at work!
You can Find me here on Twitter.
Also make sure you check out my new series Sittin Waitin Wishin.
In addition to that I just wrote this, Who has the best job in F1?
Photo Credit to PlanetF1, Williams F1