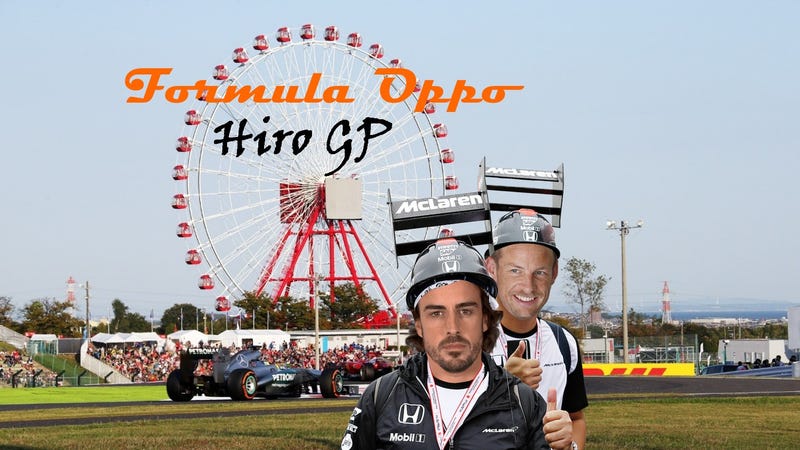 Welcome back to Formula Oppo, the only continuously ongoing fantasy Formula One game on Oppositelock. This week we wrap up the Asian swing with a trip to Master Roshi's place.
Last time, this happened. Lewis Hamilton was leading by a fairly large margin after Sebastian Vettel tagged Nico on the opening lap and eliminated himself and forcing Rosberg back to 17th. Howevet, with only a handful of laps to go, Hamliton's motor went kablamo, ending his day, his shot at retaking the championship lead, and Mercedes sealing the manufacturer's championship. So after a small tussle, Daniel Riciardo and Max Verstappen finished 1-2 respectfully and Nico bumped off Kimi for third.
This week we head to Master Roshi's place for some quality racing. Everyone should be ready for an interesting race as Red Bull and Riciardo have still not yet been eliminated from the points championship.
Your drivers this race:
Mercedes:
Lewis Hamilton
Nico Rosberg
Ferrari:
Sebastian Vettel
Kimi Raikkonen
Red Bull TAG-Heuer:
Daniel Ricciardo
Daniil Kvyat Max Verstappen
Williams:
Valtteri Bottas
Felipe Massa
McLaren-Honda:
Fernando Alonso Stoffel Vandoorne
Jenson Button
Force India:
Nico Hulkenberg
Sergio Perez
Toro Rosso:
Max Verstappen Daniil Kvyat
Carlos Sainz
Renault:
Kevin Magnussen
Jolyon Palmer
Sauber:
Marcus Ericsson
Felipe Nasr
Manor:
Pascal Wehrlein
Rio Hartyanto Esteban Ocon

Haas:
Romain Grosjean
Esteban Gutierrez
Q: Lewis Hamilton
1. Lewis Hamilton
2. Nico Rosberg
3. Daniel Ricciardo
Curse: No curse.
The rest of you have until Q1 to get your picks in.
Good luck.