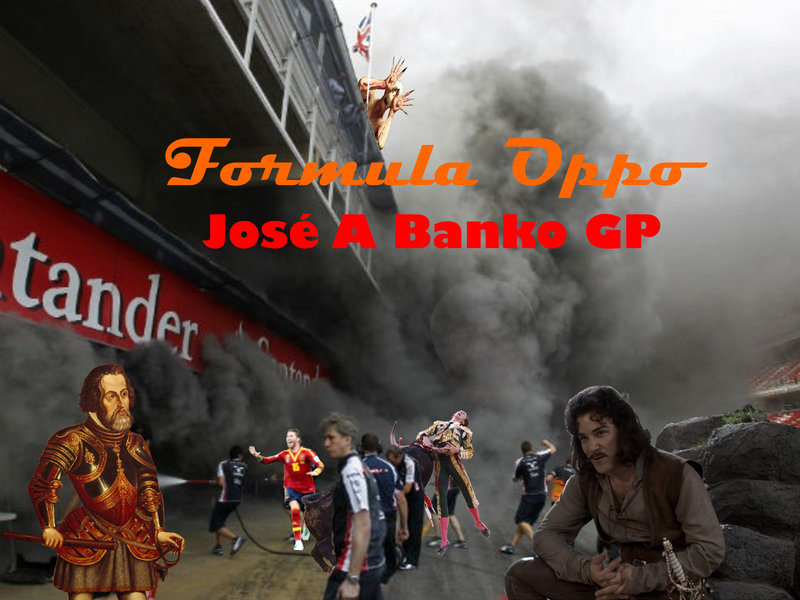 Oh, hello, didn't see you there. Welcome to the 5th circle of Hell round of Formula Oppo, Oppositelock's premier sexual fantasy Formula One game, and let me be the first to say that once again you're in for a treat.
Last time out, Lewis Hamilton came all over Nico Rosberg and the rest of the field. Sebastian Vettel had some, "tough luck," and got smoked by his teammate.
But, that was then, and Spain is now. Pastor Maldounibrow is saying that Lotus will podium, and Lucca is saying that their will be blood if Ferrari fails. Will the Silver Arrows of Mercedes continue to wipe the track with the blood of the innocent? Will Sebastian throw another temper tantrum as yet another Australian is faster than him, or has Red Bull set up the car in his favor? Again I'm asking questions that we will have to wait to find out about and no one cares to read.
Meanwhile at the Legion of Doom, the driver's list is as follows:
Sebastian Vettel- Red Bull
Daniel Ricciardo- Red Bull
Max Chilton- Marussia
Jules Bianchi- Marussia
Nico Rosberg- Mercedes
Lewis Hamilton- Mercedes
Kimi Räikkönen- Ferrari
Fernando Alonso- Ferrari
Romain Grosjean- Lotus
Pastor Maldonado- Lotus
Marcus Ericsson- Caterham
Kamui Kobayashi- Caterham
Sergio Perez- Force India
Nico Hulkenberg- Force India
Felipe Massa- Williams
Valtteri Bottas- Williams
Kevin Magnussen- McLaren
Jenson Button- McLaren
Esteban Gutierrez- Sauber
Adrian Sutil- Sauber
Jean-Eric Vergne- Toro Rosso
Daniil Kvyat- Toro Rosso
My picks go something like this:
1. Lewis Hamilton
2. Nico Rosberg
3. Fernando Alonso
Q. Hamilton
Curse: Montezuma's Revenge shall not be made by me this week.
The rest of y'all motherfuckers have until Q1(Saturday 5-10 at 8 am est.) to make your picks.
Buena suerte con sus selecciones!