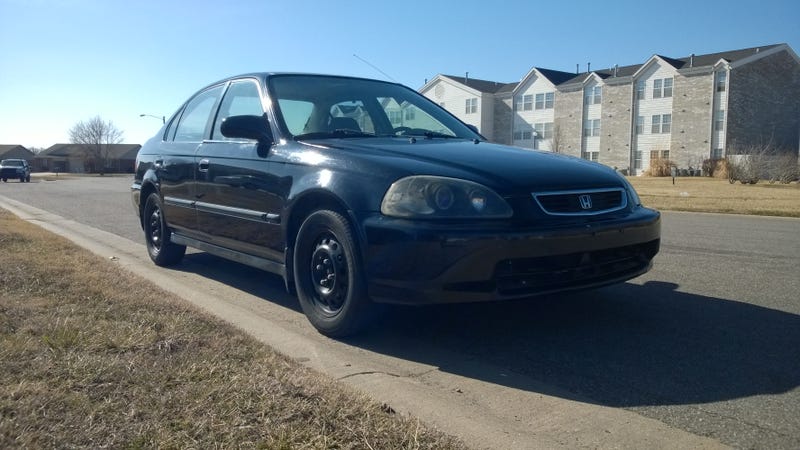 Here it is. My first car. By first car, I mean the first car I have bought, insured, and will register myself, under my name. Price paid? $545.75 all said and done. Here's what it looked like when I bought it.
1998 Honda Civic LX Sedan, canadian-spec. When I bought it it had no exhaust, no tail lights, and no battery. With the help of the guy who sold it I got a battery stuck in it and got the foggy headlights cleared up a bit, and he let me borrow some tail lights from another car. JayhawkJake got me the old exhaust from his Chevy Sonic RS which I will be chopping up and rearranging to fit under the Civic shortly. But here's what my $500 got me.
A short shifter connected to a nearly flawless transmission
Aftermarket headlamps that were wired up by an inept buffoon. Those aren't faux-projectors, either.
This badass stainless header
Ballin' seat covers that are actually really well-made and fitted.
Other goodies include a USDM gauge cluster with tachometer (shows 190k miles, car's actual mileage is around 250k), block heater, and a relatively new AC (canada cars dont have AC, it seems), a super hot heater, and all the wiring necessary to install an amp with the 50w 4channel Sony head unit with AUX JACK!
So far I've just driven it around a bit and given it a good wash at JayhawkJake's house. It drives pretty nice. The non-VTEC engine is gutless but the transmission shifts well and revving up to 7 grand is so much fun (though the lack of exhaust means it dumps right under the shifter and smoke wafts up through the shift boot at WOT). The ride is pretty good, and the fresh-ish Yokohama sport tires are pretty nice as well.
So, what mods will I be doing?
Well, I'd like to lower it one inch and get a VTEC D16 or a turbo (probably the former), and possibly some better wheels/tires. Other than that, I'm not gonna mess with it too much. The car is honestly in better nick than the Murdersofa, which I will continue to use to commute to school.
Have some more pictures.