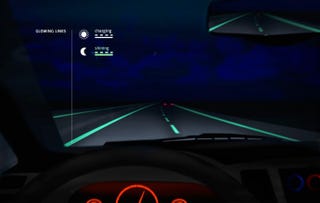 In a world where energy conservation has become incredibly important, it is no surprise that plans are afoot to revolutionize the way in which we illuminate our highways. A 500m stretch of road in the Netherlands has had glow-in-the-dark markings fitted in place of street lights.
Studio Roosegaarde is the design studio behind the project, and has been working with road construction company Heijmans to create the working examples being tested today. Heijmans used photoluminescent paint to create these unique markings, which should hold their light for eight hours after a full day of sunlight.
Back in 2012, Daan Roosegaarde, the studio's founder and lead designer, told "One day I was sitting in my car in the Netherlands, and I was amazed by these roads we spend millions on but no one seems to care what they look like and how they behave."
It'll be interesting to see how the markings hold up to the wear and tear of heavy traffic. If the test proves successful, rolling it out would make a huge dent in the energy consumption of a motorway network, as well as providing a simple way of increasing the safety of lesser-used country roads. Built up areas, in which street lamps illuminate pedestrians and other potential obstacles, may need alternative thinking, but we're right behind this simple solution.
Roosegaarde's plans don't end with glowing markings, though. He envisages invisible snow drops painted on the road surface that react to the air temperature and glow when it drops around freezing, warning drivers of potentially icy conditions. His team are also working on creating lanes that charge electric vehicles on the move.
*All Credit to Darren Cassey from CarThrottle
What do you guys think about this?