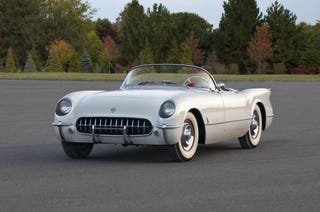 March was a bad month for GM facing an increasing amount of recalls and government scrutiny. It all started with the recall of their old compact vehicles like the Cobalt, HHR, and Ion over a faulty ignition switch. The recall list slowly expanded to their full size trucks and SUV's over a fire hazard, expanding the initial ignition switch recall to more model years, and just announced yesterday a recall of certain vehicles such as the Aura, Malibu, and G6 over losing their electrically assisted power steering.

April is not off to a good start either. GM has informed the NHTSA it will voluntarily recall all 1953-1954 and some 1955 Chevrolet Corvette's over lacking the vehicles iconic Small Block V8. For unexplained reasons, the 1953-1955 Corvette's were installed with an Inline 6 engine instead of the proper V8. Every 1953-1954 Corvette and some 1955's that rolled off the assembly line managed to get by quality checks and sold to customers with the wrong motor installed. Seeing how this massive slip up has managed to go by undetected for over 50 years has current GM management flabbergasted. GM's new CEO Mary Barra stated, " This is clearly unacceptable. We will make this right for our customers owning those Corvette's affected by this blatant oversight". Current chief engineer for the Corvette Tadge Juechter had this to say over this issue, " I am personally insulted by this. This has been a black eye on the Corvette's illustrious history. Every person who owns a Corvette deserves to experience our legendary Small Block V8 engine"

How does GM plan to rectify the problem? GM will be installing free of charge their new fifth generation Small Block V8 that is currently found in the C7 Corvette Stingray producing 460 HP and 465 lb.-ft. of torque. All current 1953-1955 Corvette owners affected by this issue have to do is bring their Corvette's to their Chevrolet dealer where they will be shipped to Detroit to make the swap. When the owners pick their Corvette's up from the dealer, not only will they find a LT1 installed under the hood, the vehicle will also be restored to mint condition.

Owners will be notified starting in May.
My favorite of the day.