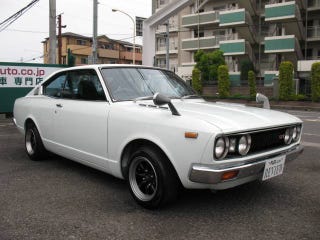 Today's Goo-Net find is a 1974 Toyota Carina GT. The Carina of the 70s was the Celica's platform-mate, being the slightly more upscale, sportier alternative to the Corona. They usually had 4 doors, and because of this they tend to be thought of as a Celica sedan, but the one featured here is the fairly uncommon 2-door hardtop coupe. If the Celica coupe was low and sleek, and the Carina 2-door sedan was upright and dorky, this is somewhere in the middle.
The Carina was never as popular as the Celica, and while this is nowhere near as pretty as its platform mate, there are several styling features I must admit I really like.
The slight staggering of the headlights, for example. Same with the wide, thin taillights and subtle buttressing around the rear glass:
And the mess of angles that make up the rear pillar:
Are one of those instances where every single line can be totally wrong and yet it somehow works.
The GT model, like this example, featured the awesome Toyota/Yamaha twincam 2T-G engine, good for around 120 horsepower. This engine is the predecessor to the 4AG-E, and it shows. It's rev happy, makes a lot more power than most comparable 8 valve engines and, in that Toyota/Yamaha way, sounds amazing.
The Carina featured here is in good, not great shape, with a wonderful exterior covering an almost clean interior. The price? Comparable to a JDM Celica with the same engine/specification: $19,270.
This does have the benefit of giving you something to explain over and over and over again at every Cars and Coffee you take it to.