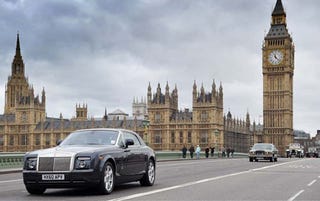 I shall say, there are but few things as infuriating as searching for "drivers' roads" in and around London.
This city, famous for congested traffic, parking fines and speed cameras, means that most of drives end up looking a little something like this:
I have therefore decided, to share some of my favourite drives in and around London.
They vary from short cruises to longer journeys, and are best attempted late at night or early morning, to ensure that the roads are nice and empty.
1. Hampstead Heath Run:
This 9 mile lap around Hampstead Heath is absolutely brilliant, and easy to follow.
With elevation changes and great view of Central London, it is the closest "drivers road", but due to the proximity of Central, it only really works late in the evenings or early mornings.
To find it, follow: Hampstead - Highgate - Tuffnel Park - Gospel Oak - Hampstead.
2. Leith Hill
Just South of London, there are 2 hills worth visiting, Boxhill and Leith Hill.
Both offer great little drives, and you cannot really go wrong, as long as you set your satnav to the smallest, narrowest roads around.
The journey pictured above is a nice little detour if you happen to find yourself on the M25 late in the evening, and goes to Leith Hill and back (great view and a place to go for a walk), with a total drive of about 25 miles.
Let me know of your favourite drives around London, and if you let me know, I will keep these features coming.