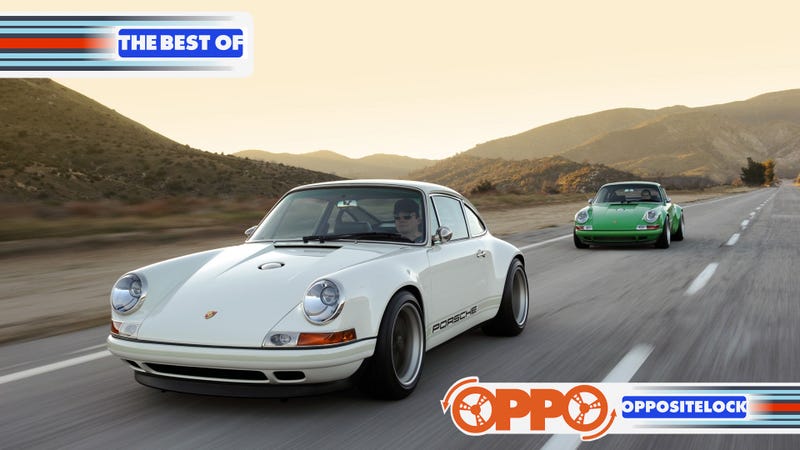 Gathered here are the Oppositelock posts that people put a good deal of effort into writing on Tuesday and Wednesday. It includes the 2014 Jeep Cherokee, Corvette C5, an ode to the pushrod, brand testimonials and more.
In all vehicle reviews there is a paragraph at the beginning with an analogy to something other than cars to frame the rest of the review. Something like; if the 2014 Cherokee were named after another native American tribe the cake song might be apt - come Comanche come on, if you want to build bridges you have to build roads. This new Cherokee is Jeep's renewed attempt to build important bridges into the lucrative small suv market, dominated by the rav4, crv and escape where the liberty has been a relative failure. But is this new jeep just treading on sacred ground, or is there a new chief? Want to know about the future of the Wrangler? HammerheadFistpunch also got to have a chat with a Jeep engineer.
As you can tell, I live the extravagant life of a Pizza Delivery guy. But hey, when you're in college, what are you going to do? Honestly, if you're working your way through college and happen to be a massive car-guy like myself, pizza delivery is one of the best jobs you can get. Sure, you're going to gain miles on your car like crazy, (9k miles in five months) and your car WILL smell like pizza. You don't have a choice in that matter. But you're getting paid to drive your car. I repeat: YOU'RE GETTING PAID TO DRIVE YOUR CAR.
In this world of high technology automobiles, one trend seems to be more and more popular. I was reading Top Gears review of the new Stingray, and I wasn't surprised with what was said in the comment section. "The pushrod engine? How barbaric." It seems the world has it out for GM's go-to engine layout. As if it's an outcast piece of ancient technology. It's old, outdated, and useless. I'm here throwing up my arms, in complete disbelief.
Back in the day I was fiddling around with short movie scripts (I love reading movie scripts) and since Jalopnik was my favourite website, I thought why not insert the writers of Jalopnik into a pre-apocalyptic story where fuel is about to cut short for commercial use, thus effectively ending the world of driving internal combustion engine-equipped cars wherever you wanted.
People are hyping the C7 as the best Corvette ever...and it is, but that doesn't mean the other ones were crap. The C5 is the best Corvette ever. ...It's the best, because it offers a better value of performance to the dollar than the C7. The C5s are cheap these days, and for the level of performance and aftermarket available to you, it seems like a pretty sweet deal.
You know how it is - you have ideas for projects that, if you just had the time and the money (and the skills and tools and a fully stocked garage and...), you could so totally have that ultimate driving machine you've always wanted. We've all had them, and for the most part, they're wild flights of fancy that if pursued could cost us our jobs, our marriages, even our very sanity. Well, here's another one.
Last night I decided to read some of the many lawsuits being lobbed at Fisker for not paying their bills. I came across a suit filed by an agency, ignited , who handles website development, content and social strategy. As someone who has never worked on the agency side of things (or corporate side for that matter) I laughed at some of the costs… The one charge that stood out to me, second to Fisker paying $4,000 to shoot car covers and chargers in a studio, was the $11,000 fee to create customer testimonials.
As far as I'm concerned, sport utility vehicles have taken over the United States. It's been like that for awhile, but none of them feel very sporty. Soccer moms drive them to stay away from minivans. Soccer dads drive them and rarely off-road them. Don't get me wrong, there are people out there that take advantage of the capabilities as an off-roader or towing trailers, but the ones that sell the most are built for the road.
This engine is an illegal configuration for Indycar, F1, Nascar, DTM, etc... The only placce it can race is at LeMans and a GT series somewhere. why? Regulations man. Regulations. In the interest of cost savings, more rules were put in place to keep everyone from spending dollars on developing weird angles for advantages. the problem here was that the dollars were still being spent on making that fixed configuration more advantageous. Net cost savings? Honestly I think it helped people spend more money to get that Nth bit extra out of what they had to work with. It's always the same story.
Traveling during the holidays sucks. Jalopnik gives you ten tips on how to make it suck less. Here's eight more (including overseas travel tips!)
Imagine for a minute that Tony Stark was an engineer at Carrozzeria Ghia and stuck in a hell-hole cave in whereveristan with access to a Lincoln Mk VI body and welding supplies...this is the Iron Car he would build. Also check out your opportunity to Show Off Your Bald Head In This Pantera Convertible.
With Forza 5 being released, I decided to bid farewell to Forza 4 the only way I know how: By being a complete and utter troll. Starring myself, driving my blasphemous custom PT Cruiser that cannot go straight in any possible way, shape, or form.
I finally got a new mic to replace the one that was lost along with my Hero3+ during the GM Autogasm a few weeks ago. Reviews are better for this one, but I have yet to test it. I had "Mr. Fix-It" (Mike G) cut a nice hole in the case in order to plug the USB in, just like last time. Then I used a very small zip-tie to fasten the mic to the back of the GoPro case.


The Best of the Rest
Alex Nunez got to play with the 500hp GTI Vision Concept. Audi For Life photographed a Daytona Gray RS7. Lepie shared a video of his grid walk at the FIA GT1 race on the Zolder circuit. It's a "Porch-uh" installed his rebuilt engine in his 944 race car. Brakesnow made an ode to his Pilot. Argent remembered his cousin's purple Camaro. Ubel's headlight refresh is holding up well. BiTurbo228 began the teardown of the engine for his Spitfire. Paul, Man of Mustangs shared video of his Mustang on it's new suspension and with straight pipes. Team5.0 broke an axle on his Jeep. Ian Duer ushered in Hoon-ukka by hooning his car in the first snow of the year. Rotundapig started his café racer project. Satoshi took his bike for one last dash before winter. The Swedish Bandit's father bought a '57 Chevy. Thedriver is buying Brnrubber302's Mustang. Jbh directed a symphony of Italian stallions. K-Roll found a sad, dilapidated 911 Turbo and showed us the soon to be his Porsche 944.






As always, If I've missed something and you would like me to include it, let me know.
Fun Discussions
There were several posts that asked questions and sparked some good discussion on Tuesday and Wednesday.. Take a peek and chime in on some of them listed below:
Just the #tips
Honourable Mentions
These posts have already been shared with Jalopnik directly but deserve to be mentioned again because they were first posted in Oppositelock:
Want to participate on Oppositelock? Check out the general handbook for posting on OppositeLock as well the Oppo tools to help you get started.