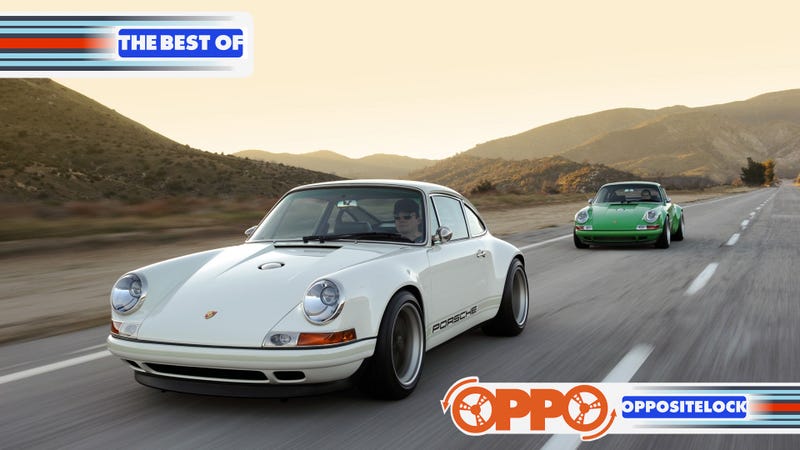 Gathered here are the Oppositelock posts that people put a good deal of effort into writing from Friday through Sunday. It includes mudding a WRX, car maintenance, why Nurburgring lap times matter and more.
Because Rally Car, right? You've seen the picture now, there's no undoing it. I took everything that I was told about the WRX's capabilities as a rally car and an overall tough bird, and I threw it all away. Some of you may be wondering what would come upon a man to do such a ridiculous thing. Some of you might be wondering why the Subaru above doesn't have camber plates and stance.However, most of you are probably wondering why nobody ever took my WRX away from me for being such a monumental twat.
This was my first time changing the oil in my car! I've decided to post a how to. I know you guys know how to change your oil, but the most informative part of the how-to is how I got the car in the air.
For automakers, the Nurburgring has become the primal estate to test the performance of their upcoming release, but some feel this has spiraled into a pissing contest through lack of regulation of what justifies a 'fair lap'. With Formula 1 boiling down to a European version of IndyCar through the FIA's iron fist of regulation and the production car top speed race dominated by exorbitant horsepower that no buyer rich enough to afford a Bugatti Veyron can actually handle, let alone find a long enough straight to meet their maker, the Nurburgring has become the last benchmark for performance that is available to squabble over.
Nothing like a trip home for a major holiday to force you into acknowledging how old you're getting. I felt this especially keenly last week when Mrs. mtdrift and I stayed a few days with my folks for Thanksgiving.
Not too long ago, I remember seeing an article (here on Oppo or Jalop that I haven't been able to find) about rapgenius.com's new feature, Rap Stats, which tells you how often a certain word you type in appears in songs starting from the late 1980's to this day. I got curious about what car companies are mentioned the most by rappers the most after hearing "Datsun" in a song that was being played by my roommate.
Today is the independence day of Finland and while half of the country is watching a line of people slowly moving and shaking hands with presidential couple from television I will commemorate this day by showing you some Finnish cars. The automotive industry of Finland is probably best known outside Finland for Saab convertibles and assembly of the infamous Fisker Karmal… However, I'm going to concentrate on smaller and completely Finnish origin cars in this post.
Imagine the perfect autumn classic car gathering. You would want an eclectic mix of cars, from Mini Coopers and Beetles to Bugatti Type 35s and Ferrari 275GTBs. You would want to see these cars in motion – both on the track and on the road. You would want sympathetic weather and, of course, interesting people, with a cross-section of owners and drivers from around the world. Put all of the above together and you get the Journées d'Automne (Autumn Drive) held in the Champagne region of France on the 19th and 20th of October...
Most of us, enthusiast or not, are probably well aware by now that the Carrera GT is not a car for the faint of heart. It had the capacity to render former Porsche test driver and WRC Champion Walter Röhrl a pale white, and even cause The Stig to end up the wrong way round multiple times in the same corner. Porsche even warned dealers that it is "the closest to a race car" a road car could ever be. Unfortunately, this past weekend professional racing driver Roger Rodas and Fast and Furious star Paul Walker learned this the hard way.
The Best of the Rest
StuttgartObsessed attended Caffeine and Cars at Griot's Garage, as did ThrillerWA09. TheWoodsAreLovelyDarkandDeep shared photos of her Supra, Miata and SC300. BKRM3 took pictures and video at the Simeone Museum Demonstration day. Bird found a picture of his dads Datsun roadster on some 8mm film. WhiskeyGolf wrote a eulogy to his recently departed Golf. 505Turbeaux shared pictures of his girlfriend's friend's former Volvo-amino and his $200 VW pickup. Casper took his wife's BRZ for a spin in the snow. ScorpioGTX1 shared his bad experience with Dynotronics. MountainCommand and The Jevans attended car meets honouring Paul Walker. Agrajag had a good experience at his VW dealer. Pixel bought another Scion xB. Dukie went to Caffeine and gasoline. Inline Six stopped by C&C in Austin. Der Käfer put a roof rack on his Beetle. JCAlan lowered his Challenger. BullManUGA brought his GoPro along for some karting. BJohnson11 fashioned a handle for his knife-wrench. Gmctavish bought a 325e. Milky took a drive around Belle Isle. Dr. Dingleberry shared some photos of the Lykan Hypersport on the F&F7 set. Duurtlang put his winter wheels and tires on his Peugeot 406. BiTurbo228 got his Lada Niva back in action. Burt hooned his Fiat 500 Abarth in the snow. BKRM3 and davesaddiction took their e90 M3s out for some snow drifting. Reborn Phyric bought a Peugeot 309 GTI.
---
As always, If I've missed something and you would like me to include it, let me know.
Fun Discussions
There were several posts that asked questions and sparked some good discussion between Friday and Sunday. Take a peek and chime in on some of them listed below:
Just the #tips
Honourable Mentions
These posts have already been shared with Jalopnik directly but deserve to be mentioned again because they were first posted in Oppositelock:
Want to participate on Oppositelock? Check out the general handbook for posting on OppositeLock as well the Oppo tools to help you get started.