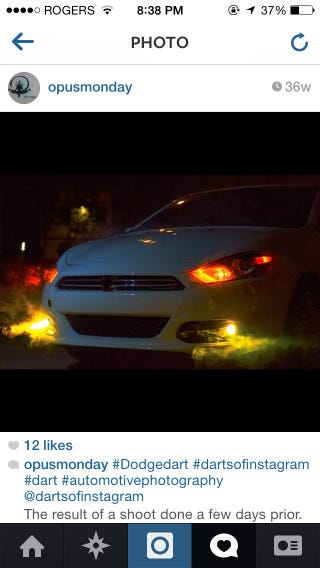 A year ago today you were delivered right to my door.
The decision to get you took about ten seconds, and ten text messages. (Huzzah, 21st century dealer experience, it's like C-section for your car buying)
Have I regretted you? At times. But like any fiery Italian transplant, only because your meds needed adjusting. Those times were and are still very sparse, and it's best not to dwell. Your mother and father (corporate and dealership) have been very good to me and fixed anything that has gone wrong.
As to you? You get great fuel economy, drive and ride well, and have in the last year cost me absolutely zero in maintenance, but a lot in car washes.
See, I was one of the first to take civilian delivery of you in these parts. And because I wanted more of your brothers and sisters on the street to keep you company I have washed and detailed you three times weekly each week from delivery until now, so that people would see a very clean dart driven by an admittedly attractive angry flower bastard like me and maybe buy one for themselves.
Angry flower bastard pictured after acquiring dollar store raver nostalgia item :
I took you to car meets, BBQ, and even across the country and answered questions/always had a minute to chat about "is that a new Dart?! So what do you think?"
So a year in, 35000k in, should I have bought you?
Absolutely.
Happy birthday, sweetheart.