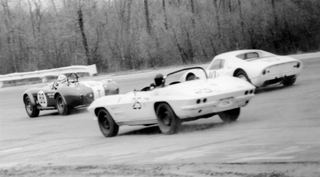 Have you ever heard of Marlboro Motor Raceway (MMR)? I hadn't, and I live nearby and have been buying Fords at the dealership just down the street for over a decade. It turns out that this facility, located just off of U.S. 301 in Upper Marlboro, MD, was home to some amazing racing decades ago. I'm no historian (although I did come 6 credits shy of minoring in it) so this is not a full treatment of this amazing place, but just a primer in what was back in the 50s and 60s and what could be for an entrepreneurial soul willing to take a gamble on a derelict track just miles from the Nation's capitol.
Read original article here or continue below...
Image Credit: Barcboys.com
Built in 1952 by the founder of a Maryland sand, gravel, and concrete producer, MMR initially featured a dirt oval which was eventually paved (he knew a guy) and expanded to feature a road course and karting track. MMR was big time, hosting major SCCA, NASCAR and other international racing events including the FIA 12 hour. Eisenhower himself awarded trophies for the "President's Cup". Eventually this was downgraded to the "Governor's Cup" and today you couldn't get a Prince George's County representative to dole out a trophy, because this facility is sadly abandoned.
Image Credit: Wikipedia
Ultimately it was replaced by something bigger and better, Summit Point Motorsports Park which is about two hours away from MMR. But during it's glory days, it was, well, rather glorious. 1958 saw the debut of an upstart 21 year old named Roger Penske. Known for more than just the "Penske File", we all know how he turned out. He won the President's Cup in 1960 at MMR and Penske's super lightweight Cooper Monaco (below) dubbed the "Unfair Advantage car" made everything front engined obsolete in 1962.
Read original article here or continue below...
Image Credit: Barcboys.com
Back in the heyday of MMR, you could see Lola's, Alfas, Porsches, Corvettes, and Ferraris including the 1957 Ferrari 250 TR driven by Charlie Hayes, which now holds the "most expensive car in the world" crown. Below, Bob Holbert's winning Porsche RS-60 sits on the grid prior to race time.