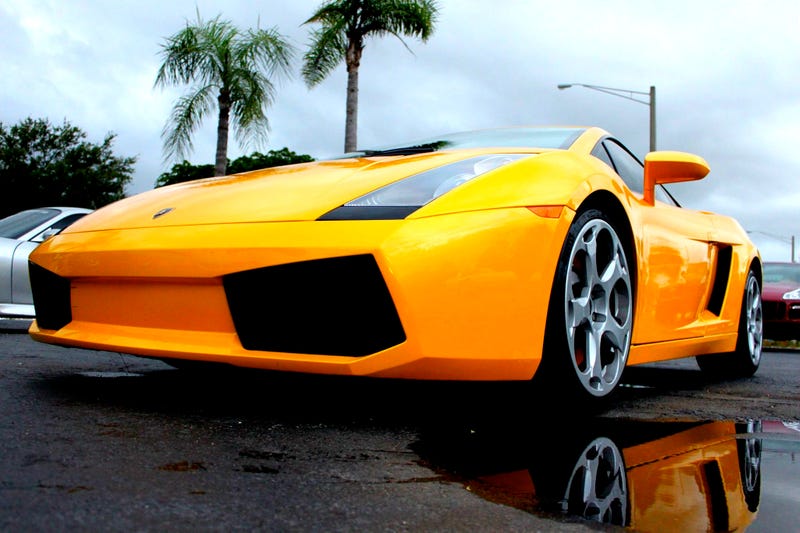 So I've been creeping around about half a year, signed up a few days ago, and got author on Oppo that night. (Yay for no long wait. :D)

I've been wondering ever since I've seen comments about how oppo/jalop something is if my favorite car photos I've taken are oppo/jalop at all. (guessing no) I haven't had the privilege of any seeing live motor sports yet so no oppo... Oh and after the pictures I'll post my driving/car history (which is uber short), fav cars, and maybe some other stuff.
Thanks for looking, and please leave opinions. Anyways...
Age: 16.5
Location: South-east U.S.
Favorite car: It was the 2013 Subaru WRX (preferably STi) 5-door in WR Blue but after seeing about 1000x more cars than I knew existed via here I just don't know anymore.
Car History: Drove 26 footer U-Haul around farm age 15
Got permit at 15.75 yrs
Started driving 2010 white Toyota Sienna minivan (parents car)
Half the time got to drive a 200something Dodge Ram 4x4 Cummins Turbo Diesel extra-long bed (idk anything else, it's sold now too). Being here in the south every grown man would look at me like "Dadgum. How'd that little city boy get his hands on that?" (the actual truck was tan)

I drove those until I was 16.3 when my parents finally sold the truck, my dad got a work car (so everything for that paid by his employer), and they wanted to get a car for me.
So there were these 2 cars I almost got...
So first is this car... I think it's a 320i like the one below... (no M badge on the one I saw though) It was a craigslist find. 300,000 miles on the body, 70,000 on the engine, tons of new pieces, some guys project car baby. A few dings, and a little paint wear in less visible areas. The most solid engine of the series bound to hold together like a Honda. That one fancy ground effects kit that makes it look nearly flush to the ground. Only $3000. I don't know if that's good but dude did it sound good to me. Some guy bought it 2 hours before me and my parents went up to see it. Here. Cry with me.
Then I moved on... and found a 2003 Mazda Protege 5 wagon. It was darkish silver, had a front matte black lip spoiler, minimalist rear spoiler on the top (flush with the top of the car), appropriate silver rims (looked almost stock, but with sport),short throw shifter, blah blah blah, bike rack, tons of performance crap that was as good as it got without turbo/supercharger or a new engine, super awesome non-fart cannon exhaust, and 6 speed manual. Only thing making it more jalop would be brown, no? New clutch, and a few small things. 100,000 miles, and $4500. They never answered.... *sob*
And then my parents decided new was better because of warranty and stuff.... and I'm not complaining or anything buuuut... I'd rather have an older car that's more fun, even if I like the new one
2013 Mazda 3 whateverthesportpackageis. 6 speed manual, and when in 2 and 3 gear it moves like a bat out of hell (to a new driver with no experience). No chance to try higher than that. (Unless I feel like going over 80 on public roads which I think is a bit much. :P)
It's pretty nice, and Mazda's tagline is zoom-zoom. I cannot stand driving that van anymore. Such a dang slushbox, shifting sucks, I can feel the body roll on turns, and you have to stop way early or nearly fly out of your seatbelt when in the Mazda you'd still be fine. What's funny is I didn't notice any of that before I drove the Mazda. I have some non ricer (I think...) ideas I'd like to do with the Mazda. When I go to college I'll take over the last year or so (however long) of payments or if it's paid off I'll go into a bit of debt with my parents and it'll be mine. Then it'll be performance timez... but until then I have to settle for visual stuff that's reversible.
And ya know... the big smiley front face? I didn't really like/dislike it upon first seeing it but it's grown on me as I realise it's like it's portraying the drivers happiness and I think it fits me well. I mean I got pleasure out of driving that van just 'cause it was what was available, and I made the best of driving that truck. (which actually was awesome)
I'll make a post with my plans some other times.... thanks for reading if you did. :)
Hope to see you around, opponauts.