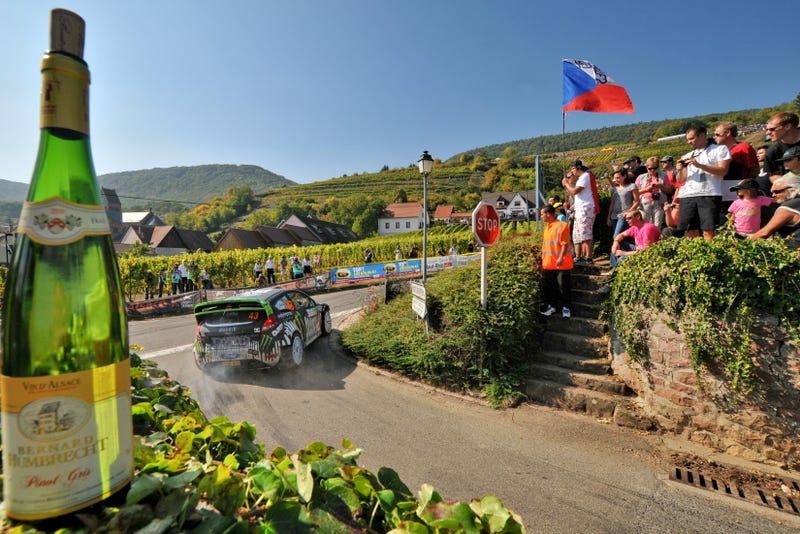 After our jaunt down under we're back in Europe for the final three rounds of the championship, starting with a return to tarmac in France. France is the final all-tarmac event of the season (Spain's first day is gravel) and has been known for its share of dramatic moments. With the return to tarmac and the return to Europe comes the return of the WRC's winningest driver, as Sebastien Loeb straps in one more time for what is to be his final WRC event ever, his swan song in front of his home crowd. Loeb has trumped Ogier twice so far in this year's battle of the Sebs, and he'll be looking to go three for four and get his 79th career win this weekend. Ogier will want to win to show everyone that he's just as fast and he isn't earning his title simply because the true best driver is relaxing on a beach somewhere instead of racing.
Speaking of the title, you might as well wrap it up and hand it to Ogier now, because unless Ogier fails to score a single point in France and Neuville wins the rally and the power stage the 2013 championship will officially belong to the younger Seb. It's been an exciting championship battle but this... oh who am I kidding, the championship's been a disappointing snorefest from the start, so one sided and predictable that it's had many dreaming of the "close title fights of the Loeb era." But on the positive side a star of the future has emerged in Neuville, a sign that perhaps future championships won't be won as easily.
Here are the rules and scoring: Pick four drivers for the rally and one for the power stage (the final stage of the rally). None of your four drivers can be part of the same team (so you can't have both Hirvonen and Loeb, or both Ogier and Latvala). Your power stage driver can be amongst your four main drivers or it can be someone else (team rules do not apply for the power stage driver). List the four drivers in the order you expect them to finish. At the end of the rally you get the cumulative total points from each of your four drivers (an additional 2 points if you correctly guessed their finishing order), plus 2x however many points your power stage driver scored (if any).
Here's the WRC France entry list
Citroen Total Abu Dhabi WRT
•Mikko Hirvonen
Best Finish, Last 10 Races: 2 (x2)
Podiums, Last 10 Races: 4
Average Pts, Last 10 Races: 10.2
DNFs, Last 10 Races: 1
Points-Scoring Finishes, Last 10 Races: 8
France Starts: 8
Best Finish, France: 2
France Podiums: 3
Average Pts, France: 9.0
Points-Scoring Finishes, France: 7
•Sebastien Loeb
Best Finish, Last 10 Races: 1 (7x)
Podiums, Last 10 Races: 9
Average Pts, Last 10 Races: 21.1
DNFs, Last 10 Races: 1
Points-Scoring Finishes, Last 10 Races: 9
France Starts: 9
Best Finish, France: 1 (x6)
France Podiums: 7
Average Pts, France: 18.7
Points-Scoring Finishes, France: 7
Qatar M-Sport WRT
•Mads Ostberg
Best Finish, Last 10 Races: 3 (x2)
Podiums, Last 10 Races: 2
Average Pts, Last 10 Races: 7.2
DNFs, Last 10 Races: 0
Points-Scoring Finishes, Last 10 Races: 9
France Starts: 3
Best Finish, France: 5
France Podiums: 0
Average Pts, France: 6.0
Points-Scoring Finishes, France: 3
•Evgeny Novikov
Best Finish, Last 10 Races: 4 (x2)
Podiums, Last 10 Races: 0
Average Pts, Last 10 Races: 4.4
DNFs, Last 10 Races: 2
Points-Scoring Finishes, Last 10 Races: 8
France Starts: 2
Best Finish, France: 7
France Podiums: 0
Average Pts, France: 3.0
Points-Scoring Finishes, France: 1
Volkswagen Motorsport
•Jari-Matti Latvala
Best Finish, Last 10 Races: 1
Podiums, Last 10 Races: 4
Average Pts, Last 10 Races: 10.0
DNFs, Last 10 Races: 1
Points-Scoring Finishes, Last 10 Races: 7
France Starts: 6
Best Finish, France: 2
France Podiums: 1
Average Pts, France: 11.0
Points-Scoring Finishes, France: 5
•Sebastien Ogier
Best Finish, Last 10 Races: 1 (x6)
Podiums, Last 10 Races: 8
Average Pts, Last 10 Races: 18.7
DNFs, Last 10 Races: 0
Points-Scoring Finishes, Last 10 Races: 9
France Starts: 2
Best Finish, France: 1
France Podiums: 1
Average Pts, France: 16.5
Points-Scoring Finishes, France: 2
Volkswagen Motorsport 2
•Andreas Mikkelsen
Best Finish, Last 10 Races: 4
Podiums, Last 10 Races: 0
Average Pts, Last 10 Races: 3.7
DNFs, Last 10 Races: 2
Points-Scoring Finishes, Last 10 Races: 6
France Starts: 0
Abu Dhabi Citroen Total WRT
•Dani Sordo
Best Finish, Last 10 Races: 1
Podiums, Last 10 Races: 3
Average Pts, Last 10 Races: 9.6
DNFs, Last 10 Races: 1
Points-Scoring Finishes, Last 10 Races: 8
France Starts: 6
Best Finish, France: 2 (x2)
France Podiums: 4
Average Pts, France: 11.0
Points-Scoring Finishes, France: 4
Qatar WRT
•Thierry Neuville
Best Finish, Last 10 Races: 2 (x4)
Podiums, Last 10 Races: 6
Average Pts, Last 10 Races: 12.2
DNFs, Last 10 Races: 1
Points-Scoring Finishes, Last 10 Races: 8
France Starts: 1
Best Finish, France: 4
France Podiums: 0
Average Pts, France: 12.0
Points-Scoring Finishes, France: 1
Jipocar Czech National Team
•Martin Prokop
Best Finish, Last 10 Races: 4
Podiums, Last 10 Races: 0
Average Pts, Last 10 Races: 4.9
DNFs, Last 10 Races: 1
Points-Scoring Finishes, Last 10 Races: 8
France Starts: 1
Best Finish, France: 9
France Podiums: 0
Average Pts, France: 2.0
Points-Scoring Finishes, France: 1
Notable WRC2 Drivers:
•Robert Kubica
Best Finish, Last 5 Races: 5
Podiums, Last 5 Races: 0
Average Pts, Last 5 Races: 2.8
DNFs, Last 10 Races: 0
Points-Scoring Finishes, Last 5 Races: 3
France Starts: 0
•Elfyn Evans
Best Finish, Last 2 Races: 6
Podiums, Last 2 Races: 0
Average Pts, Last 2 Races: 4.0
DNFs, Last 2 Races: 1
Points-Scoring Finishes, Last 2 Races: 1
France Starts: 0