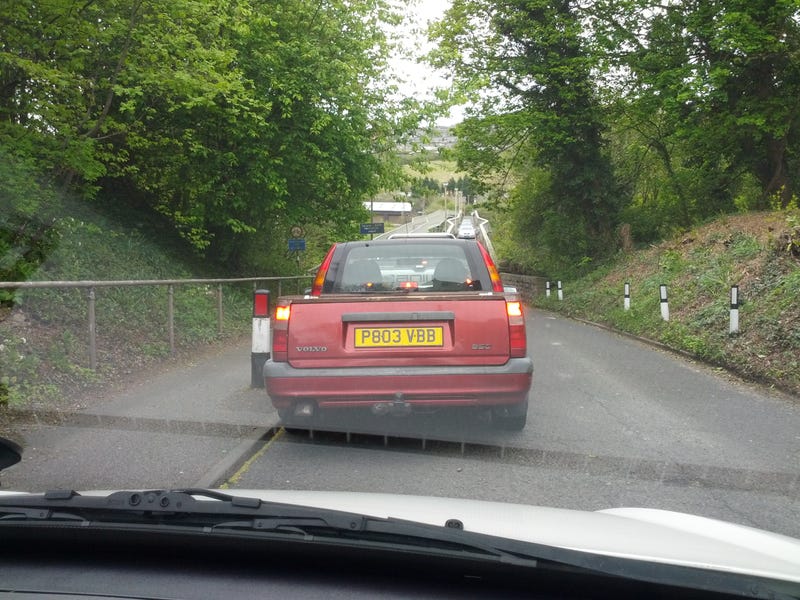 Almost looks like a normal Volvo 850 wagon, right? Wrong!
Bare in mind I actually had to pull this guy over just to get these pics, so please admire my dedication. Luckily at the time I had a white Focus, which in jolly old England means; Rozzers.
Anyway, we had a chat.
The gentleman who owns this little gem had grown tired of using a trailer to haul his motorcycle up and down the country, so after a cup of tea and presumably a good twiddle of his moustache, got the circular saw out and started cutting.
After removing everything from the rear seats backwards, the central body section was cut out relatively easily. The rear window and light clusters are original, and required minimal adaption to fit to the B pillars.
He then went on to line the bed with chequerplate alu, with a recess for the bikes front wheel, a small socket and spanner set, and the Volvo's original spare with jack etc. Wiring was an issue with splitting the light clusters, but the rest was cut and bolt construction. I love drop-down tailgate, and the utter uniqueness of a build that is designed to solve a problem. Why aren't there others?
Oh, and it's a diesel manual. Happy days.