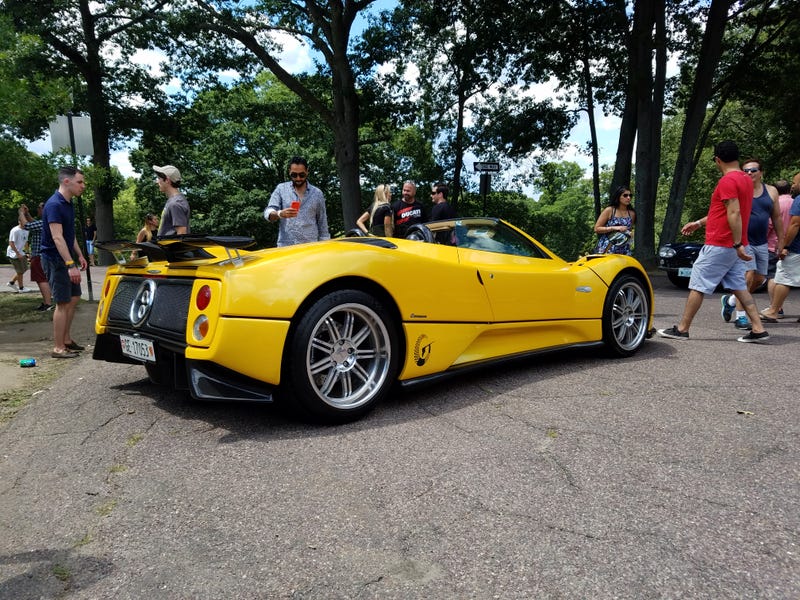 The first Pagani I've ever seen, and it was a Zonda - my favorite. It was too good to be true. The attention to detail/build quality that's apparent when you see one up close helps explain the price.
A Spyker!! Nuts. Hadn't seen one of these either but now that I have, I think the quilted leather is the best part.
The distinctive audi 4.2 intake runners looked great under the plexiglass. But it was also really strange to see them there.
I had actually seen one before, at the Boston auto show when these were new. I was still a kid at that point, so I reached over the rope and poked it so I could say I've touched an Enzo. It was cool to see one as a young adult with 10 more years of car nuttery behind me. Needless to say, I appreciated it more this time. Didn't poke it though.
I spent even more time with this car than I did with the pagani. New cars can be cool but vintage stuff will always be my favorite. I can't really express what it was like for me to see a Grifo. It was like some kind of car nerd religious experience. This is the gorgeous version; it has the small block chevy. The big block cars have a massive rectangle cut out of the hood and then raised a couple inches to accommodate the motor. Yikes. Anyway I took pictures of every inch of this thing and orbited it like a satellite for the entire show, coming back every so often to gawk some more.