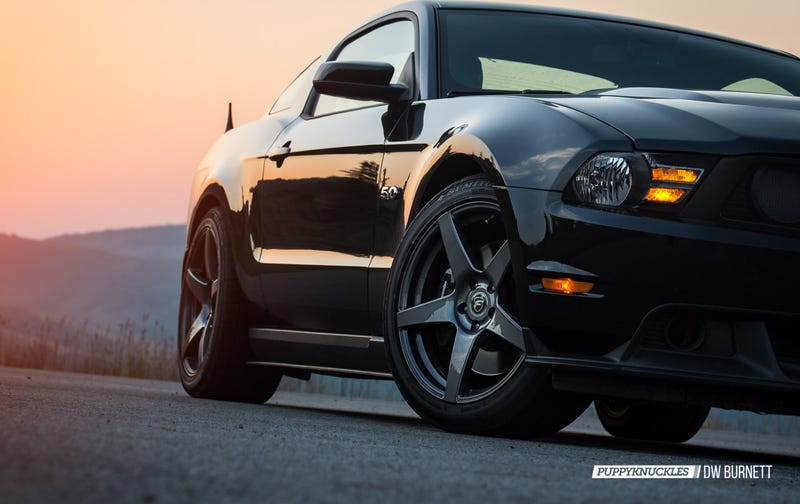 This summer, I drove from my home in Brooklyn, New York, to Los Angeles and back again. It's just something I've always wanted to do. It was a special trip for me, not just because I got to see the whole country and spend time with some of my favorite people, but because the idea of driving a Ford Mustang clear across the USA has been on my mind ever since I was a little kid.
[Yesterday, I posted part one of the trip, including the whole Route 66 experience with my dad. If you missed that, and have a lot of time to kill, you can read the whole thing right here.]
I posted these articles originally in installments on my website http://puppyknuckles.com/. Now that it's done, I thought it would be fun to cram the whole trip in to one ridiculously huge Kinja post, but it looks like Kinja is going to have a meltdown if I paste in more than one half at a time. This is part two. I apologize if any of this seems self-indulgent; it was one of the best 30 days I've ever had and I wanted to document it and share. Admittedly, this half has even more "family stuff" and exactly zero "Route 66" stuff, but there was somehow an even greater sense of adventure. My mom even made a surprise appearance in the passenger seat, which rounded out the family experience completely and it was rewarding as hell.
We now rejoin the trip as my girlfriend Margo and I head out of San Francisco and even further north up the California coastline:
Part Nine: Wine Country Into Mendocino
If you've been following the Mustang USA narrative, you'll know that I wrapped up the Route 66 drive with my Dad and now a whole new Puppyknuckles crew has assembled in San Francisco. My brother and I drove up from Irvine, my girlfriend flew in from New York, and my cousin who lives in San Francisco made sure we would have a night we would never remember.
We woke up the next morning dehydrated, with headaches, and in a strange and dingy Airbnb apartment. As opposed to the largely scripted Route 66 experience, there suddenly were no guidebooks instructing us where to go or what was going to happen next. It was exciting.
Well, after a long night, we definitely know what's going to happen FIRST. A huge breakfast. These eggs and brisket hash did wonders for my mood. I don't even remember where we ate, but it was great. You don't need my advice though, it's San Francisco. You can't swing a dead cat without knocking over a mimosa on somebody's table having brunch.
From the top of Lombard Street you can get a good look at the Coit Tower in Telegraph Hill. San Francisco is an amazing town to drive in. The hills are crazy. I admit I did get nervous once. I was sitting at the steepest goddamn red light – you couldn't even see what was over the horizon – and of course, a car behind pulls up really close. Thank god for the 5.0 and its torque. After that, I practiced my handbrake hill starts.
The famous Lombard street: 8 hairpin turns and at least 8,045 tourists. We drove down it, of course. We're tourists.
The houses on Lombard were stunning. Couldn't help but wonder what kind of insane price tags are on places like these.
My brother had to get back to Irvine and his two little babies, so he hopped in an Uber and went to the airport. Margo and I made our way over the Golden Gate bridge and started our leg of the journey together. For the next week, we plan to do some wine tastings in Napa and Sonoma, visit some northern California towns, see the majestic redwoods, and then cut through Oregon to end up in northern Idaho, where my parents live.
Really, another food picture? Yes. Hell yes. Guinness in a frosted mason jar with clam chowder outdoors on a pier is a moment of utter perfection that I must remember forever and ever. The place is called Fish, just outside Marin City on the 101. Go past the tourist trap of Sausalito and you'll be rewarded.
Here's Margo on the beach. We realized that we hadn't actually touched the Pacific Ocean yet. It was a nice day, but the water was pretty darn cold.
Our original plan for this day was to go to a kick ass cabin resort in Yosemite, but at the last minute that was scrubbed because of severe fires in the park. It was a bummer, but smoke, phone lines knocked out and 3 hour detours with limited park access was not a good way to start off the week. So, at Margo's brother's recommendation, we went to Point Reyes instead, which is a couple hours north of San Francisco on the amazing Pacific Coast Highway. Our hotel overlooked Tomales Bay and this cool shipwreck.
We chose this restaurant called Saltwater for dinner because it was the closest place and we couldn't wait to get back to the hotel and enjoy the bay breeze and the fireplace in the room. But we got lucky, this restaurant was fantastic.
Saltwater had a simple prix fix menu: you could either have fish, or fish. Luckily we were both totally down with that. Hope you're enjoying this food porn of the cod. We did rusty cars and shit on Route 66, now it's time for some refinement, ya know. There wasn't much to do in Tomales Bay after dark so Margo and I were happy to spend it at this restaurant that felt more populated by locals than travelers.
The next morning, we headed for the Point Reyes National Seashore. Leave your beach umbrella and cooler at home. After a quarter mile hike through the hills I was positive I would be attacked and partially eaten by a bobcat before we actually got to the water.
It's a beautiful, but cold and windy seashore. Lots of seagulls. Lots of seaweed. I thought it would be a nice place for a good cry.
The roads getting to the seashore were twisty and fun, though. I was stunned how foggy and gray it can be in this part of California, especially before noon. Having done our sightseeing for the day, we checked the time and realized we had to bust ass to make the appointment for a wine tasting Margo had set up in Napa.
And with that I found myself staring at my first vineyard. I had never done anything like this before so I just nodded and said "wow" a lot. This is Corison winery, owned by Cathy Corison.
Cathy Corison was able to buy this whole shebang for just the price of the land in the '80s. Turns out some of these vines are over 50 years old, which making them among the oldest in the Napa valley.
This is what a truly old vine looks like. Practically like a small tree. This was the first time I'd heard somebody use the word "gnarly" and not sound like Spicoli from Fast Times at Ridgemont High.
A really gnarly old vine will not produce nearly as many grapes as the younger vines do, but the quality of the grapes they do get from these huge old beasts is unparalleled. We got to eat a couple. They were good.
The tasting that we got was brief, but hey I drank some free wine! That we mostly spit into a bucket.
Had to stop for a photo op before leaving Corison and Napa valley. Next, we will head directly over a mountain to the Sonoma valley where we will spend the night. What a lucky surprise that the blast over the mountain was my favorite type of road: old, twisty 55 mph highways full of 25 mph corners. Margo likes riding shotgun for this kind of thing as much as I like driving it, and with little to no traffic in sight, we let it rip.
This was the moment when it really crystallized why I have 1. brought my Mustang 3,000 miles to the West Coast and 2. modified the crap out of that Mustang. We start climbing the mountain and the Steeda intake is loud, gulping huge lungfuls of air with every throttle stomp. The unrestricted BOSS side exit exhaust combined with the GT500 axlebacks sounds near-as-dammit like a Trans Am-era race car as we give it the beans exiting each corner. It's an honestly terrifying sound, and I love it. This Mustang didn't come with the optional Brembo brakes, so I upgraded later to the SVT kit, and installed stainless braided lines and brake ducts for track days. They were more than up to the task of late braking into some sharp downhill corners on the other side of the mountain. The staggered width 19″ Forgestar wheels help erase some understeer and are shod with Sumimoto summer tires that have plenty of grip even after multiple track days. They're good tires that send progressive audible feedback when pushed. The MGW shifter that Margo helped me install one night over the winter was smooth and precise with every heel/toe downshift. The Mustang never gets exercised like this in Brooklyn, and it was eating it up.
It was a pure driving moment, my girl at my side, and it couldn't get much better. We settled into traffic in the valley feeling happy, and made our way to a great little Airbnb apartment for the night in Sonoma.
The next day, we went to Copain winery for a tasting. Another appointment only type deal; I think anyone can pay for these, but Margo was getting us "industry" tasting privileges. I don't know anything about wine, but I do know that I am very special.
This tasting was awesome. The snacks weren't pairings, just tasty little local meats, cheeses, nuts to eat as you like with the different wines. We tasted things from light to dark, and the guy pouring the tasting was impressive in that he answered every question with a lot of detail but also made it understandable for a wine noob like me. We were joined by two other couples and I do believe no one spat out one single drop of wine.
Copain has a huge property so we went hiking around in the vineyards. A lot more vines than at Corison, but both are still considered small to medium wineries. We spent some time hanging out, and then got on the road to head up to Mendocino, where we had a cabin waiting for us in the woods.
The drive to Mendocino is great, and we can't help but notice that the trees have gotten super tall. In fact, one of the tallest, if not the tallest tree on earth is supposed to be near here somewhere.
Home sweet home. Margo and I have a place in Brooklyn that we rent out on Airbnb, so it's really cool to be a guest in someone else's world. This cabin was tiny but well done. It was near the owner's house, so you didn't feel like you were alone in the woods. There were chickens and friendly cats. There was a tiny television and a DVD of Rainman.
The town of Mendocino was small and sleepy. This weather was not helping to add any kind of festive mood to the place. But it had tons of atmosphere.
The craggiest, most primeval coastline yet at Mendocino Headlands State Park.
We watched the distant lighthouse blinking at us through the fog for a while. There was almost no one else out there. I guess I was picturing some kind of bustling California beach town in my mind before we got here. I felt like I was getting a northern California education.
As it got dark, it was time to Yelp some dinner. We were hoping for a well-reviewed local pub, as we were in the mood fo some good bar food, cold beers, wouldn't mind some warm lighting, and maybe even some other people. We were happy to find literally everyone in Mendocino packed into one English style pub. Was a perfect way to shake off the gloom of the coastline and prepare for our night in the cabin.
I forgot that Rainman is basically a Route 66 family member road trip movie. We watched it of course. After having just done my own Route 66 drive with my Dad, I couldn't help trying to decide if I was like the hot-headed, big-city prick of Tom Cruise or the mentally handicapped "Wapner in five minutes" Dustin Hoffman character. Pretty sure it's a little from column "A", little from column "B".
Coming up next: Margo and I keep heading up the Pacific Coast Highway until we get to some serious Redwoods. Stay tuned.
Part Ten: From The Redwoods To Crater Lake
It might be borderline offensive to reveal this to those of you who are reading this at work, or facing the prospect of work, or aren't near a bed, but upon waking up in our private cabin in a forest outside Mendocino, Margo and I were served homemade breakfast, which, in addition to being very delicious indeed, was brought to us on trays perfectly suited to eating on our bed. This was super, because we fell asleep the night before watching Rainman on DVD and now we could finish it without being hungry. It was a tough life.
The previous two days were filled by an entirely acceptable ratio of wine tastings, curvy roads, and stunning California coastlines. Up next we would behold some of of the most beautiful anythings anywhere: the incredible Redwoods of northern California. Finally, we capped it all off with a blast up to the top of Crater Lake in Oregon. Hang on, we're about to cover a lot of great miles here.
Here's a picture of Margo sitting on a bench. We stopped often along the Pacific Coast Highway heading north out of Mendocino. Beautiful, uncrowded vistas felt completely serene except when other visitors would sneak up behind you and shout "BET YOU THOUGHT YOU WERE THE ONLY ONES OUT HERE!! HAHA!!" Haha, indeed! Thanks, I pooped in my pants a little.
I can't image how awesome this guy's view is from the mountain side overlooking State Route 1. I would be happy if I just had a view of his house from my house. Actually I would be happy if I owned any house. Especially one like this.
We're nearing the end of our journey along the coastline which makes us both a little sad. Every mile from here on out gets us closer to New York City. Margo wielded the Nikon and got this picture of me wistfully gazing at the ocean and wondering how to pose while not looking like I have to pee.
Margo behind the wheel. We joined up with the 101 and started heading into the mountains.
Margo didn't even make me nervous with some spirited driving. The sun was out, the car sounded great, and the trees kept getting taller, and taller… and taller…
Take that, you dumb ass 2400-year-old tree. Ha ha! We just drove THROUGH you. Doing this made me feel stupid because A. it's obviously silly to do this to a majestic living creature and B. once we were suckered in and paid the five bucks at the gate, we realized we were stuck in a 20 minute line of cars who would all take their sweet ass time taking pictures in front of the tree, and then not even drive through it. Ugh.
We also got stuck in some traffic on the 101 outside of Garberville. Weirdly, as we rolled into town we noticed the place was basically deserted. That's when I learned a law of nature: that the population of of a small northern Cali town will be handily decimated by the presence of a nearby outdoor reggae festival. It pretty much shut down Garberville to all tourism. Closed signs swung in the windows. Rabid dogs roamed the streets. Only one cafe was open, and the kids who worked there looked pretty pissed they weren't at the reggae festival, too. We ate a sub par meal and got out of there ASAP.
We then rolled the Mustang down a street with one of the coolest names of all time: the Avenue of the Giants. This is what you call the 101 once you start getting into the Humbolt Redwoods State Park. Words can't describe how epic this area is, and pictures really don't do it justice either. (At least mine don't) It's one of those places you have to see to believe.
We hiked into the Redwoods a tiny bit and I was struck by something. These woods are very quiet. I'm no Forest-ologist but I guess I'm accustomed to screechy, clicky, buzzy insect sounds in a forest, of which there are virtually none here. We definitely didn't spend enough time in this world. I look forward to coming back someday.
Our goal for the night is the extremely glamorous Best Western in Crescent City, California. We aren't really confident that there will be much to do in Crescent City, so we tried to maximize our daylight in the forests. The presence of the fog rolling in with the sunset skies was just too much. Awesome.
Basically as you travel the California coastline south to north, you'll go from hot, sunny, sandy beaches down near LA to epic bluffs near San Francisco to outright hostile, jagged moonscapes once you're up in Crescent City. There's not much going on in Crescent City. It's kind of a culture-less redheaded stepchild California town. It does have one claim to fame: it's been hit by not one, but two tsunamis, most recently as a result of the earthquake in Japan in 2011.
Stay classy, Crescent City.
And on that note, we bid goodbye to California. Now we just have to make our way to Bend, Oregon. Margo made a last minute suggestion that we make a detour to Crater Lake on our way there, and it proved to be an excellent one. I'd never even heard of Crater Lake before. I had no idea what we would see after we drove all the way up its 6,000 feet of elevation.
There were a lot of vehicles joining us on the road to Crater Lake carrying big rubber river boats. It's a world renowned destination for white water rafting, I learned.
The Mustang is suffering a noticable drop in power as we make the final push up to the top of the mountain. The elevation is extreme. Finally, we see this incredible, huge, clear lake sitting perfectly inside the ancient mouth of a volcanic crater and I just have to wonder what the hell the first guy to ever climb up here was thinking when he first laid eyes on it. I was already armed with the knowledge that there is a lake on top of this mountain and it still blew me away.
The views of the lake were stunning, but so was the view in the other direction.
As I was going bonkers with the camera gathering volcanic lake car porn, an ominous storm rolled in. All the better. We were so psyched to be there. We waited until the last possible minute to start driving back down the other side and on to our overnight spot in Bend.
The rain fell as the sun set, and made for a dramatic show.
Hungry and thirsty, we pulled into Bend, Oregon. This is a very nice town: clean, full of restaurants and nightlife, and we made a good call by paying a little more for a hotel within walking distance to everything. On the walk to dinner, I spotted this wild modified Porsche 911.
Deschutes Brewery is headquartered in Bend and we settled into their excellent restaurant for burgers and beers. I did a tasting of just a few of the killer beers they had on tap. After the less-than-stellar culinary experiences we had in Crescent City, California, a good brew pub was exactly what the doctor ordered.
Margo and I have one more day to go in Oregon, and then we'll be in northern Idaho where she and I get to enjoy a little family time with my parents in Moscow. Lots of beautiful scenery and amazing roads I never knew existed lay ahead. Stay tuned.
Part Eleven: Rattlesnake Grade, Heading For Zootown
Part eleven? Yes, friends, we are up to part eleven on the coast to coast Mustang USA road trip and Margo and I are still trying to get our asses to Idaho. We haven't been lollygagging around, I promise. We spent quality time in California eating like champs, nodding and idiotically smiling atwine tastings, and driving through (literally through) really big trees.
Then, a staggeringly picturesque run up to the rim of Oregon's Crater Lake followed by a sunset-painted rainstorm on the way back down had put me into a state of utter satisfaction that I previously thought could only be attained through the use of steak nachos.
Feeling pretty good about our achievements so far, we buckled in to knock out a big mileage day across the Beaver State. Our goal is to position ourselves within a few easy hours of my parents house in Moscow, Idaho, where many comforts await. Let's get a move on.
For the first time on Mustang USA I took a whole afternoon to sit in the passenger seat to catch up on writing and photo editing. Margo is an excellent long distance driver. I'd like to specifically thank her for her ability to stay calm and focused when I have to "roll down the windows," which is often.
As we stopped in Moro, Oregon to refuel I noticed a lot of cool stuff: that bitchin' Ford hot rod above, a ton of antiques stores, some cool old vintage signs on Main Street. So far, I'm impressed by Oregon's eye for preserving their old town artifacts. Another moment when I wished I had more time to explore.
Outside a farm near the very top of Oregon. Our hotel tonight is just north of Enterprise, which is actually southwest from here, but the fastest way to get there from Bend is by going right up to the state border with Washington, then cutting across on 84. Very little traffic, beautiful roads, great drive.
After a few more hours we pulled into the Rim Rock Inn. This is a hotel/bar/restaurant where most of the "rooms" are actually outfitted teepees out in the back field.
A good looking teepee, if I do say so myself. How was sleeping in it, you ask? No idea. We slept in the only actual hotel room inside the building, the Chief Joseph Suite.
This is how happy Margo was after discovering the thread count on the sheets in the Chief Joseph Suite. And after seeing the view from our private deck…
…which looked like this. August in the Northwest US was characterized by fires, and you can see the evidence in the haze. Once night fell, flickering orange hot spots dotted the distant hillside.
Okay, almost done bragging about our night at the Rim Rock. But it doesn't get much better than home made dinner served on your own private deck watching the sun set on the mountains. Seriously, if you're in Oregon, check this place out. It's not even expensive.
The next day, we made the push into Idaho and I had no idea we were going to be treated to yet another incredible canyon drive. Sorry there aren't more photos depicting this (we were a little preoccupied with shooting video), but trust me, Oregon Highway 3 north into Idaho is one of the hidden driving gems in America. The beautifully paved, twisty dive down into the river valley and back up again even has an awesome name: Rattlesnake Grade.
We pulled into Lewiston, Idaho hungry and we again leaned on Yelp for a recommendation. And again, we weren't disappointed. The last thing I thought I would eat in northern Idaho is legit barbecue.
Marie is the owner of the Lunch Box and is the pitmaster for all the barbecue. I had a brisket French Dip that was basically perfect. Now I know where I can stop for food next time I fly into Lewiston to visit the folks.
And speaking of visiting the folks, we finally made it to my parents driveway in Moscow, Idaho. It felt a little surreal parking my car in front of their house, having lived thousands of miles away in New York City for the last 17 years. The last time a Mustang was in their driveway, it was 1987.
My folks live on the Arboretum in the campus of University of Idaho. It's about the best backyard you could have. We saw rabbits, and frogs, and a snake, and a rabid bat. Here's my mom and Margo getting classy with a little midday snack. The only way I could get them to pay attention to me was to stick my finger through my pants fly and wiggle it at them. I don't know why I always have to sabotage nice moments, but I do.
OK, if you're reading Mustang USA for the cars and roads, bear with me. I'm home, so it's family time. Here are my parents being adorable.
Me and my mom, Karen. After Margo flew back to New York, I wasn't sure what I was going to do next. I had to hit the road to have any hope of getting back to New York before my musical obligations kicked back in. It looked like I might be driving it solo all the way from Idaho. I was prepared for this scenario, but I was kinda bummed to lose my excellent co-pilot.
Then, in an unexpected move of bravery, my mom stepped up and took Margo's place. She didn't want to watch the Mustang roll down the road just yet. A buddy of mine was playing at the Targhee Bluegrass festival in Wyoming the next day, so a plan was hatched: if we left right now, we can make it to the festival by 5pm tomorrow. My mom packed a bag, we waved goodbye to my dad, and we hit the road.
For the first part of the trip from Moscow to Targhee, I chose the scenic route along Highway 12 that took us through the Clearwater National Forest. This is another must-drive, pacing the Lochsa river pretty much the whole time through incredible elevation changes and great places to stop and take in the views. Epic.
Speaking of stopping, here's my mom doing a little hiking. Let's just say there aren't many gas station restrooms to visit in the forest. But we're from Idaho, we can handle this type of thing.
As the sun set, we pulled into Missoula, Montana to grab some dinner. I had been here as a kid, but hadn't realized what a bustling city it is. A nice mix of old Montana kitsch and modern college party vibe.
Yes, ladies and gentlemen, that is an official donk prowling the streets of Missoula, Montana. It's not even a sad effort: it's actually a Caprice, it's tall as shit, and it's got a nice paint job. Are you sure we're not in Atlanta? Really? Some folks called Missoula "Zootown". That took me a minute to figure out, also. I am learning things!
Thanks for reading part eleven. With my mom in the passenger seat, Mustang USA is now recharged for the trip back west towards New York City. Stay tuned for the next installment where we'll take in some bluegrass in the Wyoming mountains, check out Buffalo Bill Cody's amazing town, and head towards the Badlands in South Dakota.
Part Twelve: Yellowstone And Bluegrass
Welcome back to the absolute best dang road trip blog featuring a Ford Mustang you're going to read all day, I presume. Time to get into some real cowboy country, and that means Wyoming. In part eleven of Mustang USA I picked up my latest passenger: my mom, who, armed with many nuts and sticks of spearmint gum, is about to enjoy her very first bluegrass festival at the Grand Targhee Resort. But we have to hustle. A buddy of mine, flatpicking guitarist extraordinaire Ross Martin, is a performer at the festival and he got us free passes to get in, so it would be poor form to miss his set. We gotta go – let's hit it!
After getting to know Zootown (aka Missoula) a little bit better the night before, my mom and I drove a little bit further south in Montana to spend the night in a town called Dillon. We didn't know what kind of place it was at all. But when we woke up and ventured into the downtown area for some breakfast, we discovered that it is a really charming little old railroad town.
This is what a Holiday Inn bedroom looks like in Dillon, Montana. My mom and I had to share that single quilt and there was a dead person in the bed. Thanks, Travelocity. Just kidding! I would never share a bed with a dead person, or my mom. This is the inside of a hundred-year-old sheepherder's wagon.
Here is Dillon, Montana in a nutshell. Friendly. We loved it here.
There were some cool relics sitting out by the railroad tracks. I have no idea what this is, but from the looks of the bullet holes in the door, someone was murdered inside of it.
Risk of being murdered didn't stop me from being a jackass, no sir-ree. Probably will need a tetanus shot now.
We made it to Targhee just in time to catch Ross Martin (pictured) playing with Jeff Austin, Danny Barnes, and Eric Thorin. Ross is a great guitar player who I met through my girlfriend Margo, in whose band we both play. It was great to see him tear it up with those guys.
I think it's fair to say my mom liked going to the music festival. I even have a photo of her expertly hula hooping but she told me she would hide a hula hoop inside of me if I put it online. I don't want that to happen. She is really good at hula hoops.
Having grown up in Jackson Hole, Targhee is my girlfriend Margo's stomping ground. Her brother Chris Valiante lives in Driggs, Idaho, and Chris brought his wife Lane and super-cute daughter Cora (pictured) up for the bluegrass. Once Margo's parents heard we were coming too, they visited and met my mom for the first time. Was very cool to introduce my mom to all these great folks.
This dude on the other hand was not someone I was in a hurry to introduce my mom to. Is that a stars and stripes fanny pack peeking out down there, too? Way to complete the look.
For a minute I was tempted to camp and drink 1,000 beers (I did bring a tent on the trip for such an occasion), but then I pictured my mom inside a cold porta-potty, crying, and cursing me and so I decided we should sleep in a hotel instead. Did I just visualize my mom inside a porta-potty? God, what is wrong with me. Anyway, as night fell, we bid our goodbyes to the fine Valiante folks and struck out towards West Yellowstone.
The next morning we were both glad to have not slept in a tent, and we also glad to eat some kick ass pancakes at the Running Bear.
West Yellowstone is full of classic motels and tourist-y signs. This was one of my favorites.
The drive next to the lake in Yellowstone is one of my favorite parts of the park. This wasn't a fast drive, but it was a pretty one.
Obligatory Old Faithful picture. So many tourists. I'm one of them.
What I thought was way cooler than water regularly squirting out of the ground was this beautiful building: the Old Faithful Inn. You're looking at the lobby of the largest log structure in the world.
I probably won't elect to drive through Yellowstone again at the height of the season, on a weekend. It was just too damn crowded. Nature and traffic just don't work well together for me, because I'm from New York and I hate people. But I love that Mercury Cougar. It's sagging in the back because it's got an entire family inside of it. That's awesome.
The plains in Yellowstone, dotted with wild buffalo.
These 13-passenger buses are used to give tours of Yellowstone. They are originals, built in the late 1930s.
OK, so even though you have to fight through an army of tourists it is pretty awesome to see all the wild buffalo roaming the plains. Yes, that is a baby buffalo down there. D'awwww.
We left Yellowstone via the east entrance and made our way towards Cody. The scenery inside the park near that entrance is mind bogglingly amazing, and once we got outside the park we were treated to a ridiculous Wyoming sunset.
Forgestar wheel porn! People ask me how I kept the car so clean on the trip. The answer is I made my mom wash it every day. Just kidding! I wouldn't let my mom touch it. I've seen her car, what with all the garage scrapes and bird shit and everything. I carried a virtual Pep Boys full of car care products in the trunk.
Damn, Wyoming. And I thought California was stunning. This is just stupid. Stop it!
We made it to Cody after dark. Cody is named for William Cody, aka Buffalo Bill. Only fitting, then, that I would force my poor mom to sit on top of a fiberglass buffalo.
The famous Irma hotel in Cody. One thing about traveling in this part of the country at this time of the year was that every town was practically overrun with motorcyclists who just went to the huge bike week in Sturgis, South Dakota. The main street here was practically lined with Harleys.
But this little dude didn't care about bikes! He had the right idea: '60s muscle cars with a blower. My man.
We did the museum thing in Cody the next day. This really is a great museum. Its a combination of Native American, Buffalo Bill, natural history, and the largest collection of firearms in the world.
And, a kick ass '70 Mach 1 Mustang right inside the front door. Cool, I can leave now.
Here's another Ford inside the museum: a Model T. William Cody was a big supporter of opening Yellowstone Park to automobiles. He got his wish, and this is almost certainly what you would have been driving if you were among the first to drive in.
It's interesting how much a stagecoach resembles a Model T when you see them at the same time.
My mom isn't a fan of guns, but she was a good shot. I guess it's that Idaho upbringing.
Just horsing around in Greybull, Wyoming. We stopped to look for some food to eat in this seemingly deserted town.
Did I say deserted? I meant dessert-ed! (God damn it.) My mom spotted this ice cream shop that felt like it was right out of the 1950s.
Margo Cannady is one of two sisters who run the Sugar Shack in Greybull. All those mugs behind her are for the morning coffee club: the locals come in and get juiced up out of their own cups every day.
An ancient trading post just outside Greybull.
We are heading towards Sheridan, Wyoming for the night but first we must traverse the Bighorn National Forest. We got into it at the perfect time as the sun was setting.
A beautiful lake inside Bighorn. My mom was picking up trash on the side of the road. I thought that was very nice of her. Then I realized she was bringing the trash into the car to throw out later. Who the hell litters in a National Park anyway?
Well another beautiful park, and another beautiful Wyoming sunset. My mom and I have been spoiled by great weather and mother nature the past couple of days. The next big moment on the map for us is going to happen in South Dakota, where I am determined to drive through the Badlands at sunset. My mom had not seen the Badlands before, so she kept asking me, "what's the big deal with the Badlands? Is it going to be cool?" Hell yes it's going to be cool, mom! Trust me. Stay tuned.
Part Thirteen: The Badlands And Beyond
Driving with my mom through Wyoming in part 12 of Mustang USA was pure entertainment. It was like watching a prize fight between Yellowstone and the rest of the cowboy state for the title of National Epic Vista Champion. We were pretty well satisfied with this pretty little country of ours. But little did she know that the weirdest and arguably best landscapes lay before us in South Dakota. We're headed for the Badlands, and I'm determined to get there just as the sun is setting for max effect.
First we have to get out of Sheridan, Wyoming where we spent the night after a near-miss with a Quality Inn so bad it may have been trying to rewrite the dictionary.
As an adjective, the word "quality" usually means something is good, i.e. "that Bon Jovi tribute band last night was quality, man." So I get what the Quality Inn is going for, but the last double queen available in Sheridan had a certain quality that made my mom feel the need to balance her luggage on the ironing board so it wouldn't touch the carpet. The air-conditioning unit had a special quality, too: every thirty seconds it would emit a blast of sound not unlike a 737 crashing into the front of an oncoming train.
These weren't our favorite qualities, so we were extremely grateful to the Mill Inn down the street who saved us from a sleepless night at the last minute.
As it turns out, the Mill Inn is a historic landmark. The hotel is on the site of a flour mill that contributed greatly to Wyoming's early economy.
This cool old Chevy truck is part of the family-owned Mill Inn operation. I'm all about the white walls and dog dish hubcaps.
Down the road we decided to try out a local favorite for breakfast, the Silver Spur Cafe.
This tiny greasy spoon was full of biscuits and pancakes and even though our waitress forgot to put in our order we didn't care because we could tell it was going to be epic. That worn out counter doesn't lie. It was awesome. Having absorbed enough calories for the week and enough caffeine to restart a dead horse's heart, we felt ready to make the push into South Dakota.
And then we were here: an alien planet from a sci-fi movie. The Badlands National Park next to the Black Hills in South Dakota is a mind-blowing landscape created by ancient volcanos and we got there just as the sun was starting to hang low in the sky, casting long, strange shadows and intensifying the pastel bands of color in the rocks.
This is definitely one of my favorite places in America to visit and probably one of my mom's, now, too. It's not overly crowded with tourists and you really feel like you've gone somewhere completely new and strange.
We spent the whole evening milking every last drop of sunset inside the Badlands and realized that we would probably run out of all options to grab food if we didn't get going. Did you know there is town in the center of the park? Well there is, it's called Interior and it's as weird as the scenery. Our only option for dinner was to eat frozen chicken strips and reheated pizza at The Wagon Wheel so we took it.
If it wasn't for the electronic poker machines beep booping away I'd say the Wagon Wheel hasn't changed at all since 1972. We scarfed the bona fide shitty food as quickly as possible to avoid thinking about it too much and headed for our overnight stop, Murdo.
OK, so I've already said that the Badlands is a weird place, but this whole state is afflicted. We stayed overnight in the tiny town of Murdo at the most bizarre motel I've ever been to, the LandMark Inn. Why "LandMark"? Because the guy's name is Mark. As we checked in I noticed a brochure featuring Mark posing in a small yellow bathing suit in a hot tub. His elderly mother was hovering ominously in the corner of the lobby, which felt as much like a funeral parlor as a motel. Our room, the silken "Italian", was literally filled with notes and overbearing instructions. All of this would come off as officially creepy if Mark wasn't genuinely nice. One of the notes in the room said "Remember, you're not fully dressed without a smile."
The room phone at the LandMark Inn. Classic. The room was very clean and absurdly reasonably priced, and to boot the LandMark has the best kept indoor pool I've ever seen. There aren't many options in Murdo, so if you find yourself there, definitely look into the LandMark.
There is almost nothing in Murdo at all. Well, unless you like cars, then there is quite a lot: the Pioneer Auto Museum has over 100 vehicles on display. But this place isn't like any other car museum you've been to before. It's in Murdo, so it has to be weirder. That's the rule. As you walk in you'll see this attractive display of cars, complete with one of the 10,000 Dodge Charger General Lee replicas you've seen before.
Except this is no replica. This General Lee is one of the originals built for the show to be the standard that all the other ones (read: crashed into a ditch) would be built. Bo and Luke's hands actually gripped this wheel.
Then you walk outside and realize that this car museum is enormous. It's a complex of over a dozen buildings; mostly tacked together wooden agricultural structures that feel more mausoleum than museum. Some of this shit is very, very old and probably hasn't been so much as wiped down in decades.
This shed contained dozens of trucks and tractors. It's eerie standing in the Pioneer because it's so quiet you're just listening to the wind blow and all these ancient faces are staring at you. You can almost hear their creaky voices saying "help me…"
It's not all rust and dust though, there are a couple other buildings with some slightly more recent (and in some cases, pretty damn rare) cars that I am partial to.
This beautiful 1968 Shelby Mustang caught my eye.
As well as this apparently all-original 1970 Plymouth Superbird. Only a couple thousand of these were ever made, and now they're worth as much as a house.
But forget Shelbys and Superbirds, every museum has those. The Pioneer is awesome because it has stuff you have simply never heard of. A 1921 White Motorhome? This thing is insane!
Nearly a century before GPS, drivers already had maps on their dashboards.
This tractor looks like it plows the fields of Hell. It's huge. I think the back wheel is around 6 feet tall.
Just in case you're not sufficiently weirded out already by this place, Pioneer Auto Museum also teaches you about life in old Murdo using creepy mannequins. Here's a nice couple just married in the church. How do I know they're already married? There's a ball and chain attached to his foot.
Building after building of cars that stretch back to the beginning of the automobile era. There was a building of every generation of Ford Model T, a building with cars like Auburns and Cords and DeSotos, just too much to catalog here. It's insane.
If it's old, it's here. I've never seen one of these early bicycles in person.
OK! Moving right along…
There are details everywhere at the Pioneer and probably some truly priceless and historic stuff all jumbled up with the junk. My mom and I only had about 90 minutes to wander through and that was going as fast as we could. But sadly we had to get on the road and deliver her to the airport in Sioux Falls in a few hours.
Our last stop before the airport though would be Mitchell, SD, home of the Corn Palace. What the hell is a corn palace you ask? Well, it's a gymnasium that has huge murals on the outside of it that are all made with corn. Duh.
I was worried that we wouldn't have time to experience all the corny delights inside the giant corn palace with our tight schedule. Luckily there's nothing in there except for your basic gymnasium with a corn-themed gift shop.
I was proud of my mom for hanging in there on the Mustang USA road trip for nearly a week, and I'm so glad she came along. Now the whole "fam damily" has logged miles with me. It's been really special.
So now, without a passenger for the first time since I left New York over three weeks ago, I headed south towards Nebraska. I've never seen Omaha before and decided to camp out there for the night. First though, I stopped in Iowa at the nicest rest area ever.
No seriously, there's original artwork depicting the Lewis and Clark Expedition, a garden, and free WI-FI?? Nice work, Iowa.
The sun was falling into a gorgeous sunset as I blasted through the cornfields of Iowa towards Omaha, so I had to stop for a classic corn shot.
Just pulling into Omaha in time to grab a steak. Nebraska is known for their beef. The downtown area is why I wanted to visit; it's got a historic district with cobblestone streets and tons of restaurants and bars. Probably would have been a little more fun if I wasn't by myself, but I've been spoiled by all my company on the trip so far so I just enjoyed walking around in a strange new city.
I can't remember what these buildings are called in downtown Omaha but I liked the lighting. This would be my second-to-last night on the road for Mustang USA. Tomorrow, I'll be heading down to Indianapolis to check out the legendary Indy 500 Hall of Fame. Super excited. Then, I'll be plotting my route back to my home in Brooklyn. Over 8,000 miles so far! Stay tuned for the final chapter, and thanks for reading.
Part Fourteen: Racing Back To Brooklyn
Welcome to the final chapter of Mustang USA. If you've been reading all 13 entries prior to this (get a job), you'll know that nearly all of the 8,000+ miles chronicled so far have been greatly enhanced by the presence of my passengers/co-drivers. First there was my Dad, who joined me from Chicago to Los Angeles via Route 66. Then my brother hopped in for a short blast up the Pacific Coast Highway from LA to San Francisco. Then my girlfriend flew into San Francisco and helped me get up to Northern Idaho. And finally my Mom, who bravely rode along all the way to South Dakota and gave me lots of gum.
Now, as I pull out of Omaha, Nebraska for the last leg of the trip there isn't anyone or anything in the Mustang's passenger seat except a big Nikon camera and an embarrassing amount of trash. This means I have the freedom to become a dirty, car-loving hobo and overdose on as much automobilia as I can find for the next two days.
Get ready. All those pictures in my previous posts of sunsets and trees and cups of warm clam chowder are like carbon offset for what's going to happen next.
First, I stopped in Iowa to pray to the soulless, creepy eyes of the Rusty Wallace boulder for safe passage down the rest of I-80.
Rusty's boulder is on the grounds of Iowa Speedway, right off of I-80. Having watched racing here on TV a million times I had to pull off and check it out. You might be wondering why it looks like my car is parked in the fence. That's because I forget to pull the handbrake. I watched through the camera as it gently rolled right into that fence. I should probably be banned from Iowa Speedway.
Of course hell is real. I'm driving on it. I was immediately nostalgic for the the wide open, traffic-free highways of the West the second I merged onto this rutted hellscape of semi-trucks and left-lane cruisers.
In order to keep to my schedule, I had to just put my head down and beeline to Chicago. Which means the most exciting thing that happened the rest of the day was stopping at the "biggest truck stop in the country." Yeah, I'm sorry. Believe me, it gets better tomorrow.
The truck stop was massive though. It had approximately five restaurants and at least 37,000 individual pieces of shit for sale that no one will ever need. I bought a coffee.
When I launched out on the trip a month before my first stop was Chicago, but I didn't get to see my cousins who live there. So we fixed that this time. After the eye-wateringly boring all-day trip down I-80 there was nothing better than to sit down for a couple beers with this handsome crew. On the left, cousin Caroline and her boyfriend Doug, and on the right cousin Jacqueline and her husband David. Thanks for staying up late, you guys.
The next day I headed south towards Indianapolis, and the legendary Indy 500 Hall of Fame. I used to live in Louisville, KY so I should have known/planned this better, but I had forgotten an important detail about the time zones in this part of the country: Indianapolis is on Eastern time, and Chicago is Central. I realized this on the drive as I was mentally congratulating myself for allotting at least an hour to check out the museum. Wrong. I would have just over five minutes, if I was lucky.
After a bit of hurried explanation and begging, they did let me in. For exactly five minutes. At least I didn't have to pay. It would have to be an extremely quick lap.
Unlike, say, the Petersen Museum in Los Angeles, where their huge labyrinthian building helps create a unique narrative for the cars on display, the Indy Hall of Fame is basically a huge room. A room that is packed wheel-to-wheel with utterly priceless racing artifacts. The majority of cars that have won the Indy 500 are here. There are a couple replicas, but most of these are the real deal. These cars are tiny, and look incredibly delicate. Which is surely not how you could describe the attachments of the men who drove them.
I unfortunately don't have a lot of history lessons here since I didn't have much time in the museum. At least I have a sense of what I missed. Definitely worth coming back to learn about each of these machines.
Check out this twin-cam Ford V8 from the mid-sixties, probably putting out around 500 horsepower. Imagine that lump right behind your head. It hurt my ears just looking at it.
Parnelli Jones was one of those guys who could literally drive anything fast. In addition to his Indy 500 accomplishments he drove sports cars, stock cars, and it was cool to see this rare off-road Oly Bronco on display here.
I remember being a kid in Idaho and reading about the Spirit Of America land speed record cars and thinking they were just about the coolest thing ever. The blue one in the back, Sonic 1, ran 600 miles per hour at Bonneville in 1965. Even 50 years later, that's batshit crazy.
Here was one of the rarest things in the room, the 1967 STP Paxton turbine car. This thing was an all-wheel drive, single speed monster with a airplane engine right next to the driver. That driver was (who else?) Parnelli Jones and he was 8 laps away from winning the Indy 500 with it in 1967 when the transmission let go. I wish I could revisit that era of motorsports when you could show up with such a radical machine and be allowed to compete for the win.
I felt lucky that I got to visit the Indy 500 Hall of Fame, even if it was for five minutes. At least drive to Indianapolis wasn't for nothing. But I was still feeling a little let down as I walked around near the speedway. Then I saw this: the Dallara Indy Car Factory. I didn't know this was here. Dallara is the company that builds all the chassis for the current Indy cars racing today. I got excited, and walked up to the door.
I got even more excited when the door opened, and they gladly let me into their brand-new company museum. Amazing. Having just come from the historical tour of the Indy 500, seeing the current world of Indy cars was a huge and welcome surprise.
Here's a scale model Dallara used for wind tunnel testing. It's only about 3 feet long and made of carbon fiber. Aero is pretty much everything in open wheel racing, and Dallara spends a lot of time and money on it.
The Dallara facility's museum is really well done. There is a ton of information about the science behind the cars and cool to see things like these prototype drawings.
Here's a closed cockpit prototype series Chevy that was driven by Ricky Taylor last year.
Dallara sometimes gives tours of the actual factory, but on this day I was told that there was a "government job" happening back there and no one was allowed to see. Oh well. I'll just sit here and play iRacing in this Indy chassis until you kick me out, thanks. Oh, and Dallara has a european-style cafe next door where they made me my favorite day-beer: a Guinness with a shot of espresso. To summarize: the Dallara factory rules. Finding it randomly made my Indianapolis trip complete.
Speaking of random finds, this rat rod was right across the street from Dallara. Indy has a lot of interesting car culture, and I felt like I just scratched the surface. I promised myself that I would be back for the Indy 500 in 2015. Reluctantly, I jumped back into the Mustang and set out for dinner in Columbus, Ohio.
I hadn't been to Columbus in many years, and was pleasantly surprised by the busy downtown nightlife . I had a burger at Barley's in the German District. Was good. Had just enough energy to lift the camera towards this awesome old newspaper sign before plugging away towards Zanesville. I can't believe that tomorrow is the last day of the trip. And it would turn out to be a long one.
This is it: the last day. I don't usually eat at Denny's, but when I do, it's in Zanesville, Ohio. This '50s diner-style Denny's was right across the street from my hotel. It was a good place to strategize the day while drinking endless coffee. It was Saturday, it was sunny, and I was sure there would be some car shows and/or racing to be found between me and New York City.
I came up with a loose plan. I would get on the interstate and head towards a car show in eastern Pennsylvania for the afternoon, and then towards some good grass roots short track racing in the western part of the state to cap off the night. I immediately failed to adhere to my plan. Out of Zanesville, I found myself on the National Road, which is one of the oldest routes in America. It felt right and I decided to keep exploring.
Ever seen one of these? It's literally a drive-through convenience store. You can drive your car in there, a guy comes up to the window and you can buy a pack of gum or a Gatorade or 20 cases of beer. Mind blowing.
As I was getting ready to jump back on the interstate to try and find that car show, I had to pee pretty bad. So I went up the road a few miles to find a bathroom in Cambridge, Ohio. Where I found a car show. A really big one. OK, serendipity, you win. I almost drove right past this.
This wasn't just a cruise-in for guys with 10-footer '57 Chevys and those god damn midget mannequins hanging out of the trunk. There were judges, awards, and some very nice cars.
Case in point: this 1969 Z/28 Camaro was perhaps the most amazing Camaro I've ever seen. A huge money resto-mod build. This thing was stunning.
If you watch a lot of nerdy car shows like I do, you're used to seeing things like this on TV. But in person, this kind of build (easily a six-figure project) is downright inspirational.
I couldn't help but be drawn to this '71 Dodge Dart Swinger, because I used to have one. Except mine was no clean V8 like this; I co-owned it with my friend and it was the ultimate grandma car: three shades of green, "slant 6″ engine, three on the tree column shift. I remember the routine for coming to a stop with its tiny drum brakes was something like this: see a red light, push on the rock hard brake pedal, and a whole lot of nothing happens. Push harder, and notice that the car is still traveling exactly the same speed as before. Push as hard as possible on the pedal, shout "stop, god damn it," then listen to everyone scream as the wheels lock up and the car goes sideways across 8th Avenue. That's fun. And still nothing cooler than rolling all the windows down in a car with no B pillar and cruising around with your friends.
OK I know I'm not alone here but the 2nd-gen Charger is one of my ultimate dream cars. My obsession, naturally, can be traced back to the Dukes Of Hazzard (check out the original "General Lee" we found in part 13). I love it particularly when you see an orange one that hasn't been given the Hazzard County treatment. Only thing better to me would be a triple black one.
Stop, god damn it! I might need some alone time with this '68 Charger. So Bullitt. Laser straight black paint. Agh.
This low riding Impala wagon is just cool. Bonus points for the side exhaust. 10/10 would cruise.
I felt really lucky that I stumbled across this show. Was exactly what I wanted. An all-American car show in the ultimate Main Street USA town. I had to peel myself away though. I need to be in Brooklyn by tonight and I'm still in fucking Ohio.
As I moved east into Pennsylvania, I continued on some awesome back roads through the countryside.
The rolling hills of Pennsylvania are lush and full of fun, empty country highways. I have to remember to come out here next time I need an escape from New York.
It's hammer down time. My GPS says I will be getting to Susquehanna Speedway Park in Newberrytown, PA at about 9pm. I hope I won't miss the racing.
I didn't miss it. Much mud will fly around this little 1/4 mile track before the night is over. For anyone who has never seen dirt racing before, there is really nothing like the first time you see a couple dozen cars go sideways around turn four when they drop the green flag. It's hilarious.
There were the very quick Sprint cars (a la Tony Stewart, he wasn't there though, we all survived), as well as all manners of sideways mud slinging Modifieds, Super Stocks, and even…
…minivans.
Some properly moist mud out there. Was helpful to keep the dust down. I, and my cameras, were still a mess though at the end of the night.
Dirt track racing means lots of families. I like all the access to the pits, and the unpretentiousness of the crowds and racers alike.
Not sure what this dude thought of me, though. He looks like might want to mash my face.
Haaaay ladies!
There was only one major wreck all night. It was on the other side of the track from where I was shooting and everyone went running. Fortunately, the drivers were OK.
Getting this close was probably not the smartest thing I did all day but it was exciting. Especially when I got hit in the back of the head with a flying clump of mud and thought I had died.
After a few hours of watching the dirt racing, I was fried. I still had a couple hours to go to get back into New York, but I felt pretty good about making the last day of the trip count.
The glow of New York City started to become visible in the sky. Just like when I left a month earlier, New York City traffic will be much easier at night.
A yellow cab led me through the Holland Tunnel and finally, back to New York. I looked down at the trip odometer and it read 9,005 miles as I crossed out of New Jersey. Holy shit.
Getting back to the city after nearly a month, 9,000 miles and having passed through over 1/3 of our nation's states was actually kind of weird. I parked the car on my block, turned off the ignition, and felt like I hadn't left at all. It all went by so fast. I also felt disappointed, but not about how the trip went. The trip was better than I ever thought it would be, full of adventure, great driving, and strengthening the relationships that already meant so much to me. No, I was disappointed only because it was over.
If you ever get the chance to do drive coast to coast and back, do it. Even if it's just half a chance, figure it out, take the time and do it. It was awesome, and I'll never forget it. I really could have kept going for another 9,000 miles. There's always next summer! Thanks for reading, everyone.