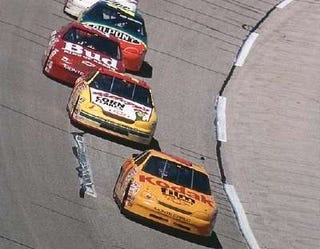 I saw a post earlier today, that questioned whether NASCAR should be more like V8 super cars, a point that seems to be made more and more frequently. It's an intriguing idea, but I can't shake the feeling that the end result would just be a bad copy of another sport. NASCAR, after all, has it's own distinct identity as a low tech, crash-o-rama that's fueled by cheap beer and barbeque. Obviously, that culture's not for everybody, but there's no doubt that it's distinctly a home grown 'merica type thing. It's something we created, and something that we can call our own. If somebody wants to watch road races, there's plenty of other prominent series which they may choose to watch. However, there's only one series that features constant left turns and 20 car pile ups, and that series would be NASCAR. Maybe, instead of trying to be something it's not, NASCAR should find ways to improve what it is.
Now, before, I get a lot of angry replies telling me that they already tried that, let me just say that they did it completely wrong. The Chase for the Cup, the COT, the slappy fights that occur between drivers. All of that was wrong. But at least NASCAR gets an A for effort.
What NASCAR really needs to do is go back to it's golden age in the 90's. That was essentially the sweet spot which combined commercial success with a good on track product. So how does the sport reproduce such a golden age? Well...
We need new drivers. This is ideology has been plastered all around the internet, but there's a darned good reason for it. These days NASCAR sometimes feels like a bad reality TV show with a lot of drivers having half-arsed fights with each other or publicly complaining to the press about how someone else hurt their feelings. There are drivers that choose not to get mixed up in these fights, but they have about as much personality as cauliflower. Honestly, aside from their varying degrees of success, drivers like Jimmie Johnson, Martin Truex Jr., Paul Menard, Matt Kenseth, and Greg Biffle all seem pretty similar. Were it not for his last name, Dale Earnhardt Jr. would probably be in this group too. And pretty much every driver casts the same, politically correct, lanky, stubble chinned profile.
What we need is the modern day equivalents of drivers such as Darrell Waltrip, Terry Labonte, Dale Earnhardt, Rusty Wallace and Ricky Rudd. Each of those drivers had their own distinct persona, and they raced hard. The key is that they didn't seem to want to impress the world , they were just who they were. As a result they were often rough around the edges (maybe not so much Terry), not always politically correct, and as a result of their driving, often in conflict with each other. Thus a number of actual feuds broke out on the track, and produced some of the most legendary rivalries the sport has seen. The one that immediately comes to mind is Rusty vs Dale in the late 80s/early 90s. Every week these drivers gave it their all, and when you could tune into a NASCAR race, and reliably see Dale Earnhardt drive under somebody's rear bumper week after week, the sport really became fun to watch. Not to mention that even most of the blander guys in the sport were some pretty calm, likable characters, such as Jeff Burton or Bobby Labonte.
Truth be told we need more drivers today like Mark Martin or Tony Stewart, who couldn't care less about what people think. Not to mention that Tony Stewart, who owns several race tracks, and has raced pretty much everything with 4 wheels, seems to be the guy who lives to race rather than races to live.
Drivers aside, the NASCAR tracks also pretty gosh darn boring Now, I'm not going to point a finger here, but this is mainly an issue at tracks owned by Bruton Smith . Namely, tracks like Texas, New Hampshire, Las Vegas, Charlotte, and Atlanta. Also, while not under the same owner, I 'm gonna throw Chicagoland in there too. Have you ever tried to watch a race at these tracks? It's just absolutely brutal. What happens is that one or two guys will pull away and lead 80 lap chunks of the race at a time while the rest of the field falls into a straight line and causes two car collision once in a blue moon. Nobody wants to watch that for 4 hours or more. What people do want to watch is the bumpy slugfest that plays out at nutty tracks like Bristol (Bruton gets some points back here.) or Martinsville. Don't believe me? Well look at the interest the Eldora truck race generated. I think NASCAR would benefit from adding tracks like North Wilkersboro, Rockingham, or maybe even the Miluakee mile to the circuit. Heck, a lot of those tracks, although not exactly modern facilities , have a sort of regional charm that's missing in a lot of the current circuits
On top of the dull tracks, the same handful of drivers win just about every single race. Now Jimmie Johnson's dominance is nothing new, as Dale and Jeff Gordon sucked up their fair share of victories in the 90s. However, what is new-ish is the super-teams. Currently, NASCAR seems to be just a bunch of shiny corporate run teams with deep pockets and several well paid drivers. Everybody shares engines, and there's just no one or two car operations like there once was. Those smaller teams, with the exception of Furniture Row Racing, have pretty much been relegated to start and parking. The movie Cars is rather unrealistic, because by now team Rust-Eze would have been bowled over by team Dinoco. Truth be told, I'd quite like to see what would happen if teams were all capped at a certain amount of money, and forced to build their own engines.
On a seperate note, I also wish NASCAR would go back to the pre-COT car. I think the Gen 6 cars are actually rather good looking, but gosh, those older cars make such a great noise. Maybe I'm just being nostalgic, but I like watching these race a heck of a lot more than the gen 6's
Lastly, to conclude, NASCAR needs to just accept what it is. Despite the cleaner, more high tech image that it's trying to promote, NASCAR will forever be viewed as a redneck type of thing. And that's what makes it great. Look, some people like the Euro- techno, high tech, high speed, exclusive club that is F1 racing. But for me personally, in a world that's increasingly digital, I prefer the analong style racing that is NASCAR. I like the fact that the cars utilize V8s in the era of the V6, and that compared to F1 racers, stock cars are about as complex as a shopping cart. I like that there is a place in motorsports where I can grill red meat and listen to George Strait on top of a motorhome and not be judged. It's my escape from a world where technological progress (although absolutely necessary in society, don't get me wrong.) is making it so that I may no longer have to drive my own car in 20 years. No, I'm not a right wing conservative, not in the slightest, but sometimes I'm happy to keep things the way they are (or were, in this case) So please NASCAR, stop being politically correct. Go become the Winston cup series again, stop trying to be green or diverse, (But for the love of God don't be racist or sexist.), lower your ticket prices so that average people can actually afford to come, and embrace the blue collar workers who are your best fans. It's what you do best.
So, now that my rant is over, let's hop in my time traveling Monte Carlo and go back to the days when I actually wanted to watch NASCAR. 'Murica!