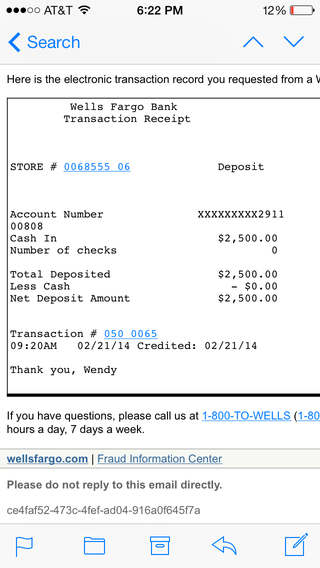 Here's a lesson for you all: Don't trust Wells Fargo Bank with any of your money, they will steal it and will have no problems telling you that it is their policy to do so.
On Friday, February 21, 2014, I brought a check into my local Wells Fargo branch in the amount of $86,586.88. I spoke with a branch manager regarding the deposit, and asked if $2500 of the deposit could be cashed immediately because I had several transactions that I needed to make, with the remainder being subject to whatever hold they require. I've been a customer of Wells Fargo for several years, have a mortgage through them, and have a relationship with the local bank, so this was not a problem. I was given $2500 in cash, which I immediately deposited into my account, and thanked them for their great customer service.
I left the bank, immediately checked my account, and saw that the cash deposit was credited and posted, meaning it was available for use as I saw fit. As a result, I paid a number of bills online which will be posting tomorrow, February 24, 2014. Today, I went to a local retailer and made a purchase, which I attempted to pay for with my Wells Fargo Debit Card which is attached to this account. It was declined. I thought this was odd, as I had at least $2500 cash in this account, so I checked my balance. The $2500 was not there.
I completed my purchase using another means of payment, and went home to review my account and make sure I hadn't been compromised by a fraudster. It turns out I had. Wells Fargo deducted the $2500 cash deposit I had made just one day prior without notification of any sort. I called Wells Fargo and they explained to me that the entire deposit I had made was now subject to a 7 business day hold, and that the decision that was made to give me $2500 of the original deposit was being changed after they literally handed me 25 100 dollar bills which I then gave back to them for a deposit. They had the audacity to tell me that, had I kept the $2500 in cash, they would have placed my account in an overdrawn status even though it was their decision to give me the money in the first place. They have also informed me that any funds that are attempted to be withdrawn before the hold is released will not be credited to those that I am paying, and any penalties that I incur are my sole responsibility.
Wells Fargo Bank did not offer any notification that they were not going to honor the obligation to which they committed themselves, and subsequently reneged upon, and are placing me in a position where I will be subject to the embarrassment and inconvenience of having payments made to those that I am obligated to pay declined, for which I will be held responsible with no recourse.
In the past 30 minutes, Wells Fargo has updated my online banking profile to completely eliminate any record of the $2500 deposit occurring. It was there an hour ago, plain as day. Now it is completely gone, as if it never happened. They are working hard to make this my problem, when it is completely on them. I'm attaching a screenshot of the receipt that they sent me, which does not appear in my online banking records in any format at all.
Just to reiterate - I deposited $2500 in cash into a Wells Fargo account, they posted it to my account, and they pulled it back out. They have altered my banking records to indicate that this transaction did not occur. They are telling me that this is my problem.
I'm here to give you fair warning: WELLS FARGO WILL STEAL CASH FROM YOU AND HAS NO PROBLEM DOING SO. IF YOU ARE A WELLS FARGO CUSTOMER, I STRONGLY RECOMMEND YOU FIND ANOTHER BANK.