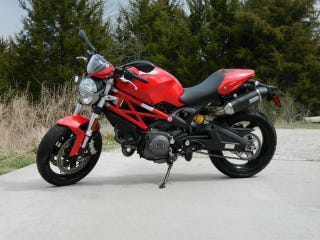 ...and I have mixed feelings: Joy and Happiness.
Actually, I enjoyed owning the little 696. Of course, it wasn't in the same performance league as a Japanese 600, but it was still quick enough to give me an out-of-body-experience launching off the line and accelerating through redline in first. It was a very nimble bike, much more capable than I am.
However, the closest dealer was 200 miles away. Couple that with the maintenance needs of an Italian motorcycle / Desmodromic valve train, and I started to get a bit tired of the annual maintenance pilgrimage after a few years. Plus, the summers have had more rainy days around here the last couple of years, I and just haven't ridden the bike enough to justify it. Additionally, I now have a fun car that my wife and I can both enjoy, whereas the Monster was a one-person ride. We have put 20,000 miles on the car this past year, compared to a measly 1500 miles on the Ducati.
Now, I really didn't think it would sell in the fall. I put it out there, and lo and behold, someone wanted this bike bad enough to buy it right as the riding season is ending. The fact that it is a one-owner, never laid down, with all dealer service records helps, I suppose. I know there will be days that I miss it, and may regret selling it. But for right now, I am enjoying the extra space in the garage, and have a little more cash for some car parts...