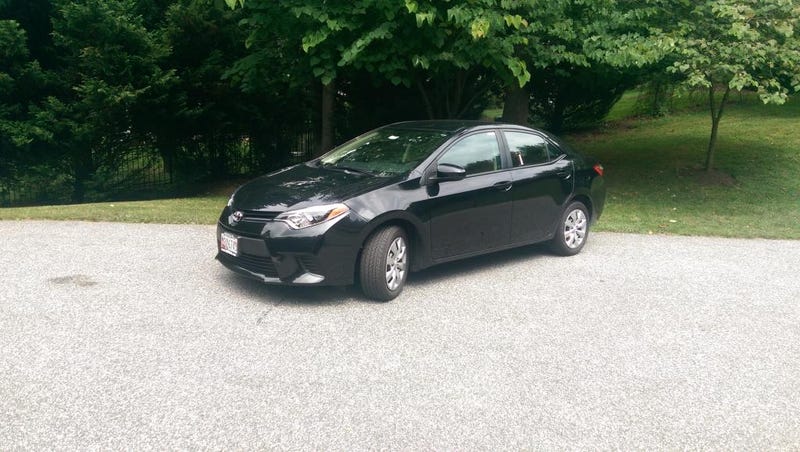 I really didn't feel like doing this review, but I'm on my day off with nothing else to do, so why not! However, I will put as much time and effort into it as Toyota Motor Company into designing and building the 2015 Toyota Corolla LE.
(Full Disclosure: Toyota wanted me to drive the 2015 Toyota Corolla LE so badly, that they let me buy a Volvo S60R, and get it serviced at a dealer that sells Toyota's and Volvo's. Upon reaching 75,000 on the R, I received this while the dealer changed the spark plugs among other stuff.)
Exterior: 5/10
The new Corolla is definitely a step up in terms of style compared to the previous generation. While the old one came out in January 2009 as a 2010 Model, yet managed to look dated immediately, this one actually can pass as a 'new' car. The rear is completely forgettable, but the front isn't too bad with it's blue eyes (xenon) and faux carbon fiber mouth (and ass). I'm surprised I'd say this, but the S model with tinted windows doesn't look half bad. Sadly, I'm stuck with an LE.

Decorative, yet sporty carbon fiber-finished plastic.
Interior: 5/10
It's really not that bad. Hard plastics are everywhere, the fake sticked leather dash is clearly fake, and the seats offer no lateral support. That being said, the cabin is really airy and the center cluster design is moderately attractive. The cloth interior isn't up to snuff in my eyes, however. While the color is offputting (I can see brown cloth looking very dated in a few years), the actual fabric itself is really hard. I'd expect this in the 'S' Trim, but as a LE I want that carpet-ish soft cloth that was in the previous generation.
Acceleration: 4/10
I'll admit, I've been goosin' this thing like it's a rental car (which it is). I'm most familiar with it's acceleration more than anything else. Not a whole lot to say here: it's slow. I had my foot to the floor and I was able to reach 50 in like 8 seconds (granted, I wasn't in sport mode -that would change everything). However, things do pick up from 40-65. I wouldn't be afraid to do a highway overtake in this thing. The engine will let you know when it's working hard though - it's super loud.

Note the innards of the steering wheel column, only hidden by a flimsy piece of fabric.
Braking: 6/10
I don't perform handbrake stops on my personal car, and I can't say I've done it a whole lot in the past. However, I can tell you that the Corolla is pretty good at it. In terms of regular stopping, it's nothing to write home about. It does what it has to do - no complaints.
Ride: 5/10
In the Volvo, I avoid potholes enough that I'm pretty sure I look moderately intoxicated to other drivers. The Corolla's softened suspension lets me drive right into the potholes (like most Corolla Owner's) without much drama (I've been aiming for them). What I will tell you though, the Low Rolling Resistance Tires are loud as HELL.
Handling: 3/10
I feel like I'm a safety hazard in this thing. I keep forgetting that I'm not in the R and accidentally take turns at speeds way out of the Corolla's comfort zone. It's like riding on a knockoff Sealy Posturepedic that was glued to a set of wheels with an axel made of a waterlogged Linkin Log. Nothing about it inspires any sort of confidence. Period.
Gearbox: 6/10
Kudos to Toyota for electronically inserting shifts to a CVT. I've driven enough Nissan's in my day to thoroughly despise CVT's due to the lack of shifting and the CVT Droning. The CVT Drone is like that feeling after you have hiccups and they stop, but you're just waiting for the next one to come (if that makes any sense). I'm being super generous with a 6/10, but Honda and Nissan need to take note with adding fake shifts. It actually does do a whole lot.
Toys: 8/10
Toyota did O.K. here. For under 20K, I get a backup camera, Bluetooth, a fancy touchscreen, power everything, an automatic gearbox (Corolla people like those), bi-Xenon lights, and 32MPG (and I'm no feather-foot). For someone who truly doesn't give a flying f*** about cars, this isn't all that bad. As for Toyota's Entune (or whatever they call it), it's the one thing I wish I could take over to my Vo. Playing my Spotify via Bluetooth is really great, and the Bluetooth itself is clear and really, really intuitive.
Audio: 3/10
As I stated earlier, this car is loud. The tires, the CVT, the engine - everything is loud. Except for the radio. I find myself constantly driving with it at 40 (I think the radio goes to 50), and I'm not one to absolutely blast the radio.
Value: 7/10
Again, you get a fair amount for what Toyota is asking for the thing. For $19,110 you get something that will last a very, very long time with a good resale value, and a few bells and whistles. I haven't driven the previous generation Corolla a whole lot, but this really isn't all that bad.
However, if you want something with an actual soul, I suggest you look elsewhere. Don't get me wrong; the Corolla does it's job very well, but it sucks at being a car. It's a great appliance.
52/100
Engine: 1.8 i4
Horsepower: 132
Torque: 128lb/ft
0-60: 130 Decibles
Top Speed: The speedo goes up to 150 - so 150mph (Corolla Owner Logic)
Seating: You, plus 4 of your blandest friends
MSRP: $19110