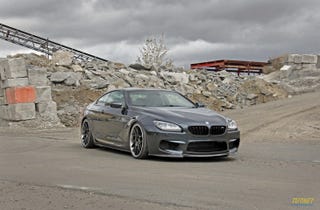 We have to agree, the newer BMW models are becoming bigger, heavier and in some instances questionable in their designs. We do not believe the later to be true in this case, the new M6 is just plain HOT!! The car may be larger than its predecessor, it may be heavier, it may lack the soul of the V10 power plant but after spending some time staring at this car (and driving it) all those complaints are quickly forgotten.
This project M6 came to us with less than 1000 miles on it, fully loaded and fitted with the ($10,000) M Carbon Ceramaic brake option which looks amazing AND at the same time does a pretty sufficient job at stopping this 4500 lb monster. We took this brand new M6 and covered it in Vorsteiner Carbon parts including the front lip spoiler, side skirts, rear diffuser and rear deck lid spoiler. The car also received an Akrapovic Evolution Titanium exhaust system, H&R springs, 21" 3-piece wheels, a Gruppe M Carbon Intake, ESCORT radar and Laser jammers and some Turner Motorsport bespoke software.
Now all we need to do is have Bruce Wayne jump in and take it for a spin around Gotham City and we have the modern day Batmobile— minus the body armor and machine guns.