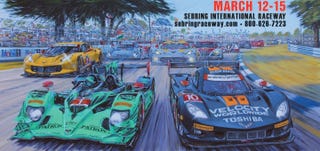 There are many reasons for the poor racing at the 2014 12 Hours of Sebring and the earlier 24 Hours of Daytona. Part of it has to do with the massive car count at tracks that were never intended to handle that many cars. The high car counts have lead to overly long caution periods because of the number of cars and number of classes that have to be cycled through. These car and class numbers have also lead to an increase in the number of caution periods, which means that this year's 12 Hours of Sebring was more like 6 hours of actual racing.
The solution appears to be simple to me: with the number of cars and the number of classes racing, TUSC could divide it's classes (and car count) in half and spread the classes over two races each race weekend. The prototype class will be split between P2 and DP, with P2 being paired with PC and GTLM and DP being paired with GTD. This would keep the car count roughly even between the two races.
Initially, the split would serve to spread the racing at each track over the course of the entire weekend instead of just Saturday. However, at certain races such as the Grand Prix of Long Beach, there won't be enough room for both groups, so one group could visit a track that had been previously dropped by TUSC, such as Lime Rock Park.
It would be impractical to hold two 12 hour races at Sebring each year and impossible to hold two 24 hour races at Daytona, so one group would be chosen to race at each. Because the group containing P2, PC, and GTLM have traditionally raced at Sebring, they could continue to do so. Arrangements could be made to put Sebring back on the WEC schedule with the P1 class being opened up for that race and, maybe later on, all races with this group. Likewise, the group containing DP and GTD have raced at the track which gives the two classes their name, so they could race at Daytona.
The group containing (notionally) P1, P2, PC, and GTLM would need a GT development class. A one-make spec class would be desirable for such a class and Porsche 911s are commonly used for such development classes. It could be called GT Challenge.
Because they won't be racing on the same tracks at the same time or using similar cars, each of these groups would need a name to differentiate them from one another. Since the group containing P1, P2, PC, GTLM, and the new GTC class would be using mainly ACO rules for the 24 Hours of Le Mans, this group could be called the American Le Mans Series. Meanwhile, the group containing DP and GTD have a more traditional connection to NASCAR. There was a NASCAR touring series in the late '60s and early '70s called the Grand American series that raced American muscle cars around short track ovals. This intellectual property could be re-used and given to the remaining group. It would be called the Grand American Road Racing series or Grand Am for short.
Finally, because these two series are so fundamentally different, NASCAR should spin one of these series off as a completely independent entity. IMSA could be separated from NASCAR to run ALMS as an independent series while NASCAR retains control of Grand Am.
I think that should satisfy everyone's complaints.