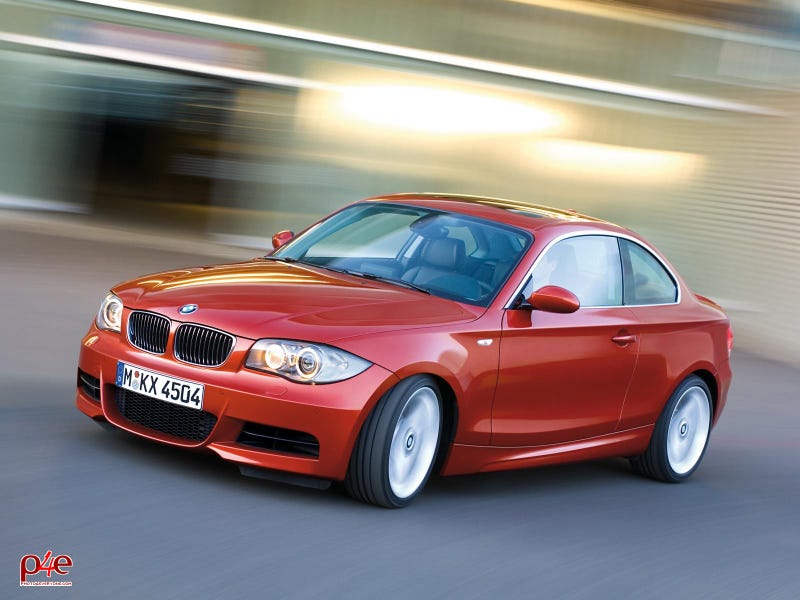 Let me preface this post and this "series" (if it becomes one) by explaining to you how it all started. I came home drunk one weekend from the bars, as college students often do, and decided I would share my opinions on certain cars with the rest of you. In doing so I decided to write about my "dream cars" because when people find out that I am a car enthusiast they often ask me what my dream car is. As many of you may know, this can be an immensely challenging inquiry to appease because there are far too many fantastic automobiles that I would have in my dream garage. It's probably impossible for me to narrow it down to just one. Therefore, these Dream Garage posts will hopefully aid me in providing a sensible-ish list of things that I would love to own.
As a disclaimer, I would like to ensure that you all realize that these posts will most certainly not be an unbiased report of particular cars and trucks, but rather a completely honest representation of my personal opinion. Without further ado, the first car that came to my drunk mind, a two door sauerkraut powered sports coupe.
I love the 1 Series BMW coupes. Specifically, I am infatuated with the 135i. I am thankful that the current generation E82 BMW 135i coupe was stealthily overshadowed as a sports sedan by the 3 Series and its macho brother, the M3. I am also thankful for the new 2 Series BMW for filling the void of the outgoing E82 chassis. Meanwhile, my beloved 1 Series falls further from the purview of the typical BMW target market due to its replacement, hopefully dropping its resale value. This means that one day soon, I may be able to afford a well sorted, 300 horsepower, right wheel drive BMW that isn't at least 15 years old. That particular opportunity sounds just dandy to me.
You may be wondering, "Why does he want a BMW 135i instead of a XXXX?" Well it's pretty simple, my parents bought a brand new 528i in 1998 and it is the most well sorted and best handling car that I have ever driven (mind you, I have not driven that many different cars). The confidence that it inspires when you are behind the wheel makes you feel like a far better driver than you actually are, and at no point is it uncomfortably stiff or disappointingly mushy. It is also extremely quiet at speed, to the point where doing 120 miles per hour in the BMW sounds like 30 miles per hour in my old Mitsubishi Starion. In essence my parents' BMW is what I see as a very sensible, quality car. By no means am I a dedicated and prejudiced BMW fan boy that prays to a poster of a 2002 tii hanging from the wall, but I certainly am sold on the idea that BMW makes a pretty decent automobile.
The 135i just happens to be what I think I want from a sensible, "grown up" daily driver. It's got 300 miniature Seabiscuits roaming the prairies under the hood while powering the correct pair of wheels at the rear of the car. It's nice on the inside and fair on the outside with plenty of space to put an assortment of things into its storage compartments. I can also fit two of my vertically challenged friends comfortably into the rear seats if need be. The only thing that I think is missing is a proper limited slip differential. Otherwise the sporty little Bimmer is exactly what I'd want if I could afford one.
As far as the other sporty BMW models go, even if I could afford an M3 I wouldn't get one because I think that it's fat, and the Z4 family is too ugly and doesn't really have enough room for me, as well as being another insurance bracket higher up the chain because of its lack of rear seats. On another note, I particularly dislike the way that cars have been growing in size and weight. Yes, I think (most) fat cars suck and that Colin Chapman is a demi-god. Even among the few fat cars that I do like, I can't think of a single one that would be worse off after seeing Jenny Craig. However I do understand that manufacturers are businesses; businesses that would really like to make some money and stick around for a while. Consequentially, I often find cars possessing features that I would deem silly and excessive or even plainly ludicrous. Features that make the car fat. Sadly, the manufacturers play to what the sheeple market wants and most manufacturers would blindly follow these dense animals off of a cliff if doing so would make them more money. As a result BMW is making a lot of fat cars when they could be drowning in glorious bankruptcy like TVR. However, with advances in technology they seem to be making an effort to try and slim down their plus sized models. The new 2, 3, and 4 Series are supposedly going to be lighter than their predecessors, which is refreshing.
On the other hand, those newer models aren't particularly good looking in my opinion, and to be honest, neither is the 135i. The difference is that the 2 series is like an ugly girl with too much make-up on. It's trying way too hard to come across as pretty but you can still tell that a bridge troll lay beneath. The 135i seems more honest to me. A slightly better looking girl but also wearing far less makeup. She's athletic with a pretty great body and an extremely competent noodle in her skull. My perfect wife-able woman. Or car. Whatever.
My little Bimmer would obviously have a manual transmission (the master race), sport seats, and come in beautiful Laguna Seca Blue, which sadly wasn't offered as a color choice from the factory. Modifications made to my 135i would be subtle and tasteful (according to my taste of course). A reliable 2 way limited slip differential would be the first addition as well as a higher flowing, stainless steel exhaust system to provide that audible eargasm that the S54 is so capable of. Mild changes to the front suspension may be required as the E82 is known to understeer a bit when given the beans. Ride height would drop no more than an inch or two to ensure the drivability of the car on varying road surfaces. The stock wheels would give way to a nice set of modern BBS mesh wheels or maybe even a set from the deranged brother of the 135i, the 1M. There was a nice carbon fiber lip spoiler that I saw on one of these cars at a golf course a few month ago. I think I'll have one of those too. The rest of the car would remain unmolested.
To end this post, I shall leave you with the unaltered drunk paragraph (NSFW language included) that I typed a month ago which inspired this whole thing. More posts are on their way whether you enjoyed this or not, so leave some feedback if you think I can do better. Cheers.
"Dude, this thing is a rear wheel drive, six cylinder, twin turbo, BMW with the correct amount of turbos. What the fuck more do you need? Seriously. I don't care how many horsepowers the M3 has, it is too damn fat. It weighs too much. Just like Rosie O'Donnel; as much fun as she is, I'll laugh at her jokes but she will always be too fat. Sure, there are better driver's cars, better sports car, better family cars, and better luxury cars but for some reason this is the one that I want."
**Disclaimer: I meant no disrespect to Rosie. She's a wonderful lady with a beautiful personality.
TL;DR – Giraffes have an uncanny sense of direction and should be the sole, mandated form of public transportation.