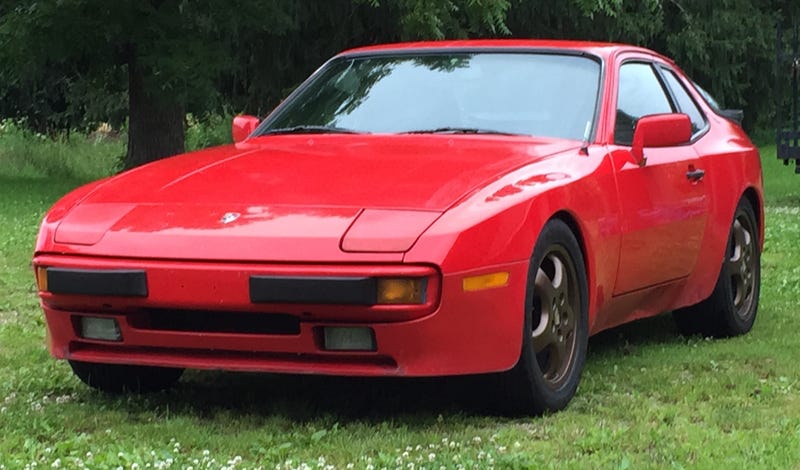 First two weeks of having a vintage 944. And I get it. I get the hype about the mythical unicorn that's farting rainbows of Porsche. Specifically a 944. Here's why:
1984 Series 1 944. 50/50 weight distribution and 2.5 liters of smooth revving naturally aspirated joy - 143 horses turning 137 torques, in a 2600 lb package with limited power anything. No power steering in this puppy. So stock up on your spinach.
This particular example is a southern car with zero rust. With some choice modifications from owners past: Weltmeister lowering springs, Koni adjustable shocks, some not stock front sway bar, replica 911 turbo 7.5x17 and 9x17 wheels, Momo pedals, Grant wheel, K&N filter, short-throw shifter with all metal linkage upgrade (no rubber). White lettering fuel/temp cluster and RPM gauge with the original yellow lettering speedo. And I kinda like that.
My contributions include an old high-rib racing seat, quick release hub adapter, and 235/45R17 and 255/45R17 Goodyear tires. The driver's seat in the car before was a bit worn and didn't offer much support. For anyone that's got the elbow and knee bruises from a track day or autocross – you know my pain. This seat keeps you well planted and dials up the feel of the car directly into your body. The quick release moved the wheel back 4in. The past owner had the Grant wheel adapter too close to the dash and caused you to sit too forward. Not only fugly; this made the ergonomics relative to trying to find that french-fry that fell behind your passenger seat at 70 miles per hour. Now it's just right. Legs have a slight bend, wheel comes to arm cuffs, and the shifter is right where your hand travels.
And all for the low-low price of $600 bucks. Yep, no missing zero. I'm not going to divulge my negotiating skills. But let's just say my father and I make good cop and bad cop look more like bad cop and that other cop with a few screws missing who may or may not pick up a phone book and beat you with it if you don't start talking.
That's just the car. The true mythical beast that comes alive is in the feel and handling. Yes, handling. For all those "a real Porsche has its engine where it should be…in the rear", hear me out. This car reminds you what a man's sports car should be. It's not how many techy items it can have crammed into it, or how numb and self-driving it is. It's the fact that it's missing all of that. Distilled down to the finest 31 year old scotch-like experience – full-mouth flavor with an oaky finish. Your gas pedal is directly connected to the throttle body: you have to actually push it to add more "go". The brakes are boosted, but just enough to not wear you out. Shifter (minus all the rubber bits) is rifle notchy and goes to a transmission that has that sweet in-gear whine telling you that the gears be a-movin'. And the steering is connected to a manual rack. No assists, no items get in the way to numb the inputs of the road. It's your arms to the pavement folks.
Caution: Effort is required to steer. And not only are your Popeye forearms your return; it's the feeling of being one. Imagine being able to put your hand to the ground and not have it returned to you as a bloody stub. That is the type of feel you get from the steering wheel, and this is specifically what has been dialed out of all modern sports-cars. So for those 911 purists, that's what I mean by handling. And I enjoy that you have to decide to steer. Unplug your button-mashing video game, here you have to think when and how to move this car. There is not only physical effort in a manual rack, you have to prepare for your next move. As your arms have become units of effort to react to the roads demands.
In the end, this sums up the smug grin I get whenever my wife asks me "what on Earth do you like about this car ?" So hats off to you my fellow 944 drivers and drive on.

Updated dash: