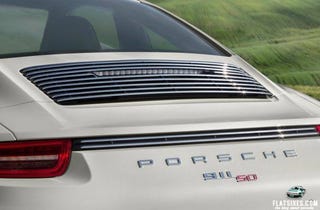 To coincide with the 911's 50 year celebration, Porsche has decided, in a move that surprises nobody, to create a new special edition commemorating the accomplishment. The Porsche 911 50 is a 911 with a badge on the back that says 50. It also has some retro interior and Fuchs like wheels...
In all seriousness special features include: The Widebody kit from the Carrera 4's (but still remains RWD), Fuchs "Inspired" wheels, Retro gauges, houndstooth sport seats, an bump in power to 430 ponies and a ridiculous price tag of 124,100, not including a $950 destination charge. Only 1963 (see what they did there?) copies of this car will be made.
Honestly I think it Needs Moar Ducktail.
Edit: Thankfully it can be had with Porsche's 7 speed manual, but unfortunately the classic 5 speed dog leg is not an option.