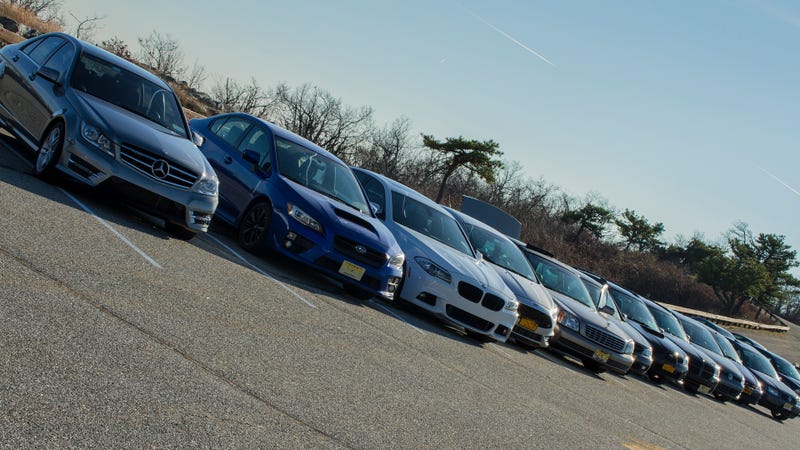 Originally set up by Oppositelock user MountainCommand, the TriState Oppo Meetup was held for the third year in a row, this year marking the most successful and largest meet yet.
The night before a meet up like this is always the hardest part. On one hand, you want to stay up as late as possible, hoping you'll hear from lurkers or non-regulars saying that they want to come by, but at the same time, you want to make sure you get to bed in time to meet the first arrivals. Well, I opted for plan A, and stayed up until nearly 1AM, clearing up some last minute emails for lurkers that decided they were going to come by, and I'm glad I did.
If you want to call Oppositelock a car club (which I tend to be gracious enough to do), you have to stand back and look at all the cars parked in a row and really think to yourself, "what do all of these cars have in common?" The closest answer we could get is four wheels. Members of Oppositelock have such a diverse collection of cars, and an incredibly open mindset that we can park a Nissan Altima next to a BMW 550i without thinking twice about it. A V12 SL can park next to a Mercury Sable, and it really is all fun and games.
With the weather finally behaving for a TriState Oppo Meetup, we managed to enjoy what likely will be marked as one of the last great weekends of 2015. In previous years, the weather was either ridiculously foggy to the point of near complete lack of visibility, or it was so miserably cold that only the toughest of Oppos came out. With the weather being a beautiful mid 50's with only a light breeze, it was perfect weather for a cookout.
We met up at a supermarket that shared a shopping plaza with a pizza place so that people had both a wide range of food options, but primarily because Aaron wanted bacon. After gathering 11 Oppo vehicles and 15 people, we ordered 3 pizzas, and picked up several pounds of beef patties, a couple 12 packs of Vanilla, regular and diet coke, as well as Bacon, buns, charcoal, grilling utensils and we were on our way up into High Point to figure out what to do with it all.
Photo by Brian Silvestro
Given the beautifully warm weather as well as picking up a 12th Oppo vehicle, we reached our critical mass of the day and much to my relief, everyone was really not just on their best behavior, but showing each other what it really means to be part of a car club. Grilling, chatting, checking out each others cars, and having a grand time.
In record timing (only about 15 minutes) all three pizzas were devoured, and the grill was already warming up. Starting off with the bacon and cheese patties, then moving on to the regular beef patties, Agrajag made quick work at the charcoal grill and did an excellent job cooking up our food. It almost makes up for TDi motor in his VW (I kid, I kid). After we finished up the cooking and the eating and everyone had felt sufficiently stuffed, we took our caravan to the top of the hill for a stunning cloudless view of New York, New Jersey and Pennsylvania, while still enjoying tolerably warm weather. To anyone who organizes their own meet ups, no matter how big or how small, it was a dream come true. We managed to stick together, everyone was polite and knew that their behavior reflected not just themselves, but all of us, and we got a chance to show that not all younger drivers are knuckleheads.
After being up at High Point for about 5 minutes, we were joined by five members of the NJ Miatas club, which brought out some wicked little roadsters, one being supercharged even. Along with the Miata club showing up, another person brought out their Nissan 350Z drift missile. Not only did they fit right in with our completely random group of cars, but they were extremely well behaved on their own. Car culture gets a bad rap far too often, but it there were more meets like this, hopefully that would change.
The short clip of the Hawk's Nest road.
After seeing one Oppo part ways to drive free and have fun, the rest of group had one thing in mind: The Hawk's Nest. One of the few roads in the area that gives you almost a canyon feel. The same dangers, but not nearly as long. The speed limit on this road is 55MPH, with a 4-ish foot wall on one side, and what feels like a canyon wall on the other. The cautionary signs as you approach tell you 25MPH due to the extremely dangerous nature of the, but many cars blasting back and forth egg you on, one exhaust note after the other.
As a group, once arriving at the largest pull off area, we gathered around to see what may end up being one of the last weekends that people were driving up and down would be like. Most of us Oppos made a pass or two, but I think what kept most of us holding back was the cold. The pavement wasn't letting the tires get warm, the whole lack of grip was definitely apparent. Pair that with the recent videos of canyon carvers wiping out and wrecking their cars, and it was sobering, even on such a short stretch of road. There were groups of motorcycle riders along with a small gathering of cars, a couple Civics, a stanced out Fiesta and a Mustang, marking the end of the spirited driving year before winter truly sets in.
The Group of most of us that showed up, minus only two cars that left earlier. (Photo by Brian Silvestro)
Once we were all finished up at the Hawk's Nest, we began to go our separate ways, Stevo777, RicoRich, Dr Benjamin Rolland and myself all grouped up and headed back towards home, stopping for milkshakes along the way. Being able to hang out and enjoy each other's company for the day is everything that Oppo is about. It was certainly stressful putting such a large group of people "from the internet" together, but the results left me feeling relieved and incredibly proud to be continuing this tradition along for MountainCommand. In coming years, hopefully he'll be able to return and make a guest appearance soon, because this tradition wouldn't exist without him.
Oppo Cars at the Meetup (correct me if I'm wrong):
Cadillac DeVille

BMW 550i

Ford Focus

Ford Fiesta ST

Mercedes Benz C300

Dodge Magnum RT

Nissan Altima

VW Golf TDI

VW Jetta

Audi S6 wagon

Subaru WRX

Subaru WRX wagon
More photos and videos of the Oppo Meetup:
Brian Silvestro's Flickr Album
Extended Cut High Point to Hawk's Nest Run