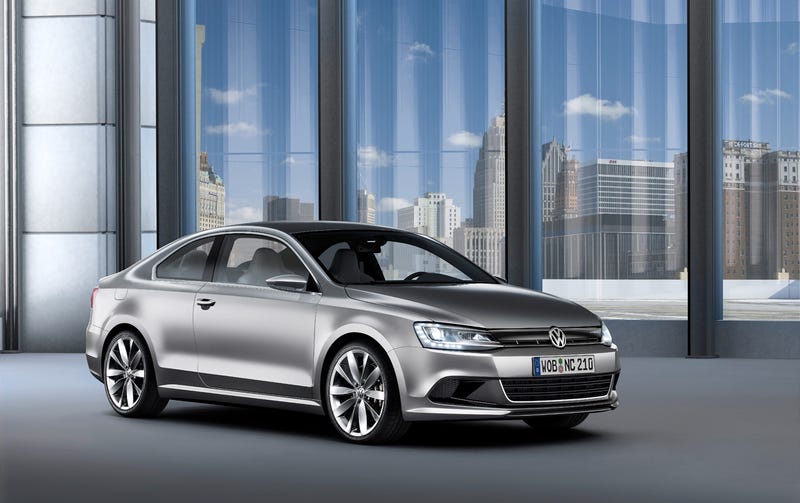 VW unveiled a Jetta R coupe concept back in 2010 at the Detroit Auto Show, but VW hasn't really done or said anything about it since. But honestly, it really shouldn't be that expensive for them to develop and make, and I think a business case can be made for it in the American market.
The mechanical parts already exist, meaning development costs would be low. It could utilize the 296 hp 2.0l turbocharged engine from the Golf R and Scirocco R, and it could be offered in AWD. It could be offered with either a manual or a DSG gearbox. The interior could be made with the same soft-touch materials offered in the Golf R, and it could be offered as either a coupe or a sedan. I personally think that coupe looks fantastic.
If it was brought to market, it would be priced close to, or slightly less than the Golf R, a bit over $30,000. This may look like Audi territory, as the A4 starts at $33,800 before options. However, the A4 makes only 220 HP, and our theoretical Jetta R would make around 296 hp, which is significantly more. This wouldn't be the people's version of an A4 then, that's what the GLI is, which is about $10,000 less than the A4. This would be the VW equivalent of the S4, and that makes me salivate.
Let's face it. As much as we love hatchbacks around these parts, America has not had a love affair with them. Americans see them as city cars for young people, and the hot versions are for twenty-somethings who have been in the work place for a few years. People here think that sedans are better looking, and if they are going to spend $30,000 on a car, they would want to buy something they think looks nice.
The Golf R starts at $34,795 MSRP, and an options package could push it as high as $37,000 so let's say you're in your early thirties, married, with a young kid or two, and you have $37,000 to spend on a sporty car, and you, like your red-blooded neighbors, don't want a hatchback. The Jetta R would ride like the Golf R, so it wouldn't be too harsh, but it would still be sporty, and similar performance figures (0-60 in 5.3 seconds with the manual and 4.9 with DSG). It would have the same level of options as the Golf R, notably the same flat bottom steering wheel, bucket seats, soft touch plastics. Higher end VW interiors have always been a strong point of VW's, and this would be no exception. You know, something like this: