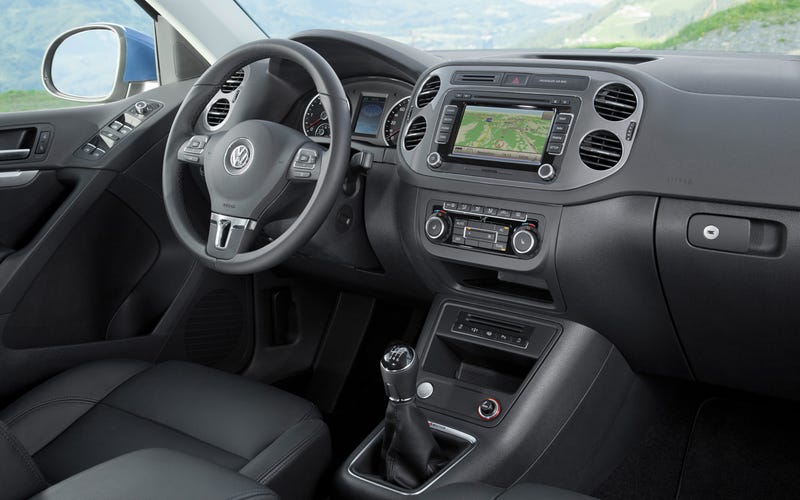 I'm looking at new/slightly used cars to buy next year and I had a thought that came to mind. I was walking downtown and I noticed that a kia sorrento was equipped with a manual transmission. This baffled and delighted me to see. But then I got to thinking - When equipped with a manual, do they start to make sense? Not the sorrento, obviously, but an actually good SUV.

Hear me out for a second. Think about this - manual transmission equipped cars typically go for *less* when they aren't a high performance model. Manual transmission equipped ford fusions (and ESPECIALLY the mercury milan) go for dirt. In my searches, a manual transmission equipped 2012 tiguan with 10-15k miles is around 18-19,000 dollars. A similar GTI will go for an extra 2k. Yes it will be the sportier car. Yes it will handle better. But no one will suspect a tiguan to dust you at the lights. Oh and we can't forget perennial whipping boy favorites - the BMW X3 and X5......Both of which can come with a naturally aspirated inline 6 and a manual transmission.

I'm not seriously saying I'd have the SUVs over their car-based counterparts as is. What I'm saying is if you were to modify them and up their power and handling, would you rock one? Not just drive it, but be proud of it? Those tiguans are looking mighty tempting when that 2.0L turbocharged lump can pump out well near 300hp with about 1500-2000$ investment....hmmmm.....That sounds an awful lot like the amount you save by getting it over a GTI. And the X3 and X5 would just be hilarious to modify and take to autocrosses and track days. The cayenne GTS in first generation form packed well over 400hp, a sportier suspension, and a 6-speed manual from the factory. It's much more expensive than the rest but if I had the funds....I'd rock the shit out of it. If I could be hunting down BMWs and Z-cars in a cayenne on a road course I would consider it worth every penny.

So I ask the rest of Oppo - Would you be there with me in a manual equipped SUV? If so, what kind? CR-V (Maaaaaaad VTEC potential here)? Juke Nismo? Old-school suburban? Xterra?