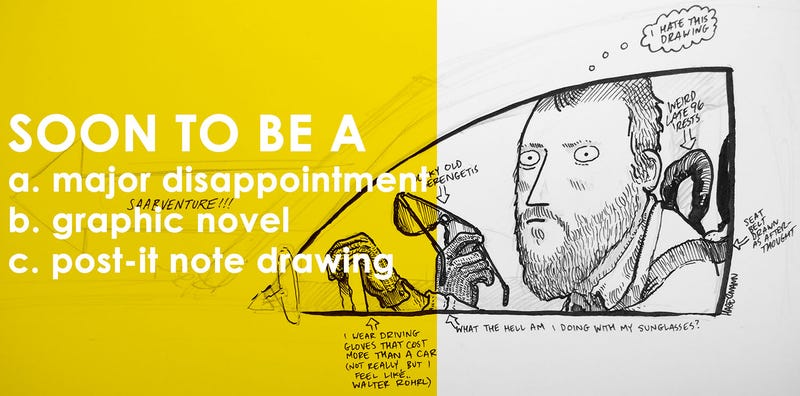 In two weeks I will be boarding an airplane in Baltimore and heading to Seattle, by way of Milwaukee, Wisconsin. I'll be taking delivery of a V4-powered beast from Trollhättan and working my way through its four forward speeds while I travel east. I'll be bringing baggage.
Autodromo Driving Gloves Don't Cure Depression
This journey is a culmination of my thirty-six years on this planet, and I will for once try to salvage some kind of progress in life while again throwing caution to the wind. If that sounds melodramatic, I'm an artist, although you if you blinked you'd miss the slideshow of my finished work. The bulk of my creativity can be found at the bottom of the crevasses of a crumbling mountain of dead-end jobs and half-finished thoughts, pulverized into a lifeless lump and whimpering in the darkness.
Part of the reason I've never done much of anything with my art stems from a lifelong battle with a demon medicine has so boringly named Attention Deficit Hyperactivity Disorder. It's difficult for me to pin the blame on that alone, putting fault on various psychological diagnoses feels like a cop-out but the list of symptoms is uncanny and irritatingly accurate. Perhaps I find it irritating due to some kind of latent hipster aversion to being labeled. I'm prone to distraction, fits of instant gratification, and intense bouts of an unhealthy hyper-focus. Chief among those distractions is the automobile.
The Underside Of An E30 Is Not A Therapist
Cars have been my dangerous medicine for nearly ten years, learning more and more about the histories and inner workings of scores of makes and models provides an endless source of instant gratification. My alter-ego Gary Yogurt has probably spent months—if not years—scouring Jalopnik and Bring A Trailer for just one…more…piece of Goggomobil trivia. Even more dangerouser, for this ADHD adult, the act of repairing a car provides a structured environment that's nearly euphoric. Blood is let easier from a stone than a self-made regimen is spun from my brain so the plain-as-day demands of car maintenance have naturally become a kind of highly addictive controlled substance.
After ten years and just as many cars and motorcycles, I've found myself having left a steady desk job at the local art college for a gig hosting at a restaurant. Now living a somewhat dirty Bohemian life, I'm moving into to a devoted studio space for the first time ever and now all I need is divine motivation to gently drop down onto my head like the feather from Forrest Gump. Unfortunately it's only recently that I've had the silly epiphany that "normal" people are not gifted with a magical force that I recognize as this "motivation" that I am bereft of. You've apparently got to make it yourself.
But first, and I promise this is related, I need to iterate that eighteen months ago I lost the car I really cut my teeth on, a slow-but-sure gem of a 1986 BMW 325e. The teenager that pulled out in front of me caused a chain reaction that would result in a concussion, an elbow injury, and lots of time to think about what car would be next. Self-analysis (and over-analysis) is one of my favorite hobbies so naturally the Craigslist hunt was accompanied with self-doubt and thoughts of dying without ever really having applied myself in life. How much more time would I need to spend underneath a car? How much more time did I need to spend researching oxygen sensors or ABS relays?
A Brief Stint In Rehab
I determined none more time, and I purchased a 2012 Mazda3 hatchback with the obligatory six-speed manual transmission. Five months later I relapsed and the obsessive hunger was at it again as my suffering and phenomenally understanding wife needed a reliable car to carry her to grad school an hour away. Through some perverse fortune born of pure evil and financial necessity, I was soon driving a black NA Miata. I drove it for six months, and exactly like Peter Parker, I climbed to the top of a church steeple and forced myself free of the symbiote's grasp with the assistance of booming tower bells. My name is Brian Hagermann and I have been car-free for six months.
Six months, or until a surprise injury settlement arrived in my empty wallet. It burned a hole in my pocket and my very soul. My conscience was torn between a brain suggesting something tantamount to escrowing the bulk of it to assure a long-term studio space and my black, black heart lusting after my elusive dream car.
SAABVENTURE™ or How I'll Learn To Stop Worrying And Love To Draw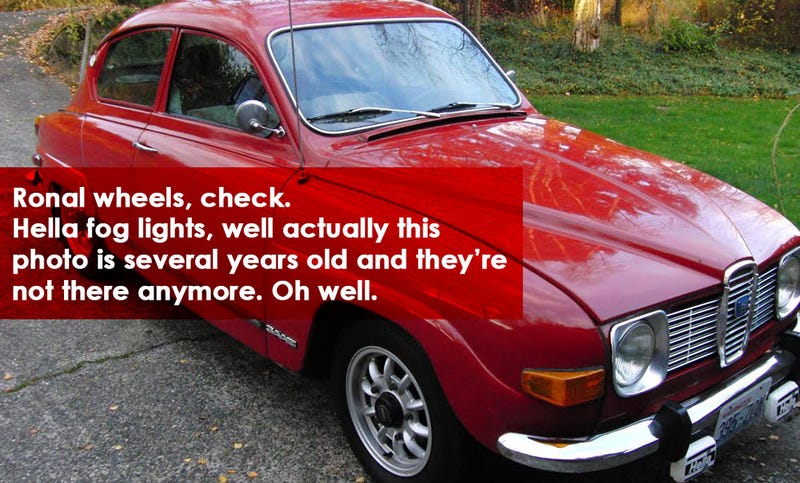 Somehow, I came to a compromise that has me going across the continent to Seattle and back again. The rule is: If I'm going to have a car, it has to be part of my art. With that, I'm giving myself something to write about and something to draw. Something real, and the biggest risk I've ever taken on multiple levels.
In two weeks I'm going to document—in my own way—America, myself, unhealthy road trip diets, and what cars mean, at least to me. For a fortnight I'll be on the road with my new best friend, a 1972 Saab 96. It's the most motivated I've ever felt about pretty much anything, and I'm going to finish something for once.
I've got the studio space when I return, I'm figuring out how to make a healthy creative regimen, and I'm determined to get this little car across the country. It's eventually going to be some kind of substantive illustrated narrative, and it's my dream to share it with you. I know I can do it because my biggest fear is no longer putting myself out there, it's being eaten by a bear.
I'm leaving on September 27th and you're invited to follow along on Instagram. By the end of it all, my post count might even make it to double digits.
---
3000 miles between Seattle and Baltimore, what can't I miss? Got any bear attack tips?