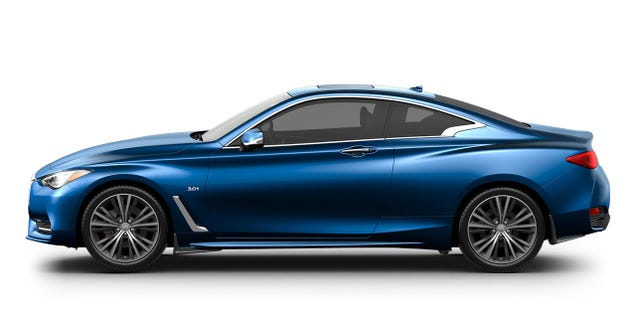 Have any of you tried configuring your 2017 Infiniti Q60 Coupe? Got to say it wasn't what I was expecting. I think the G spoiled me. I'll say this, don't let the horsepower ratings throw you off. The 2.0T makes like 258 lb-ft from 1,500-3,500 rpm (or something like that) and the 3.0T puts down 295 lb-ft from like 1,500-5,200 rpm or something ridiculous like that. But I'm still thrown off with the horsepower choices, especially from Infiniti. I almost feel like the 300hp version of the 3.0T would be the base engine just due to how the brand always was.
*Side note: Automakers, stop using the balls out top trim as your show car in every facet of media if you know that no one can buy it. Especially in the color that is unavailable in every trim but the ONE you can't have! Kia did this cap with the Optima to the point that no one knew the LX and EX trims had completely different front end designs until they got one at the Avis counter.

Overall, the car seems to be in line with the Lexus RC but I expected Infiniti to continue being the enthusiast value Japanese premium automaker. Now they are just slotting into the same spot as Lexus with a heavy tech-nobody-asked-for push. Oh well, I guess Cadillac and Jaguar will be the performance value premium brands now. Wow, times have changed!