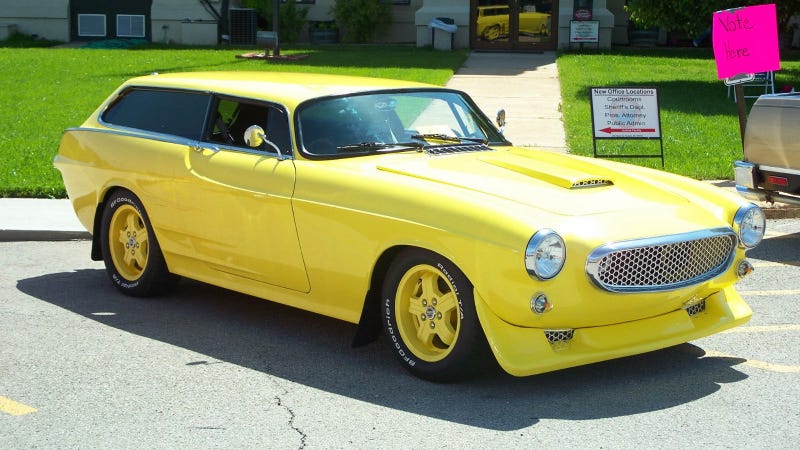 The Volvo 1800ES may only have a third the horsepower of the cars that litter the automotive landscape, but the butts on the floor seating position and thin steering wheel communicates front end motion while unassisted brakes add routine reminders of unanswered questions about the afterlife.
I had the opportunity to drive a '66 Volvo 1800S earlier this week and can say that the experience was thoroughly enjoyable and invigorating. The point is that I drove an 1800S more miles than any owner of the 90 mile 1800ES museum piece will ever dare put on it and isn't that the point of owning a classic car? Today's Lemon colored (but not lemon-y) 1800ES isn't a museum piece, in fact its customizations may raise a few eyebrows, but it would be perfect for racking up a few miles. Find this 1973 Volvo 1800 ES Custom for sale in Forsyth, MO currently bidding for $5,100 reserve-not-met with a few days to go on ebay. Tip from Starliner427.
This shooting brake is powered by a mildly built B20 inline-4 that probably puts out a few more ponies than the original 112 hp / 115 lb-ft. The seller doesn't quote a power figure, but assume it makes 140 horsepower and the 2600 lb custom should move quite well.
The seller includes photos showing the car when it was brought down to bare metal and it looks like the builder also installed an entirely new interior when he was at it. The 1800 uses a cool bi-level dashboard that has been retained in the custom interior, but it is hard to tell if the original style gauges are still used. As far as chopped roof cars go, this one missing 3 inches of height doesn't look that bad in the pictures.
See another custom that doesn't make you throw up in your mouth a little? tips@dailyturismo.com
Originally posted as 10k: Chopped Up: 1973 Volvo 1800ES on Daily Turismo.