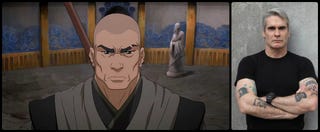 Was re-watching Legend of Korra (judge all you want, it's fantastic), and HOLY CRAP HENRY ROLLINS IS ZAHEER.
After that little surprise I decided to go on IMDB and see what other surprises might be in there. Here's what I found:
J.K. Simmons (known for playing J Jonah Jameson in Spider-Man) played Tenzin
Mindy Sterling (Frau Farbissina in the Austin Powers trilogy) played Lin Beifong
Anne Heche played Suyin Beifong
Zelda Williams (Robin Williams' daughter) played Kuvira
Daniel Dae Kim (Jin Kwon in Lost / Chin Ho in Hawaii 5-0) played Hiroshi Sato
Bruce Davison (Senator Kelly in X-Men, along with over 200 other roles) played Lord Zuko
Eva Marie Saint (the female lead in Hitchcock's North By Northwest!!! Talk about a legend!) played Katara
And the last surprise, Serena Williams had a cameo as a sage. Neat!