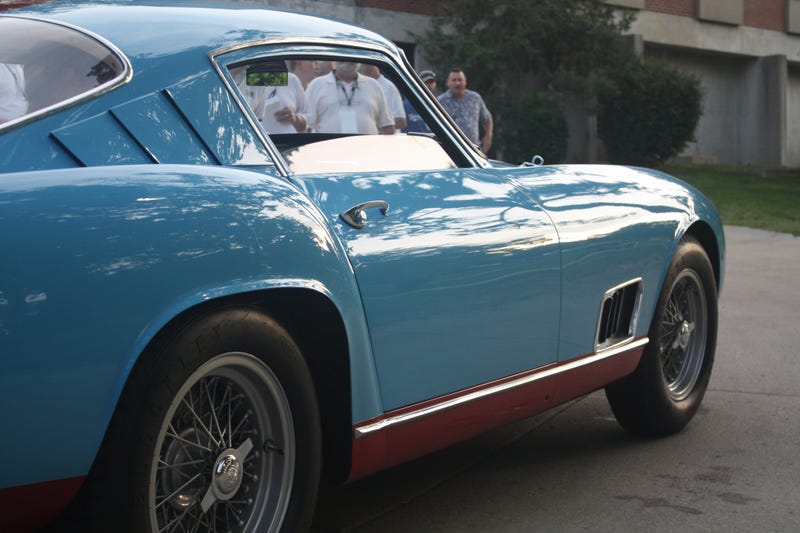 I heard it coming before I saw it, rattling like constant but irregular machine gun fire. I primed my camera, and the 1954 Troutman and Barnes Special steamrolled around the corner. It looked too small for the sound it made. Just a two-seat race car, it could have fit inside a Mazda Miata. But that sound…
We'd been told to arrive early to the 2014 Art of the Car Concours at the Kansas City Art Institute. The public wouldn't be admitted until 10, but they began placing the cars at 6:30, with one per minute until 9:30. That meant getting up at shortly after 5 on a Sunday, but I wasn't tired. Getting tired would have been impossible.
We covered the Concours last year, but only a chunk in the middle. Seeing and hearing those cars rumble, whirr, and sputter into the field offered a whole new perspective, and brought a ton of respect, as the only thing I saw come in on a trailer was a 1955 Ford 560 Open Seat Tractor.
There was a certain aroma to these masterpieces, and it wasn't just the clouds of white smoke several of them billowed. It was aged leather tinged with burning oil and old velvet. Staring at them parked, with their info plaques resting against flower pots before them, reminds you of the best kind of museum. But experiencing them as they rounded that curve reminded me of actual points in time, decades I'd never experienced.
Three post-war, real wood-paneled Buick station wagons, (one of which, the owner later showed me, also had a teak wooden headliner), sailed up to the entrance at once, causing the coolest traffic jam I've ever seen. Stuck behind them was a 1910 Oakland Model M Gentlemen's Roadster, a 1972 Fiat 850 Sport Spyder, and a 1961 Aston Martin DB4 Series 2.
The Oakland's driver, entirely decked out in period garb, leaned over and said, "I hope they know I can only idle so long."
Okay, punks. This isn't a library. You can find the rest of the article over at Streetside. Or, if you just want to look at pictures of all the luscious hardware, they're on Flickr. And we'll have some more stuff up on our YouTube channel hopefully today.