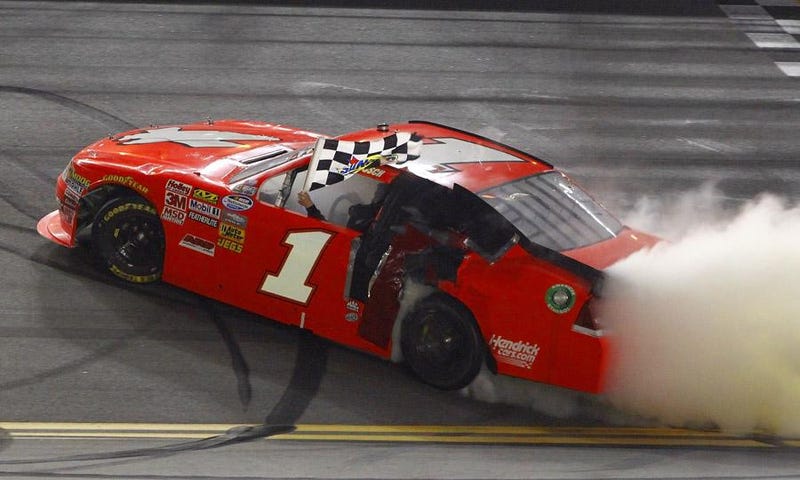 On it's surface, James Finch's perennial midpack Phoenix Racing NASCAR operation wasn't anything special. With just one Sprint Cup win to it's name and not one full season with a single driver in it's history, Finch's program never really left a lasting impression on the sport from a competition standpoint. Below that, however, lied something truly special: The racing team equivalent of Kimi Rakkonen. The team that didn't care.
Well, "Didn't care" is a bit of a misnomer. In reality, Finch's team cared about winning as much as any other. In fact, given the steps they took to remain relevant midway through the 2012 season, one could argue that they cared about winning more than most. What truly made the program special is the specific way in which they didn't care. While most midpack NASCAR teams make an effort to move forward and become a powerhouse of the series, as have teams like Front Row Motorsports and the most recent graduate of the midpack, Furniture Row Racing, Finch's Phoenix operation made no such efforts. Why? They were too busy having a good time.
Every other team owner in NASCAR views their team as an extension of their business operations, something very important and dear to them. Finch didn't. He viewed the program he funded almost entirely out of his own pocket, with money made from his Phoenix Construction company, as a hobby. As a result, he was willing to take risks and make decisions no others would.
Take the team's 2012 driver decisions, for example.
Kurt Busch was a refugee come the end of the 2011 season, freshly fired from the powerhouse Penske Racing organization when Pennzoil, sponsor of the #22 Dodge he drove in that season, decided they were simply no longer willing to pay tens of millions of dollars to be the logo on the hat when he harassed yet another reporter. Since he only found out that he was without a seat for the 2012 season in December, he knew he had no real hope of securing a winning ride for the next year. Enter Phoenix Racing.
The program's previous driver, Landon Cassill, had surely been impressive, but not nearly at the level of someone like Kurt Busch. Add to that Busch's past champion provisional from his 2004 title, essentially locking him into the starting grid of any Cup race, and the name value of a man that's a race winner dozens of times over, and Phoenix's decision to release Cassill for the fiery Busch could certainly be seen as a logical one. Well, a logical one by Phoenix Racing standards, at least, for along with bringing in a top shelf talent, Finch also brought in a temper that got the man fired (and due to off-track incidents both times, at that!) from two separate teams with which he contended for championships.
Finch only had about three races worth of sponsorship when he announced that he would compete in the full Sprint Cup season with Busch in 2012, a would-be first for the program. Predictably, Busch did classic Kurt Busch things throughout the beginning of 2012, most notably crashing more cars than not by trying to drive the subpar Phoenix Racing cars as he had the top shelf Penske Racing cars he raced in 2011. In April, he won a race with his brother Kyle's KBM Nationwide program, something Kyle himself failed to accomplish in all of 2012, but in Cup he and Phoenix continued to struggle.
In May, Busch went from simply wrecking his own cars to absolutely snapping as many had expected him to. In Darlington, he got into an altercation with Stewart-Haas Racing's Ryan Newman, and shortly afterward NASCAR placed him on probation. (Of note, this incident supposedly stopped Furniture Row Racing from sending a contract offer to Kurt Busch in that very month, a move RCR was surprisingly rumored to be pushing on the Denver team) Just two weeks later, that probation was elevated to a suspension thanks to a post-Nationwide-race comment to NASCAR beat writer Bob Pockrass (who has the patience of a saint when it comes to answering Twitter questions that one could easily find the answer to with a quick google search, by the way, but as Alton Brown would say, that's another show):
He missed just one race, the first Pocono event of the year. There, David Reutimann (also fired by a competitive team at the end of 2011, albeit for performance reasons, not off-track issues) filled in for him, and once more Phoenix Racing officially failed to field a single driver for a full season. Finch held a vote at his shop between each member of his small team. He asked if Busch was really worth the trouble, if the team still wanted to employ the man. They voted to keep him. Finch obliged, and after spending the Pocono race weekend with longtime girlfriend Patricia Driscoll and her son Houston, Busch was back in the car the next week at Michigan.
Yet, something had changed when he returned. Now with a team that truly believed he was their best option in Phoenix (and, it should be noted, a family in the Driscolls), Busch was what NASCAR team owners had hoped he would be since he first debuted in a Truck. Eight and a half years after his championship season, the ultimate evolution of Kurt Busch had finally arrived. Just one week after his return to the team this was made abundantly clear in what is without a doubt the best drive of the 2012 NASCAR Sprint Cup Series season: A dominant race at the former Sear's Point (now Sonoma Raceway) that saw him fall only to third despite a broken track bar for the last few laps of the event. Thanks to speed, patience and sheer will, he affirmed Phoenix Racing's choice to retain him after his suspension.
Just two weeks later, Phoenix Racing and Kurt Busch finally broke through. In a Nationwide series race before the second Daytona Cup race of the year, the team won for the first time in three years when Busch recovered from an early wreck (one large enough enough to damage the C-Pillar!) to win in a car that a more sensible team would consider written off. The radiator no longer providing any engine cooling of note and the aerodynamic profile ruined, the car contained neither element needed for victory on a plate track. Yet, that didn't stop Phoenix Racing, for logic has never stopped Phoenix Racing. The title photo of this article is of the celebration of this very victory.
(About eighteen hours after this victory, it was announced that a Penske Racing driver by the name of AJ Allmendinger, the direct replacement for Busch in the #22 Pennzoil Dodge, had failed a drug test a week prior, setting into motion a course of events that would eventually see Allmendinger fired from that ride and replaced by Joey Logano, but we'll get back to that)
Busch didn't contend for wins with Phoenix for the next few months after that Nationwide race in Daytona, but without any further off-track issues by September it was clear that for 2013 he would again be an in demand free agent. His recovery nearly completed, he was ready to leave the motorsport rehabilitation center that was Phoenix Racing. He signed with Denver, Colorado's Furniture Row Racing later that month, and left Finch's program for the Barney Visser owned FRR shortly before the second Charlotte race weekend of 2012. From there, Busch would go on to make the chase (NASCAR's "Playoffs" of sorts) with FRR in 2013, and despite many a frustrating mistake by the young Denver team, he's still yet to have another outburst like those he had before his tenure at Phoenix Racing and he's still in contention for the 2013 championship. He has already signed with Stewart-Haas Racing, the winners of the 2011 Sprint Cup championship, for 2014.
Left without a driver for Charlotte, Finch had a few options: He could sign Regan Smith, recently released by Furniture Row Racing in favor of Busch, he could again slot in an available low end driver like David Reutimann, or he could be the first to take a flier on a newly reinstated AJ Allmendinger. With Smith filling in for an injured Dale Earnhardt Jr after a concussion he suffered at Talladega, Finch was left with only Allmendinger or an available low end driver for the immediate future. Being a lovably crazy son of a bitch, he went with AJ Allmendinger.
Allmendinger didn't do much of note in those two races, but that chance from James Finch brought him a flurry of opportunities, which ultimately lead to him being just one long fuel stop away from winning the 2013 Indianapolis 500 Mile Race with Penske Racing, the team that had fired him in NASCAR just months earlier. This in turn lead to him signing a full time deal with JTG Daugherty Racing in the NASCAR Sprint Cup Series for the 2014 season. After Dale Earnhardt Jr's return, Regan Smith finished the season out for Finch as part of his role as Hendrick Motorsports's unofficial fifth driver, which has also seen him contend for the Nationwide Series title with JR Motorsports, another Hendrick Motorsports affiliate team, in 2013.
2012 was just the most concentrated example of what Finch spent his entire tenure in NASCAR doing, taking risks others wouldn't and turning reclamation projects into superstars. His Phoenix was aptly named, helping some drivers resurrect their careers and others finish them on their own terms. His driver decisions, eternally strange, were almost never sound, but more often than not they were needed. After all, someone had to put themselves out there and try to see what Kurt Busch could do, and it sure as hell wasn't going to be Kevin Buckler.
It's not all that uncommon for someone in racing to proverbially wear their hearts on their sleeve, letting their passions be known to all around, but only Phoenix Racing were known to wear their hearts on their cars.
More often than not, the team went unsponsored, and with a guy like Finch in charge, that meant pretty much anything was fair game to go on the car. The most notable example of this was the "Ricky Bobby" livery worn by the team to support the Armed Forces Foundation in the 2012 Spring Talladega race. For more on this gorgeous livery, a Jalopnik story from back in the days when the words "Kurt Busch is a jerk" were accurate is linked here.