This one's really not all that special, but it's cool looking, unique, rare, and unusual. The Hamburger Flugzeugbau HFB-320 Hansa Jet
It's a forward swept wing business jet! Look at it! It looks neat.
Why the forward swept wing? Well, it's quite simple. The main spar of the wing is a big piece of structure. By sweeping the wing forward, the main spar now passes through the cabin further back, allowing for a relatively large cabin given the size of the jet.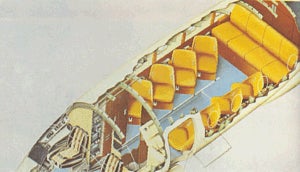 Forward swept wings give similar performance to aft swept, they do the same function. They have better stall characteristics than a rear swept wing, which I talked about in the article on the XF-84 Thunderceptor. The instability in pitch is still present in a stall with a forward swept wing, but at least you maintain roll control. In a civilian aircraft like the Hansa Jet, forward sweep is really only chosen to move the wing structure. Some gliders such as the LET Blanik use it for this purpose. Because of the inward flow as opposed to outward flow, they are somewhat more maneuverable and efficient than aft swept wings, which is why the X-29 was developed and tested.
Anyways, back to the Hansa Jet. The Luftwaffe flew a handful of them after the first flight in 1964. 47 were produced between 64 and 73, and they stayed in service with the Luftwaffe until 1994. They had an unusually bad safety record, but it had nothing to do with the design (except for the prototype, which wrecked due to poor design of the tail). The safety record in combination with an influx of competitors doomed the Hansa Jet, and it was never all that successful. Here's a short video clip of some in action with the Luftwaffe
It was an interesting experiment in improving passenger comfort for business jets, something that we strive for in industry every day. Thanks to advancements in structural design, we've found other ways of getting wing structure out of the way. Many jets have wing carry-through designs that contour underneath the fuselage to keep cabin space maximized, which you can see here on a CJ4
As I said before, the Hansa Jet isn't particularly exciting, but it's certainly unusual, and a fun little footnote in the history of business jets