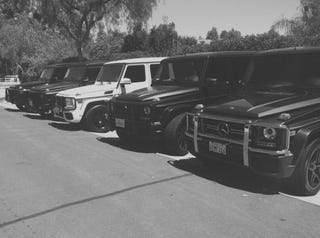 Kylie Jenner (who recently turned 16) was driving her G-Class and rear-ended a Corolla that then hit an Outback; the G-Class' brush guard tore off the Corolla's rear bumper. Yahoo! omg! included this Instagram pic of the Kardashians' Geländewagen fleet when they covered TMZ's original piece on the accident.
TMZ's pics of the G-Class at the accident, having sated its bloodlust with the Corolla's rear bumper, and later at a body shop:
Also, thanks a million for sharing this to the FP, Hardibro!