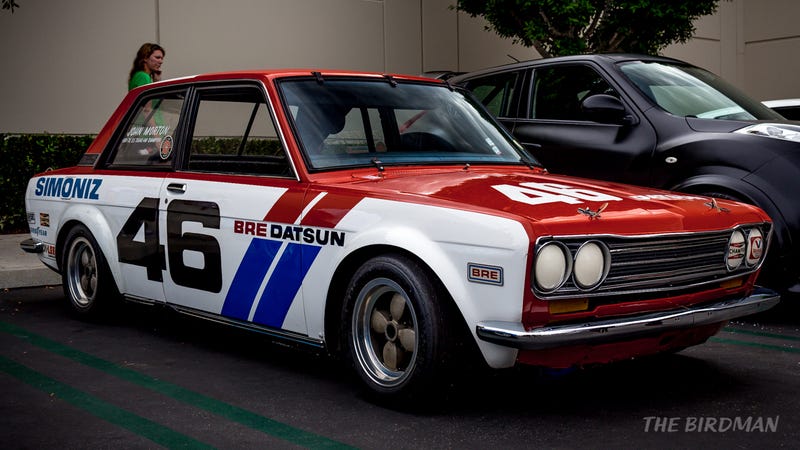 Last week my girlfriend sent me a text and said we should go to Cars and Coffee. We usually try to make it out on the holiday weekends since there's always a great turnout. We definitely weren't let down this time. I was shocked when I rounded the corner and found myself staring at a row of cars I didn't even know were in the country. Nissan 360 had brought out a few cars, including some from the Nissan Heritage Collection.
Here's the lineup. Needless to say I was stunned. Most of these cars I've seen pictures of, and one day hoped to see in Japan. The last thing I expected that morning was to see them all lined up in front of me. The Prince Skyline 2000GT was my personal favorite, and I spent quite a bit of time photographing it.
It happened to be sitting right next to one of my other favorite Japanese classics. The CSP311 Silvia. Handbuilt body over the same chassis as a Fairlady Roadster.
Moving down the line we have the R380-II. From the time when men were men, and pontoon fuel tanks were considered crumple zones.
Now we have the John Morton BRE 510 from the lead image. I believe this is an actual Trans Am Championship winning car. Towards the end before they loaded the cars, they pulled the car out with it's rival for some photos...lots of history here.
If the BRE 510 could talk, I wonder what it would say about being parked next to the Juke-R?
Eventually they did have to start loading the cars. None of the race cars were started. Not a huge surprise, but it would of been nice to hear some rumbling. They did drive the Silvia away. I overheard one of the caretakers remark that it always started on the first try.
I snagged this shot of the Datsun 14 just before they loaded it on the trailer. It's amazing how tiny this thing is.
That's all for the Nissan Heritage Collection. I've got a ton more photos though (including multiple Veyrons and MP4-12C's). Look for part two and maybe a part three. Here's a few of the other JDM cars (and USDM Japanese cars) to hold you over until then though. A Bluebird SSS Coupe, a V-Spec Nismo R33, a Toyota Corona, and an only in California Miata.