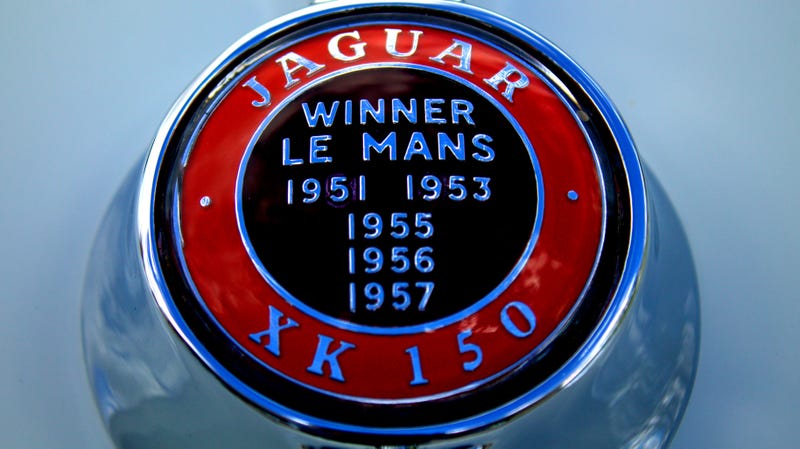 Saturday is a day car guys love to get together and today was no exception. While chatting with an owner of a 1966 Mustang Convertible at our local meet up, I saw an immaculate Jaguar XK-150 drive by and park. I finished up the Mustang conversation and made a bee-line to the XK-150. This example was built in May of 1957 as a 1958 model.
This XK was delivered to Texas new and eventually wound up in Colorado where it was with its second owner for 41 years. The third owner put it through an extensive renovation resulting in like new condition. And he drives it. No garage queen this one.
The XK-150 was said to be the fastest road car available at the time, hitting over 135 mph by some test results. I noticed the car had 4-wheel disc brakes and assumed it had been upgraded, but this feature was one of its claims to fame: Dunlop 4-wheel disc brakes. The current owner did upgrade the front rotors and calipers to a Wilwood set.
I'm not exactly sure what the engine's horsepower is because I didn't ask the owner. It's likely at least 210 hp and could be up to 250 hp. Regardless, it's a beautiful dual overhead cam straight six engine producing adequate power and exuding provocative come hither looks.
Some interesting minutiae include a lovely detail to remind the driver his lights are on in the form of a small red light on the front wings.
The rear of the car follows up with a nearly innocuous pronouncement of the marque's name.
A final interesting tidbit is the original Colorado license plate. These plates were de facto rolling advertisements for the nascent ski industry.
Most Jaguar automobiles draw the observer in with their beautiful lines and sensuous curves. The XK-150 is arguably one of the best examples of the marque's rolling works of art.