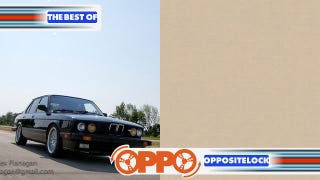 Assembled here are the best Oppositelock posts from last Friday through Sunday. Today we've got the E28 M5, 1997 Toyota Camry, a French Fog and more.
Sold my GTI and weighed my options. Picked the irresponsible one. Although it served me faithfully for four years it was time for me to part ways with my 07 GTI. It was extremely versatile, I moved four times and it readily hauled surprising amounts of my stuff, covering hundreds of trips between Detroit, Flint, Milwaukee, and other faraway places in all types of weather with nary a stumble. It could also be very fun, although I hooned around a bit it always handled predictably and I never hit its limits. The only surprises came from the speeds I could go around corners with out drama. Yet after 70,000 miles it had grown boring and I had to change things up.
For a period of five years, between 1991 to 1996, it wasn't a Japanese automaker responsible for building America's best selling mid-sized car. Instead, Detroit's own Ford Motor Company proudly held that distinction with the Taurus until its third-generation ovaloid redesign proved to be too avant-garde and expensive for its sensible suburban buyers to stomach… Just as Ford began alienating buyers, the fourth-generation Camry debuted for the 1997 model year, ushering in the birth of a new beige-painted era.
This occurrence began in typical, innocent, Autobahn 27 fashion. I had been in Bremerhaven for work purposes, and now faced the drudgery of the roughly 50 km of Autobahn that separates Bremerhaven and our Bremen-Nord exit (Ausfahrt). The expectation was for a relaxed drive, maybe in the 140 - 150 kph range that the Peugeot 205 GTI seemed to enjoy. At those speeds, the 1.6 liter SOHC 8-valver and the Conti's hummed contentedly, and the notorious sidewinds (I'll try to establish their notoriety in an upcoming post, anyway) didn't affect stability too badly.
Change is coming and there are always detractors and supporters. As in F1, many are voicing their opinions for the changes in MotoGP, the premier racing class for two wheels. For the past years, most changes dealt with engine size, going from 1000cc down to 800, and coming back up, but this year it is different. In what seems like a major overhaul, the championship will be experimenting with a two tier system a la LeMans, which in time could become the norm for all.
The all new BMW Active Tourer is due to debut at the Geneva show. It has already created a polarizing effect on BMW fans, despite the fact that a US bound Active Tourer has yet to be confirmed. If the 225AT does reach our shores it has the potential to be a huge success if….BMW doesn't miss out on an opportunity. I say BMW should forget the gas motor for America and go straight to hybrid. Here is why.
Sure, people think it's ugly, and it's a fwd BMW. That doesn't mean it won't sell. My neighbor owns a Range Rover sport. It's a nice SUV, he uses it as a family hauler for his family of 3 + a dog. The other car in his driveway is a Prius. His wife drops him off at the metro 20 minutes away and he takes that to work. Then she drives herself to work. They don't have a long commute, but they don't want to pile slow town driving miles on their range rover, getting abysmal gas mileage. That's why they chose a Prius. The thing is, the range rover spoiled them…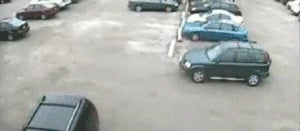 We all know commuting just sucks. We all also know that there are a multitude of reasons why commuting sucks: a lack of proper infrastructure capable of accommodating "real world" traffic loads, extremely poor urban/transit planning, or simply too many people trying to occupy the same space. Then there's just the fact that some people just don't know how the fuck to drive. It may be an overall small contribution but drivers who can't go with the flow do contribute to piling on the minutes, stress and road rage of commuting.
I decided to comment on the toils of commuting in my hometown. After a moment at the keyboard, I realized there was so much to complain about, that I needed to compose a post myself. Please feel free to vent some about your area in the comments, because misery loves company and it is Valentine's Day.
A few days ago I was lucky enough to drive a 2013 Fiat 500 Abarth, and it is an absolute hoot… I drove the Abarth around Tyson's Corner during rush hour, which is pretty much the perfect environment for the car… Here is my review of the best value performance car you can buy new.




I've [seen] both at home (Cleveland, Chicago, and San Diego) and abroad (Yokosuka, Japan). The difference between groups of automotive enthusiasts is fairly striking. In Japan, the attitude is one of respect, where the heavily modified skyline or NSX will give the guy with the lightly tuned or modified civic or silvia respect. Even when I went to the touge, or Daikoku Futo on a Saturday night. Even though there was a mild bit of competition on the mountain, everybody respected everyone else' cars and driving skills.
The team started as Jordan in 1991, then got bought by Midlands, then got bought by Spyker, then got bought by Force India. Since becoming Force India in 2008, the team have shown a slow but steady improvement. They have 1 pole, 2 fastest laps, no wins, and a best finish of 6th in the constructor's championship in 2011 and 2013.
I was in college, 21, and pissing away massive cash every month on flight ratings and full class loads. But this partial kit was a steal at $125. We all know at 21 how much time anything takes and what things ultimately cost. Oh yeah...absolutely.
Looking for a cheap reliable used car? That 240d caught your eye? Yes, they are reliable, but as with any old vehicle there are things to look out for. There is a famous saying: "The most expensive car in the world is a cheap Mercedes."
---
The Best of the Rest
GRawesome spotted a Shelby Daytona Coupe. Audi For Life attended a rainy C&C in Portland. Aya found a Yaris covered in LEDs. Dsscats took pictures of his 300zx. Klic came across a frozen rhino. StephentheCanuck attended the Toronto Auto Show. BigNSlow also shared his photos from the Canadian International Auto Show. HammerheadFistpunch got some rock sliders for his FJ. JayhawkJake mounted his GoPro on a model plane.
---
As always, If I've missed something and you would like me to include it, let me know.
Fun Discussions
There were several posts that asked questions and sparked some good discussion between last Friday and Sunday. Take a peek and chime in on some of those listed below:
Just the #tips
Honorable Mentions
These posts have already been shared with Jalopnik directly but deserve to be mentioned again because they were first posted on Oppositelock:
Want to participate on Oppositelock? Check out the general handbook for posting on OppositeLock as well the Oppo tools to help you get started.