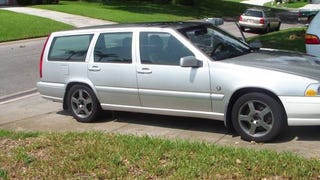 Or support me! I like the latter better honestly but let me know what you think of this: 2000 Volvo V70R! Asking price is $2000 but I could have it for around $1600. Many more details after jump.
Well as you all know I've been looking for a second car. I've looked at a ton of things with this budget of around $1000, including a ton of 240s, A Crown Vic P71, Mercury Cougar XR-7, VW Cabrio, Volvo 740 Turbo Wagon, and now this: 2000 V70R.
Here's the issue. My parents don't really want me to have a second car. Since I am only 16 and live with them, I pretty much have to listen. And I see their point. I have a 2013 Honda Civic that does everything it needs to and a second car would be silly to have. But its just... boring. It isn't me. Which is why I've wanted something else.
When I saw this ad listing a V70R for $2000 I expected the worse. Either super high miles, awful body, or a fried motor. But this was none of these things. It was a diamond in the rough so to speak. The only issue was the price itself, as its a bit more than I budgeted. I do however have family who could loan me the money (I work so am always making money, I just don't have it right this second to spend).
I drove it today. And oh my gosh. I was in love. This is the best car I have ever driven off Craigslist. I loved the noise it made. Speed built up so quickly. The seats were super comfortable. The Bose sound system still worked great. Ice cold AC. No weird lights or warnings on the dashboard either. I was in love. It also looked great, apart from the white bumper (he had an incident with a shopping cart and that was the first V70 bumper he could find at the pick n pull yard). He also had two spares in addition to the one in the trunk (also from that white V70). As I left his house without it, I felt sad. Because I enjoyed driving it more than my Civic. I would gladly DD this. No questions asked. It was perfect. I began thinking of how I could buy it.
As I was talking with mom, she came up with a brilliant idea. One that was almost too good to be true. Her car is 07 Honda Pilot and she is tired of the awful gas mileage. Dad also would like some more cash to have. So, we can sell the Pilot for about $11,000. Mom would take over my lease on the Civic. Now she has a new, very efficient car. I get the V70R. Now I have my DD and we still have the practicality the Pilot offered. By doing this, its a win win win situation.
We still need to pitch this idea to Dad, who is the stickler of the group. But what does Oppo think of this plan? What do you think of this car? Let me know please!