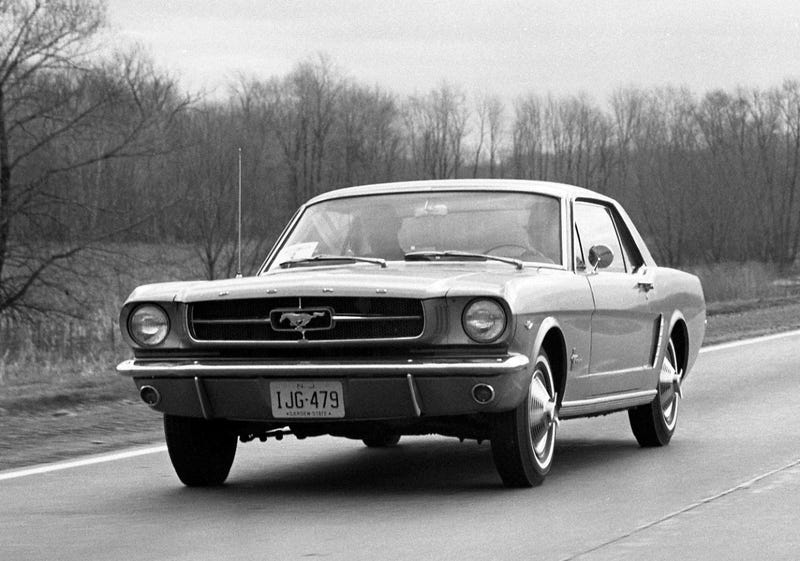 What can one person can add to the conversation about the Ford Mustang that hasn't already been said? One simple internet search can bring up countless pages of credence and cynicism exclusively devoted to America's most popular sports car. No opinion is left unheard, each and every remark is horribly clichéd.
There isn't any sensitive information to be declassified, either. While one can ponder endlessly at night about the specifics of how Toyota developed the last-generation Supra, every moment in the Mustang's half-century long history is well documented from awkward design proposals right down to the outlandish rumors of yesteryear. The volumes of data are oceans deep enough to drown in. It's only when you manage to pull away from the undertow that the rudimentary fact that the car that started it all really wasn't anything special actually begins to dawn on you.
When you strip away the chrome and the iconic styling, the original model of the mid-1960s was nothing more than the better-dressed brother of a dirty boot-licking economy car known as the Ford Falcon. What that really meant then was that the first-generation Mustang was very damn good at selling Americans one hell of a beautiful bald-faced lie. It wasn't any faster, significantly smaller or less practical than it's proletariat relatives. It wasn't any more luxurious, nor did it offer a unique engine or transmission. Simply put, it just looked like it could play the role of an expensive and quick sporty car.
It was that deception that also made the first Mustang a work of genius. Thanks to its lowly origins and sharing of major components, it wasn't any more expensive to buy or own than all but the most basic Falcon. With it's emotional styling, low entry fee, and option list five miles long, America finally had an aspirational car anyone could afford. That's what made the original pony car so special. In 1965 alone, its first full year on sale, Ford built somewhere over half a million examples.
That success story hasn't been replicated by anyone since, even by Ford itself with subsequent Mustangs. While the upcoming 2015 model might actually be the best one yet, it's also become the world's best-known members-only club. The car has grown up with the generation that morphed it into an overnight demigod, it's price-to-play now reflecting their bloated median incomes. The original Mustang welcomed everyone, regardless of age, income or gender. Today's model turns its nose up at anyone earning minimum wage, consumed by its cancerous aspirations of being an Aston Martin for white collar cheapskates.
The concept behind the original pony car is truly dead then and that's a real shame. If America ever needed a small well-designed sports car that was also laughably cheap, now is certainly the time. Average Americans need to be talking about cars again using phrases that do not involve the words government, bankruptcy, or bailout. And while older generations are heinously ignorant when it comes to understanding the sociology of my generation, hey, what would be the harm in giving your typical fry cook at McDonald's chance to own a new car he or she could really be proud of? I know I wouldn't be proud of a Nissan Versa if that's all I had to show for my hard-earned money, anyway.
Sure, manufacturers have flirted with bringing back something akin to the original pony car formula. In 2002, ne'er-do-well DaimlerChrysler was considering doing just that with the Dodge Razor concept car. The Razor was no-frills, excellently styled — it's certainly aged well to be twelve-years old — and was built using the best and cheapest components out of the corporate parts bin. The engine, for example, that propelled the Razor from zero to sixty in under six seconds was the same turbocharged firecracker that you got in the Dodge Neon SRT4. DaimlerChrysler claimed that the Razor could be brought to production with a proper $14,500 sticker price. Why the Razor never made it to market then is just as infuriating as it is bewildering.
General Motors took another stab at it ten years later with the Chevrolet Tru 140S and Code 130R concepts, which were theoretically based around the Chevy Cruze and two-thirds of a Cadillac ATS respectively. No one can deny the Code 130R was certainly more practical than the Razor and probably would've proven almost as fun to drive with it's as-god-intended rear-drive layout. But both concepts weren't much to look at — the Code 130R tried too hard to be a BMW 1-Series in a 1970 Chevelle Halloween costume, and the Tru 140S was a better Mitsubishi Eclipse. Tack on a $25,000 sticker price for either the Code or the Tru and you can just forget it.
So, before you say it, the answer is "no." While the Toyota GT86 and it's related ilk can be seen as better-baked alternatives to entry level Mustangs, with a sticker price of $25,000 they are too expensive to be easily accessible by someone without a professional-level salary. And since the upcoming Nissan IDx is supposed to target the Toyota, you can bet Nissan won't be undercutting prices much, if at all.
Automakers, why won't you build us something honestly cheap and sporty again? Why can't you build more cars with an aspirational image for an underwhelming price? You've made it known before that you have dozens of inexpensive platforms (some of them even rear-wheel drive) and hardware to use, but yet you insist on selling another stale Chevrolet Sonic or another boring Honda Fit with alloy wheels.
Okay, sure. I know. That's what pays your bills, but that's no excuse to not take a chance on what is really a low-risk opportunity. Why can't you offer us something other than a front-wheel drive penalty box that you nonchalantly try to pass off as "hip and edgy?" Not every American has managed to emerge prosperously from the financial earthquake that shook the country six years ago. No one wants to be reminded of the widening wealth gap, loss of wages, and increasing costs of living that's followed by peering out into the driveway at a Kia Rio.
Like this article? Keep up with the madness by following Ignitionist here on Kinja or on Twitter @ignitionist. Be classy, stay sassy, and thank you.