It's the end of the year and it's been a big one for Oppositelock. 2013 saw several changes to the site and the introduction of Kinja. These changes brought more exposure to the forum and with it many new people contributing great new content. Here are this year's most read Oppositelock posts.
15. Got a V8 Vantage? Pull fuse 22 immediately. - 48,686 Views
What use is a glorious V8 if you can't hear it? Jbh of CCC Manhattan is here to help; pull the fuse and let that Aston breathe.
14. Road Raging Youth Attacks Old Man, gets Ass Kicked Instead - 49,819 Views
"If you like to argue that drivers of old BMW's are unfairly stereotyped, well, this incident yesterday in North Vancouver will not help your case."
---
13. Toyota Ditches Current Lineup, Goes RWD Only - 54,163 Views
The power of Facebook reveals itself. This great bit of satire racked up 14,000 likes by announcing a change of heart from Toyota's quest to bore us all to death. We can dream, can't we?
12. The most expensive joy ride ever recorded in Quebec's history! - 55,165 Views
As if there was nothing to learn from AfroDuck's fastest Manhattan lap, these two Quebecoi bikers sped their way through traffic and were given record fines and demerit points after the police nabbed the pair and confiscated the helmet cams containing all the proof. Brilliant!
11. Jeremy Clarkson and Richard Hammond lost their licenses - 55,274 Views
While filming for their Top Gear DVD 'The Perfect Road Trip' Clarkson and Hammond had a little run-in with the French police. In an amusing bit of role reversal, the pair had to surrender their licenses and pay their fines on the spot.
10. 81st 24 Hours of Le Mans: The Live Blog - 57,123 Views
In a monumental effort (and what I can only assume to be record caffeine consumption) Porsche9146, Nobody and AxelRipper knocked out a great live blog of this year's 24 Hours of Le Mans.
9. Helmet cam clip shows what it's like to be bikejacked at gunpoint - 58,162 Views
Having your car of bike stolen from you is one of a Jalop's worst nightmares. This video shows just how scary an encounter with bike-(or car-)jackers can be. Luckily for the rider the Sau Paulo police were nearby and they do not fuck around.
8. Cars That Shouldn't Be Had With the Manual (Yes, I Went There) - 64,887 Views
Satish Kondapavulur's 'Stupid list' have proven themselves to be a popular feature. By stirring up a debate about the place of the manual transmission this post became the most discussed post on Oppositelock this year with 862 comments.
7. F1's Hybrid turbos are awesome and you want one in your car. Now - 66,492 Views
Formula 1 is set to inaugurate a new turbo era in 2014 and technology has advanced a little since the last time snails were bolted to engines in the pinnacle of motorsports. By incorporating an electric motor/generator F1's new turbos are set to overcome lag and recover more energy that would otherwise be wasted.
6. Donovan McNabb is right, race car drivers are not athletes. They are something far more impressive.. - 69,478 Views
Showcasing amazing ignorance Mr. McNabb chose to piss of all those who hold racing dear. He chose… poorly.
5. Did Hollywood Stuntz Attack This Prius Driver In 2011? - 70,752 Views
The professional-grade asshats of the Hollywood Stuntz bike gang are not new to assaulting commuters going about their drives, as seen in this attack on a Prius.
4. The De-Stockification, And Ensuing Re-Stockification, Of Stock Car Racing - 73,786 Views
NASCAR race cars have gone through many changes in their 60+ year history. Read this to learn about their journey from fresh-from-the-showroom Oldsmobile to the Car of Tomorrow and return to basics with cars that are beginning to resemble production cars once again.
3. What a Car Enthusiast Looks Like to Everyone Else - 112,131 Views
Our enthusiasm for cars is unique and sometimes we have to take a step back to realize just how weird our passion for all things automotive may look to the uninitiated. Just have a look at Steve, washing machine enthusiast...
2. The Mazda Furai Concept is dead and Top Gear is to blame - 154,849 Views
NNNNNNNNNNNNNNNNOOOOOOOOOOOOOOOOOOOOOOOOOOOOOOOOOOOOOOOOOOOOOOOOOOOOOOOOOOOOOOOOO!!!!!!!!!!!!!!!!
1. The Footage That the NYC Bikers Didn't Want You to See (7 more!) UPDATED - 557,735 Views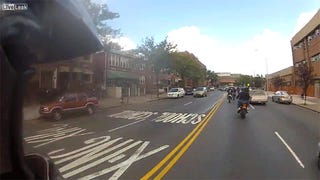 The Hollywood Stuntz assault on Alexian Lien was one of Jalopnik's most read stories of 2013. By sharing more videos of the gang's past shenanigans the post went viral and became what is by far Oppositelock's most read post of all time.
For more great Oppositelock posts, check out the Best of Oppositelock, and if you'd like to participate, check out the general handbook for posting on OppositeLock as well the Oppo tools to help you get started.
Happy New Year and drive safe.