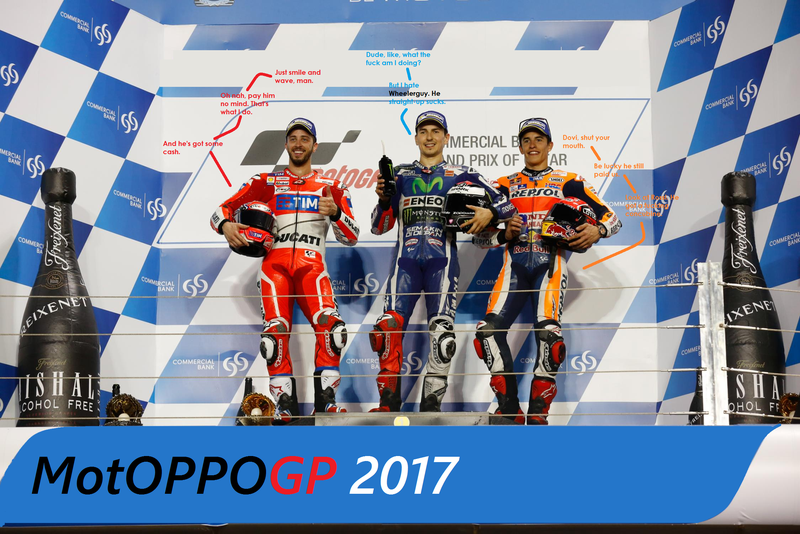 Honda. Yamaha. Ducati. Suzuki. Long ago, the four motorcycling greats lived together in harmony. Then, everything changed when KTM and Aprilia announced that they're racing, too. Only MotOPPO GP, Kinja's one and only fantasy Grand Prix motorcycle racing game, can make sense of it all. Then, when the season got exciting, it vanished.

A while back, Peter Black rediscovered MotOPPO GP, and although it was restarted in good faith, the truth is...well...we're gonna need sponsors, really.
That's right: MotOPPO GP is back, and after a long time lazing out I've gotten through and made this first round! WOO!!! But, you might remark that I posted this early. Why? Because essentially I want to do weekly bumps for day and night audiences so that more users can get in on the action.
And where are we going? Qatar! That's right, we got a night race, and the first true test of the all-new horses these jockeys are gonna be riding. Jorge Lorenzo is in Ducati now, and will want to show the world that he's better than Rossi by doing what Rossi was unable to do: become 10-time champion world champion at Ducati.
Oh, and the table is new, too. All points go back to 0. Except, no. Because I went on hiatus and didn't send any one message afterward, I will give everyone who declares their entry until 11:59 pm at March 25 SEVENTY (70) POINTS FREE!!! Yup, because my generosity knows no bounds, and to make up for the rest who wanted to play in the subsequent rounds, I will give all players 70 points.
———————————————————————————————
The rules can be found below, but for simplicity, consult the quote box after the link.