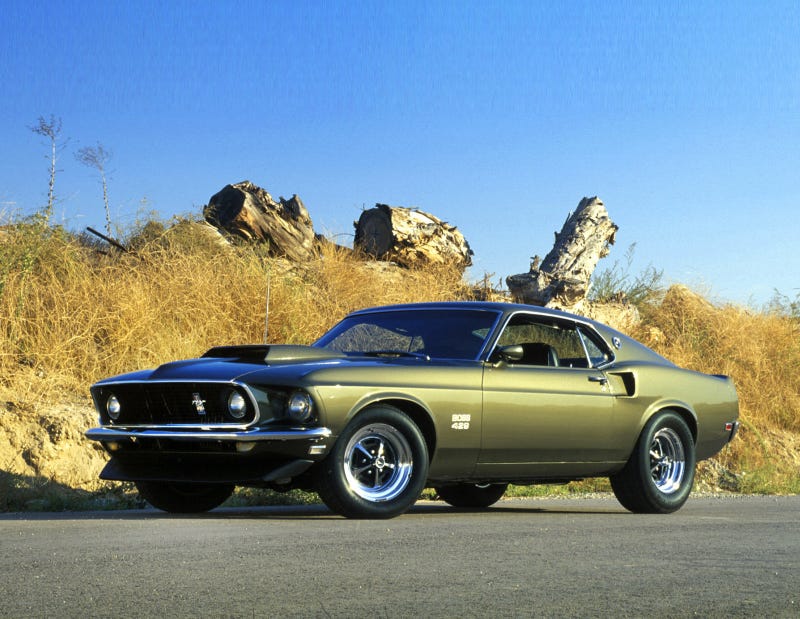 I noticed that both the next Ford Mustang Shelby GT500 and Chevrolet Camaro Z/28 had reports of naturally-aspirated 7.0L V8s coming out and both said to be cranking out over 700 hp. Though I don't think those soon approaching cars will have those engines it did remind me that 2019 will be the 50th anniversary of the Boss 429 and when the Yenko Camaro was able to have the 427 installed on the production line instead of aftermarket through a Central Office Production Order (COPO).
Considering the anniversary markers, duo reports of NA 7.0L engines, historical significance of the Boss 429 and COPO 427, both Mustang and Camaro entering new generations around 2019, plus the market in general I think I'm not at all reaching when I say a 2019 Mustang Boss 429 and 2020 Camaro COPO 427 will begin production in 2019.
Let me add a bit of automotive mythology to this speculation. Remember that Ford's 429 was too wide to fit in the Mustang compartment so Cobra Jet Mustangs were modified in order to house the monster and allow Ford to fight the Chrysler 426 HEMI in NASCAR. The 6.8L Trinity engine from the last GT500 apparently doesn't fit into the current S550 Mustang. Then looking over at the COPO 427, it utilized Z28 and ZL1 parts codes and was offered with a manual as well as a 4-speed auto. All I'm implying is that both a new ZL1 and Z28 will be here soon and I know a high performance 10-speed that may succeed that 4-speed auto option (which no one bought over the manual, of course).
Both oversized-engined variants of the Mustang and Camaro were largely in reaction to the 1964 Chrysler 426 Hemi, which was unable to be ran in the 1965 season of NASCAR since it wasn't in enough street cars in time. Didn't the Chrysler Hellcat Hemi engine debut in 2014 which would be the 50th anniversary of the iconic and game changing Chrysler 426 Hemi? I feel as if I'm drawing parallels to something, but let me not get off on a tangent here.
This is the kind of stuff I love and why you get so many speculations from me. These historical markers and the state of marketing, technology, and consumer trends are exactly why I keep telling all of you to keep calm if you miss out on these high horsepower, crazy handling cars coming out right now. There will be BETTER and CRAZIER vehicles coming to takeover the market from every manufacturer and 2019-2022 is going to be sweet spot. Look back a the 60s and early 70s and you'll feel as if you are looking into a mirror. It's also why I think we will hit a serious snag starting around 2023.
So if you are buying new, buy first thing because the values will stay up due to people not believing something bigger and better is coming. If you are buying used, just keep holding out because all these 500 hp F-Types, AMG GTs and so on will eventually fall, especially since we should see a huge shift in the market which causes used car sales to drop and the new car buying experience to be transformed into a new model.
So buck up, Buttercup! More great cars are still ahead and if you love any slightly out of reach performance vehicles then you'll have a great chance to catch them when they dip down. Get prepared now so that you don't miss that opportunity.