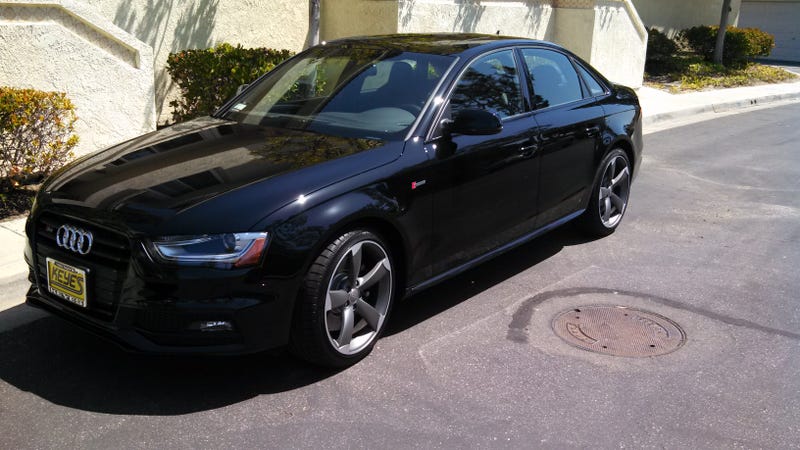 Dear Oppo Readers,
So few of you probably know, but for some time now I have been wanting to buy a car so that I can not use my truck as my sole daily driver. I drive what many would consider a "Bro Truck" but even though looks can be deceiving...I do use my truck as a truck quite frequently and because of this when I moved to San Diego for my jab back in August I knew I wanted to buy a car to keep the unnecessary miles off the truck so I can just keep it around as a truck.
(40ft 5th wheel...empty weight somewhere near 14K-15K pounds. Tows it like a champ down the highway. 55-60mph on flat highway averaged 12mpg...gotta love the diesel!)
Anyways so on to the vehicle I suspect more of you will be interested in. I knew that the car I wanted was a B8 or B8.5 Audi S4. I started my search for a used one and trying to find one with all the options I wanted was proving to be a challenge. So long story short, I ended up with a brand new one for cheaper (due to it being a lease...I will explain my logic later) black on black, 6 speed manual, sports diff, black optic package, 2014 Audi S4!
So here she is in all her glory. Had 25 miles on it when I picked it up. Drove it home from LA so has just over 200 on it now. It is my dream car. I could not be happier. I started it as a lease because I could keep my monthly payments so much lower than If I started financing it. Also, the residual on the car at the end of the 3 year lease is 31 grand, which I don't know how many of you check the market for a 3 year old S4 with all these options but they are going for a lot more than that, and I did TONS of research to see what people were paying on their leases, how many of them were ending up with equity and how much etc. I got a smoking deal on the car and It was the best way for me to get my dream car right now.
So obviously now I drive two vehicles that could be considered douche-y. But I put the picture of my truck on there to show that you can't always judge a book by its cover. I love both of my vehicles now and I just wanted to share them with you guys.