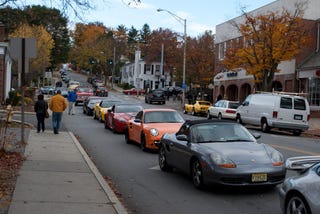 Who's showing up and when?
April 6th marks the first C&C in New Canaan, CT.
http://myemail.constantcontact.com/C-C-Spring-201…
Thank you for your enthusiastic support of the 2014 Caffeine & Carburetors improved and expanded version!

We agree that by including Elm St. along with Pine St. to the festivities, your arrivals , parking and departures

will be easier. With Elm St. included, we're capable of parking 600 cars! And the best part; you don't have to

leave Elm St. at 11:00-11:30 enabling you to enjoy a variety of eateries.

-

If you plan on arriving early, Elm St. will be open. See you on the 6th!

-

A new map will be on the website shortly showing all of the street details

-

Doug - Todd - Peter
Since the marauder is still in winter lockup and I need to put the EGR back on before I bring it back to NJ, I guess the 745i wins by default and I have 2 weeks to get that back on the road and looking as decent as possible.
Also, tiger=off no longer works? Crap!!!!!