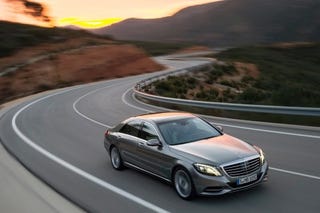 Mercedes-Benz plans to spin a full-blown Rolls-Royce Phantom rival from its new S-class model, Daimler chairman Dieter Zetsche has revealed.
In an interview with Autocar, Zetsche confirmed that Mercedes-Benz has conceived and developed the new S-class to support six different models, along with three different wheelbases in a move aimed at broadening its reach at the top end of the luxury car ranks.
And that range will be topped by a new 'Pullman' model that has been conceived to crown the future Mercedes-Benz line-up, in a position previously occupied by the company's discontinued Maybach brand.
The ultra-luxury saloon, based on an extra-long-wheelbase version of the S-class, will gain individual styling touches, including a highly distinctive grille aimed at giving it a more noble appearance than standard S-class models.
"We will continue in the market segment above €200,000 [£170,000]," said Zetsche. "It is important that Mercedes-Benz is represented. We have tradition at this level.
"We see a chance to extend our leadership at the top end of the luxury car market. We plan to extend the number of models, and a Pullman is included in those plans."
The Mercedes-Benz chairman confirmed that the new S-class, due to go on sale in the UK this October, will eventually be sold with the choice of three wheelbases in selected markets.
They include standard, long and extra-long wheelbases — the latter of which has been added to the line-up to satisfy demand for stately limousines in key markets such as China.
At the Frankfurt motor show in September, Mercedes-Benz plans to preview its new CL-replacing S-class coupé in concept car guise, ahead of UK sales in 2014.
The new two-door, which gains more individual styling than previous models, will also form the basis of a new S-class cabriolet, which is planned to go on sale late next year.