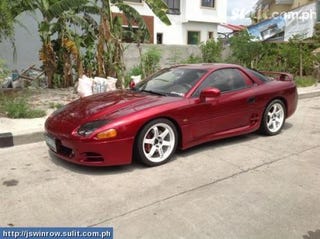 Yesterday, a Toyota-powered Plymouth Valiant was featured, and 53.33% of the voters prefer to throw away the engine or crack pipe. Today's NPoCP.ph, we take a look at a Japanese grand tourer, the Mitsubishi GTO/3000GT. (or if you are heavily American, Dodge Stealth)
For those confused with what GTO means, it means Gran Turismo Omologato (Grand tourer homologated). The term was invented when Ferrari released a road-going, homologated sports car called the Ferrari 250 GTO. The next manufacturer to bear the name was Pontiac. Enthusiasts weren't impressed with John DeLorean's idea. With that said, Mitsubishi revealed their GTO in the early 90s. However, their naming department got cold feet that selling it worldwide while retaining its name would hurt sales because enthusiasts might retaliate like what Pontiac experienced. As a result, it was sold in the USA as both 3000GT and Dodge Stealth. Smart move.
Enough history lessons, let's go back to the car. It is fantastic! I drove this in GT5 (unfortunately), and despite having understeer, it drives like a true sports car. So, here's what the seller has provided for the car.
BRAND NEW SHOW FINISH PAINT JOB BY AP GARAGE (Candy Apple Red)
BRIDE SEATS with newly upholstered sidings and rear seats
ALL WHEEL DRIVE (4WD) FULLTIME
ALL WHEEL STEERING (4WS)
LSD
BRAND NEW RACING CLUTCH IMPORTED FROM THE UK
MANUAL TRANSMISSION
18" TE37 18X8.5 OFFSET RIMS WRAPPED W/ 235/40R18 TIRES
BREMBO 4-POT MONOBLOCK CALIPERS FRONT DISC BRAKES
2-POT MONOBLOCK CALIPERS REAR DISC BRAKES
4-CHANNEL ABS
CRUISE CONTROL
DUAL SRS AIRBAGS (DRIVER AND PASSENGER)
ALL POWER (POWER STEERING, POWER WINDOWS, POWER SIDE MIRRORS W/ RETRACT, 7-WAY POWER SEATS)
CENTRAL LOCK W/ KEYLESS ENTRY (VIPER)
NEWLY CHANGED OIL (MOTUL)
NEWLY CHANGED OIL FILTER
NEWLY CHANGED TRANSMISSION GEAR OIL (MOTUL)
NEWLY CHANGED TRANSFER CASE GEAR OIL (MOTUL)
NEWLY CHANGED DIFFERENTIAL GEAR OIL (MOTUL)
NEWLY CHANGED BRAKE AND CLUTCH FLUIDS (DOT 4)
NEWLY FLUSHED COOLING SYSTEM (RADIATOR)
QUAD-TIP EXHAUST (DEEP LARGE BASSY SOUND)
PROJECTOR HEADLIGHTS AND FOGLIGHTS
CERTIFIED HEAD-TURNER
NEWLY REGISTERED 2011
NEWLY INSTALLED SUSPENSION (FROM UK)
This looks pretty sweet! Even if its named wrongly, this car is in my college car list. It could be like a Ferrari. (but not this kind!) What do you think?